NATO Secretary General sounds notes of caution for alliance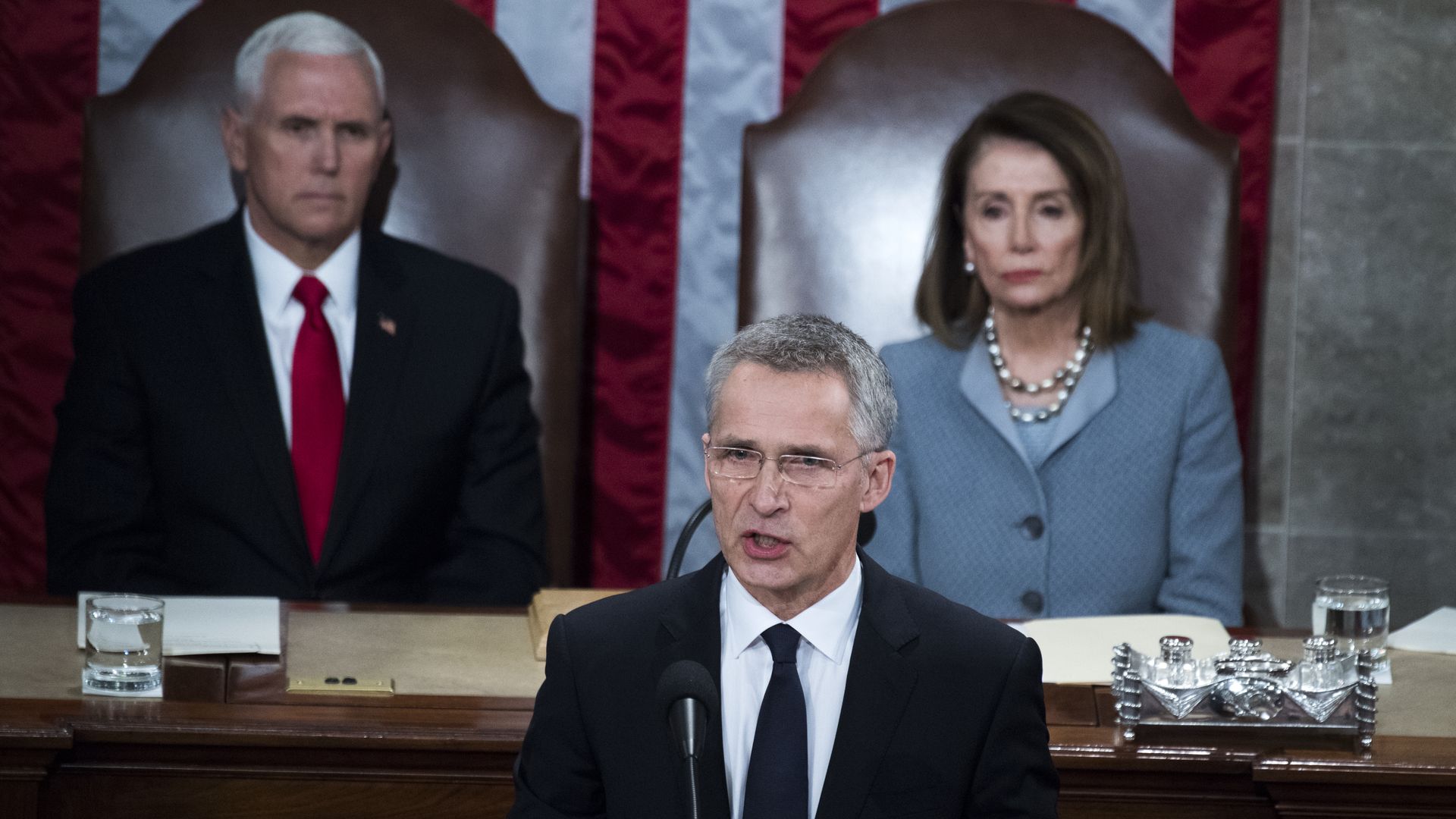 Today Jens Stoltenberg became the first NATO Secretary General to address a joint session of Congress, where he touted the alliance's success and emphasized the continuing need for unity.
The big picture: NATO has much to celebrate, having emerged successfully from the Cold War and engaged in numerous operations in the Balkans, Afghanistan and the Mediterranean. Yet questions about the U.S. commitment to the alliance, Europe's willingness to shoulder more of the burden, and other sources of division hang over this week's 70th anniversary festivities.
Where it stands: Doubts continue to swirl as foreign ministers from NATO's 29 member states visit Washington, with events planned at the White House, Congress, the State Department and elsewhere. As Stoltenberg cautioned, "Questions are being asked on both sides of the Atlantic about the strength of our partnership."
Europeans wonder about President Trump's commitment to the mutual defense pact, and whether the United States would rush to their aid in a crisis.
As the Trump administration has stressed the need for allies to boost their defense spending, the number moving toward the pledged 2% of GDP has increased — a product of both Trump's rhetoric and worries about Russia. Most still haven't hit the target, however, and Germany's percentage appears set to decrease.
Creeping illiberalism in Turkey, Hungary and Poland threatens the democratic values that underpin NATO. Although the alliance has endured nondemocratic governments in its membership before, including Portugal and Greece, differences over such essential matters are presenting a new challenge to cohesion.
Between the lines: Nevertheless, NATO is likely to survive, and if anything to become even more relevant than in recent years.
The United States and Europe must deter and defend against not only Russian conventional threats but also Moscow's attempts to interfere in key democracies.
The allies are beginning to discuss the shared challenge of Chinese economic competition and the political influence that goes along with it.
Threats on Europe's periphery — from North Africa to the Middle East — will provide fodder for common action. The migration crisis has had a profound effect on European politics and points to the dangers posed by failed states like Syria and Libya.
The bottom line: It is shared interests, and not just democratic values, that glue NATO's allies together. Interests tend to endure. So too will the alliance.
Richard Fontaine is CEO of the Center for a New American Security.
Go deeper