May seeks another Brexit extension as Parliament rejects every alternative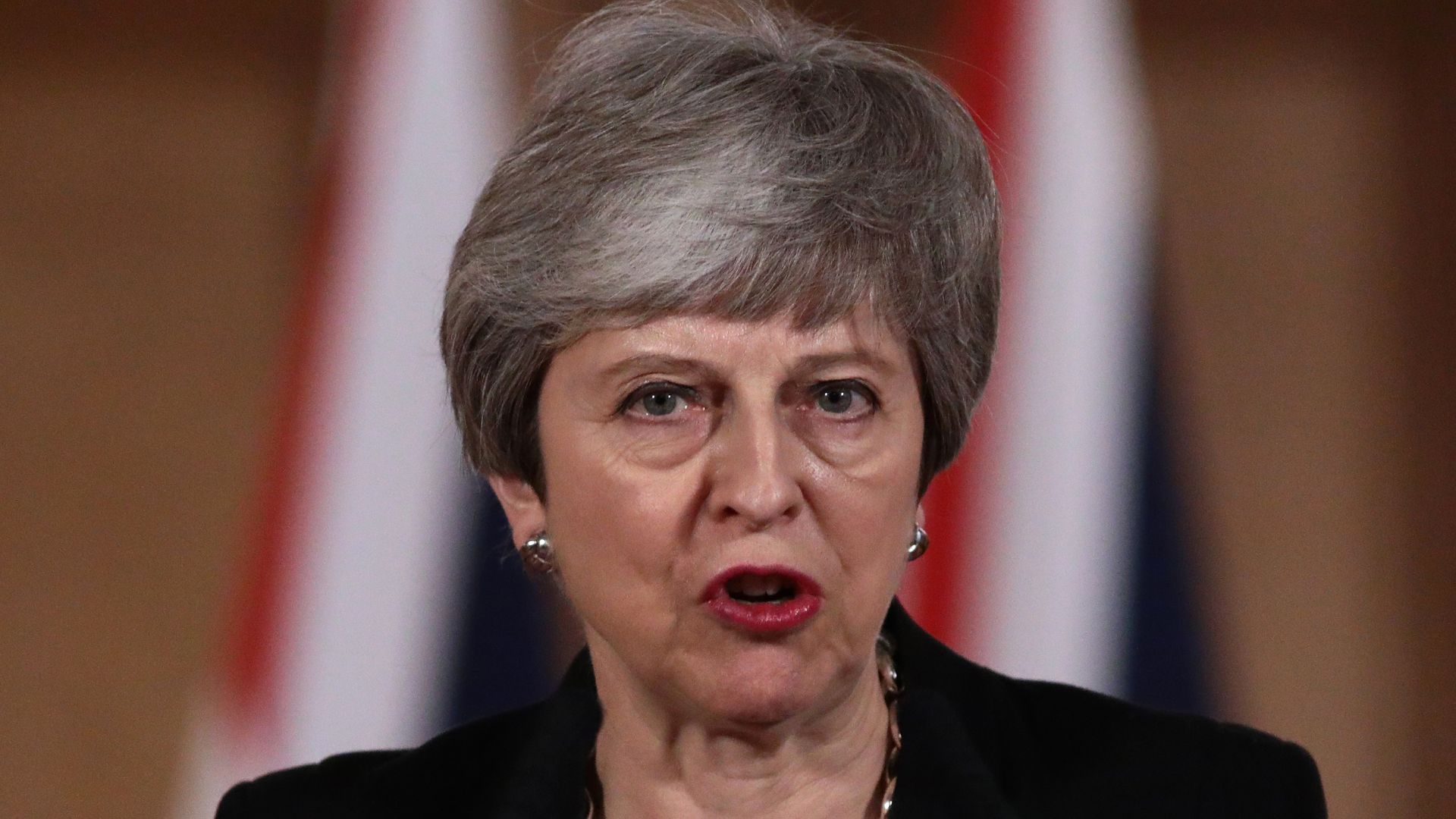 With Parliament having rejected every Brexit solution put forward so far, and an economically disastrous "no deal" exit from the EU looming, U.K. Prime Minister Theresa May said Tuesday that another "short" Brexit extension is necessary and that she's ready to compromise with the opposition Labour Party.
Details: After a marathon cabinet meeting during which members' phones were confiscated to avoid leaks, May offered to meet with opposition leader Jeremy Corbyn to seek a joint plan "to ensure that we leave the European Union and that we do so with a deal." Failing that, May proposed that she and Corbyn would agree on a series of votes to be put to Parliament, while promising that the government would stick to whatever plan gains majority support.
"This is a decisive moment in the story of these islands and it requires national unity to deliver the national interest."
— Theresa May
Our thought bubble: May's embrace of "national unity" comes pretty late in the game. Heretofore, she has prioritized holding together her Conservative Party, a large faction of which has lambasted her plan as far too "soft." She even offered to resign once Brexit is delivered in an attempt to win their support. But with all else having failed, May has finally decided she needs Labour votes to pass any plan through Parliament.
What to watch: May said that in order to carry out her new approach, the U.K. will need another extension of the Brexit deadline, which was already pushed back from March 29 to April 12.
The EU has been resistant to the idea of further extensions that only prolong the U.K.'s domestic political squabble.
May said a solution must be finalized by May 22 so that the U.K. isn't forced to take part in European elections, but the EU may not accept that proposal. "No deal" remains the default option unless and until an extension is agreed.
Go deeper: Everything you need to know about Brexit
Go deeper