Stephanie Carter: Image of Biden's embrace "misleadingly extracted"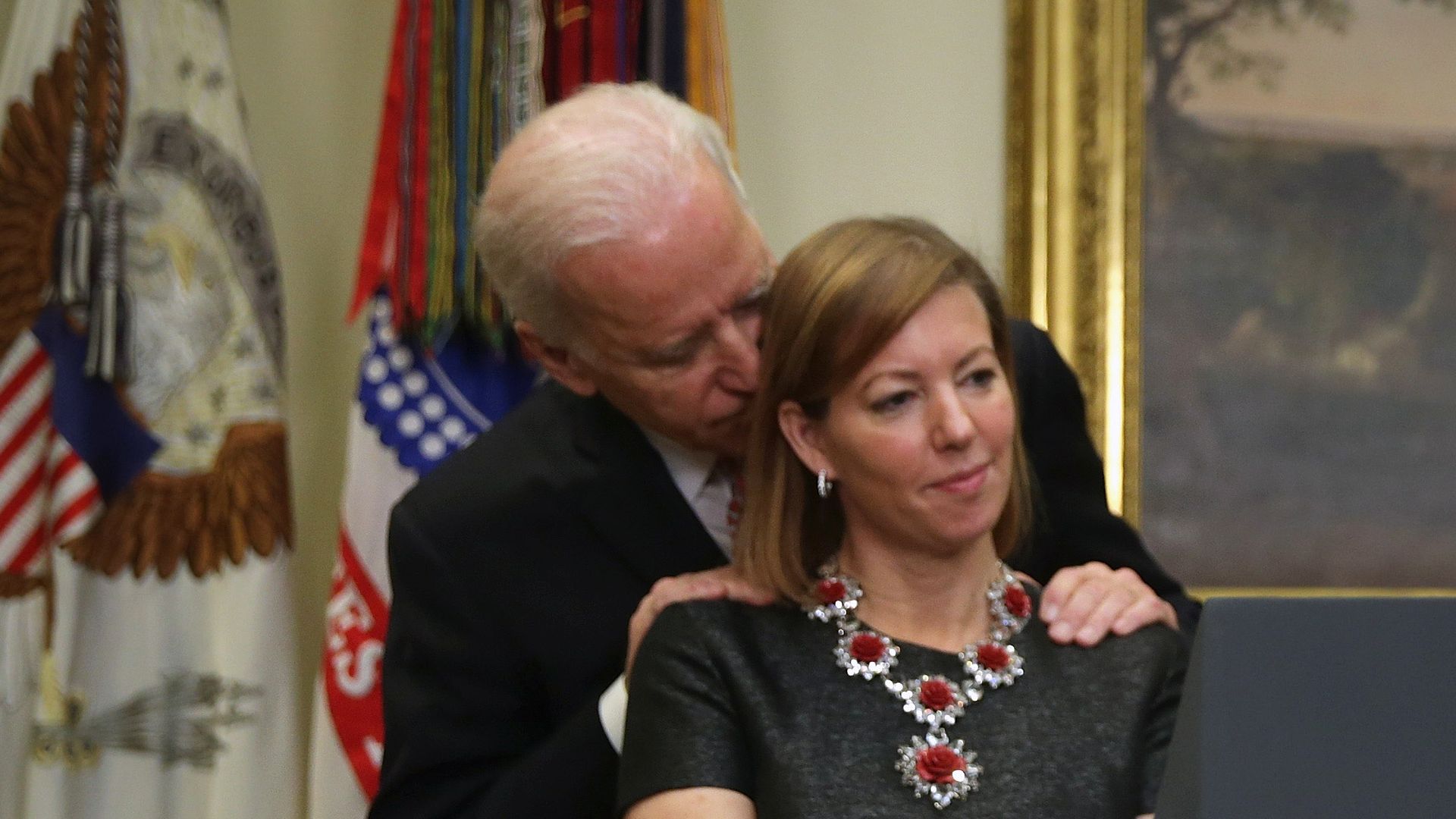 Former Vice President Joe Biden, facing scrutiny for his public displays of affection with women after an allegation of inappropriate conduct, was defended Sunday by a woman whose image with him went viral.
In a Medium post titled "'The #MeToo Story That Wasn't Me," Stephanie Carter said the image of Biden's embrace of her from behind as she watched her husband, Ash Carter, being sworn in as then-President Barack Obama's defense secretary in 2015 was "misleadingly extracted from what was a longer moment between close friends."
Details: Referring to the image that went viral again this week in her post as "that picture," Carter wrote, " The Joe Biden in my picture is a close friend helping someone get through a big day, for which I will always be grateful." She explained she had slipped on snow that day and was feeling nervous at the swearing-in ceremony:
By the time then-Vice President Biden had arrived, he could sense I was uncharacteristically nervous- and quickly gave me a hug. After the swearing in, as Ash was giving remarks, he leaned in to tell me "thank you for letting him do this" and kept his hands on my shoulders as a means of offering his support. But a still shot taken from a video — misleadingly extracted from what was a longer moment between close friends — sent out in a snarky tweet — came to be the lasting image of that day.
The backdrop: Nevada Democrat Lucy Flores alleged that Biden leaned in to smell her hair at a campaign event and kissed her on the head at a campaign event in 2014. Biden said in response he did not believe he had acted inappropriately.
The latest: Flores said in an interview on MSNBC with host Kasie Hunt was not alleging Biden sexually assaulted her. "It is an invasion of my personal space," Flores said. "It is a clear a clear invasion of my bodily autonomy to not be touched, unless I give you permission to touch it."
Go deeper: Joe Biden addresses inappropriate touching allegations
Go deeper