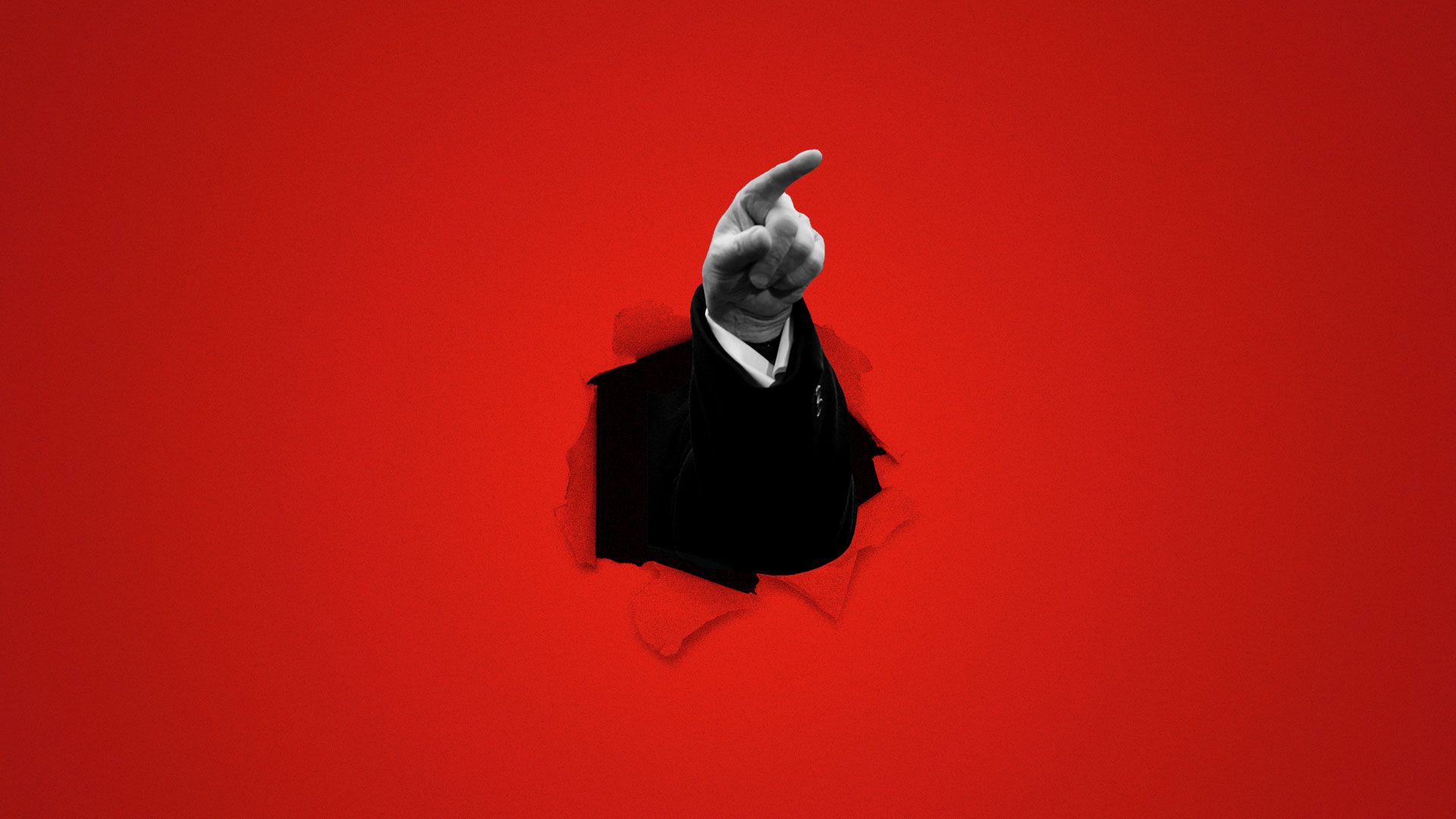 After 24 hours of brutal coverage of Education Secretary Betsy DeVos' defense of scrapping funding for the Special Olympics, President Trump stepped in to claim he was saving a program his own budget had threatened.
Driving the news: "I heard about it this morning," Trump told reporters as he left the White House. "I have overridden my people. We're funding the Special Olympics." It was a bad look for DeVos, but standard operating procedure for Trump.
It's a reminder of why his team can never feel safe: He loves to put aides in their place.
And it's why at home and abroad, no one is really sure that anyone besides Trump — even a Cabinet member — is speaking for the administration.
Administration officials past and present have told us that Trump savors news coverage that shows him acting unilaterally.
Even — one source said especially — when it involved overriding members of his own administration.
When Rex Tillerson ran the State Department, Trump used to enjoy telling people to ignore Tillerson and that he — the president — was the only one who mattered.
We see this play out on many fronts, from his impulsive use of pardons — often ignoring the usual process — to his zeal for executive orders.
He has shown throughout his presidency that he has no hesitation about countermanding his appointees:
Trump is plunging ahead with plans to undo "Obamacare," despite a Politico report that the move came over the opposition of HHS Secretary Alex Azar and Attorney General William Barr.
In Year 1, he embarrassed Tillerson for trying to negotiate with North Korea: "Save your energy, Rex, we'll do what has to be done."
Trump talks about "My generals," as if the nation's command structure were his personal retainers.
Then-Defense Secretary Jim Mattis resigned after clashing with Trump over withdrawing U.S. troops from Syria.
Trump has constantly and publicly tormented his Fed chair, Jay Powell.
Ditto Jeff Sessions when he was A.G.
Ditto the intelligence community.
Go deeper:
Go deeper