Buttigieg: MAGA makes a "false promise" for workers disaffected by automation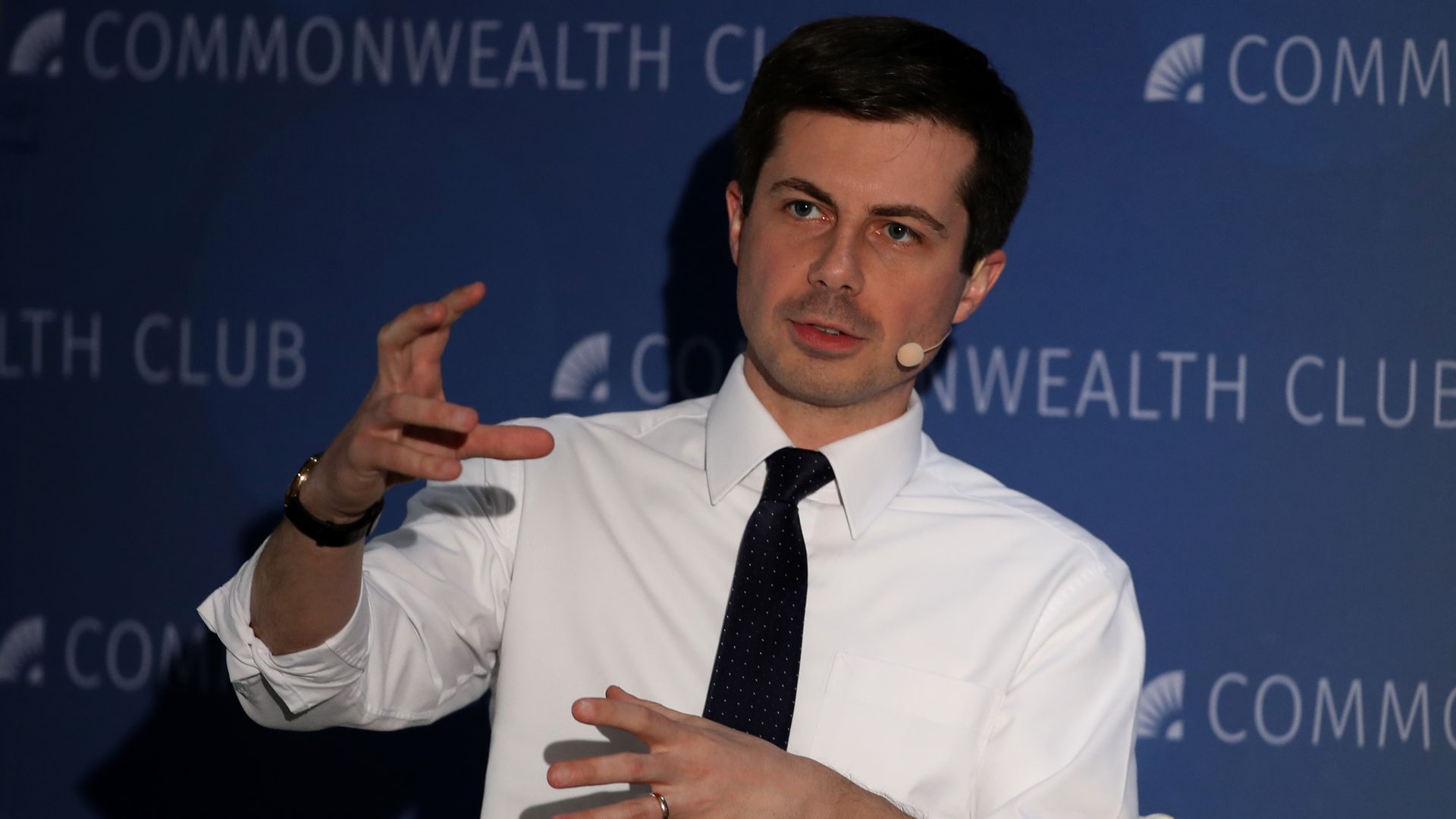 Pete Buttigieg (boot-a-judge), the mayor of South Bend, Indiana who has announced an exploratory committee for a 2020 presidential bid, dug in on President Trump's "Make America Great Again" slogan while speaking at the Commonwealth Club San Francisco, calling it "not honest" in the way it deals with Americans' disaffection with automation in the workforce.
What he said: There is a "false promise being peddled by this White House that the solution is just to turn back the clock …'We're gonna make America Great again?' You know, what does that mean? It means 'we're going to stop the changes so you don't have to change anything,' and it's not honest. You can't have honest politics that revolves around the word 'again.'"
The big picture: Buttigieg, who would be the youngest-ever U.S. president if elected has pegged himself as having a personal understanding of many of the issues facing young Americans today.
The full quote:
"That lost sense of identity is extremely important and it's only going to become more urgent as automation changes the way we relate to the world, in particular it changes the way we relate to the workforce. You just can't count on a lifelong relationship with a single employer to define where you fit into the world the way you used to…if we're not speaking to that then I think we're going to continue to see this kind of disaffection that has made people so ripe for the false promise being peddled by this White House that the solution is just to turn back the clock. That we can just stop these changes that are so disruptive for you. 'We're gonna make America Great again?' You know what does that mean? It means 'we're going to stop the changes so you don't have to change anything,' and it's not honest. You can't have an honest politics that revolves around the word 'again.'"
— Pete Buttigieg, speaking at the Commonwealth Club San Francisco
Go deeper: Pete Buttigieg: Everything you need to know about the 2020 candidate
Go deeper