Aurora and Zoox: Mapping different routes to autonomy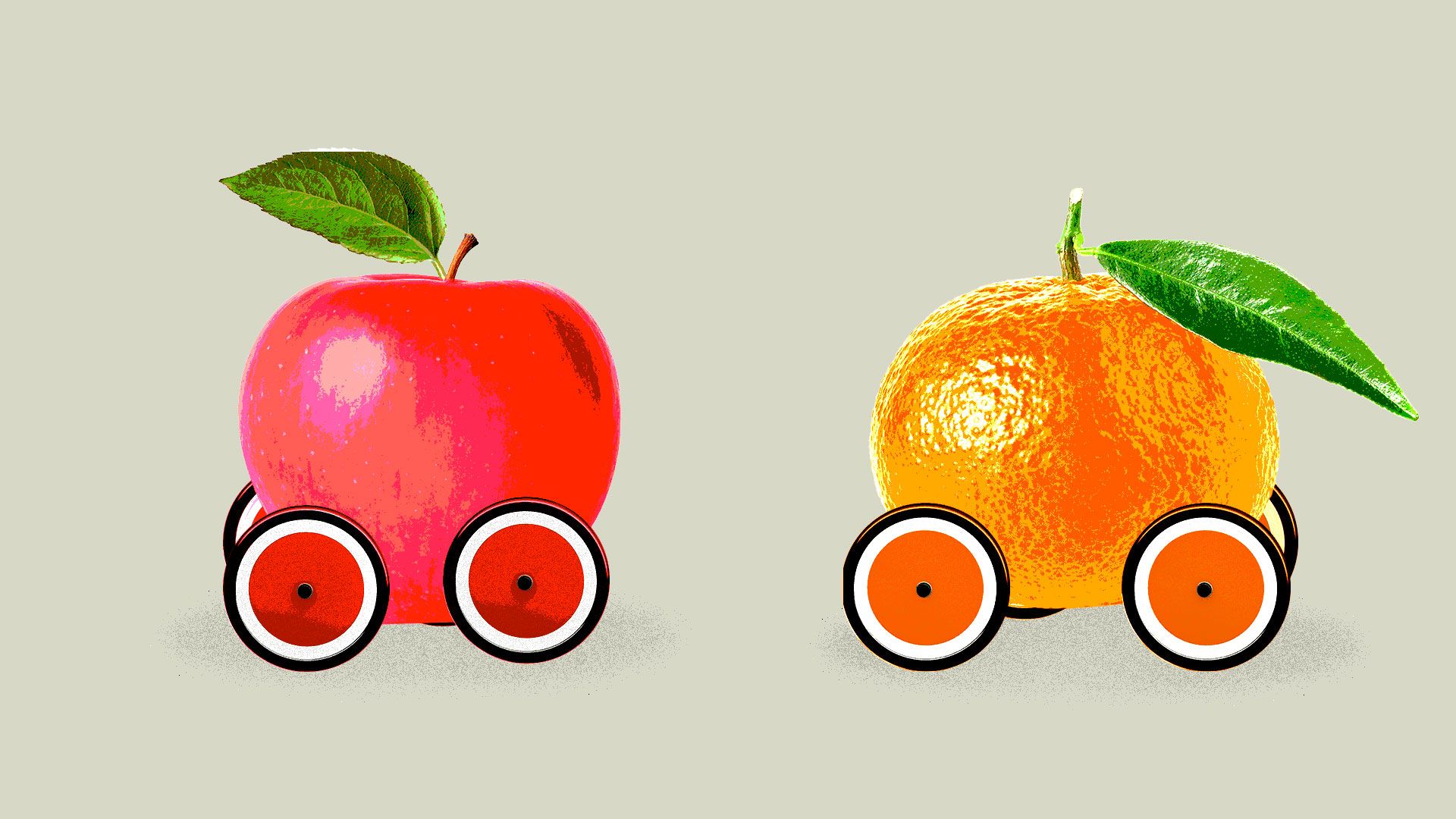 Aurora Innovation and Zoox are two of the most ambitious companies working on autonomous vehicles, but their strategies couldn't be any more different.
The big picture: The Silicon Valley-based startups are bookends on a wide range of approaches to self-driving technology. No one has landed on the right model to bring them to market and consumers remain skeptical.
Context: With experienced leaders and a combined $1.4 billion in capital raised to date, Zoox and Aurora have a better shot at success than most of the 62 companies licensed to test AVs in California. In interviews last week, the companies laid out their strategies to Axios.
Aurora — the self-described "Switzerland of autonomous vehicles" — is designing a platform of software, hardware, and data services that will operate as the "driver" moving people and goods in any type of vehicle, including cars, buses and tractor-trailers.
So far it has integrated the system into five vehicle platforms from four different carmakers. Its partners include Volkswagen, Hyundai and China's Byton.
Aurora's strategy hinges on large-scale deployment.
All Aurora-powered vehicles, regardless of make or model, share the same sensor suite — meaning they have the same sets of eyes and ears.
When the Aurora Driver learns something on one vehicle, it is shared with all Aurora-powered vehicles. They're banking on that collective learning to scale their technology quickly, safely and broadly.
"We're just one driver who happens to be cloned 100,000 times," Aurora co-founder Sterling Anderson tells Axios.
At the other end of the spectrum is Zoox, which plans to build and operate its own robotaxi service.
Zoox's focus is mobility as a service in cities like San Francisco.
Rather than retrofitting today's cars with AV technology, Zoox is designing its own self-driving electric vehicle. It won't have a steering wheel or pedals; it will have automatic sliding doors and seats that face each other to make ride-hailing easier.
"Everybody agrees this is a multitrillion dollar opportunity," Zoox CEO Aicha Evans tells Axios. "There are several problems to solve. We happen to be going after dense urban environments."
Zoox's strategy only needs a few thousand vehicles per city, unlike Aurora, because they are designed to run nonstop.
The vehicles can go most of the day on a single charge and are designed to last more than 400,000 miles.
By designing its own vehicle and controlling the software and hardware integration, Zoox says it has more control over safety and deployment.
Yes, but: Zoox has to master everything — the AV system, the vehicle, the fleet management and the rider experience. Betting the farm on robotaxis could be risky if consumers don't embrace them.
Aurora is more flexible if the AV market shifts toward other uses, like heavy trucks or delivery vehicles. But it still needs big fleets for the economics to work.
The bottom line: Just as Microsoft went after enterprise customers with cloud computing and Apple wooed consumers with its iPhone, Aurora and Zoox are plotting different strategies in a tech battle that's just beginning to take shape.
"It's been a while since an industry has had to solve something this big," Evans says.
Go deeper