Inside Trump's winning weekend: "A new presidency"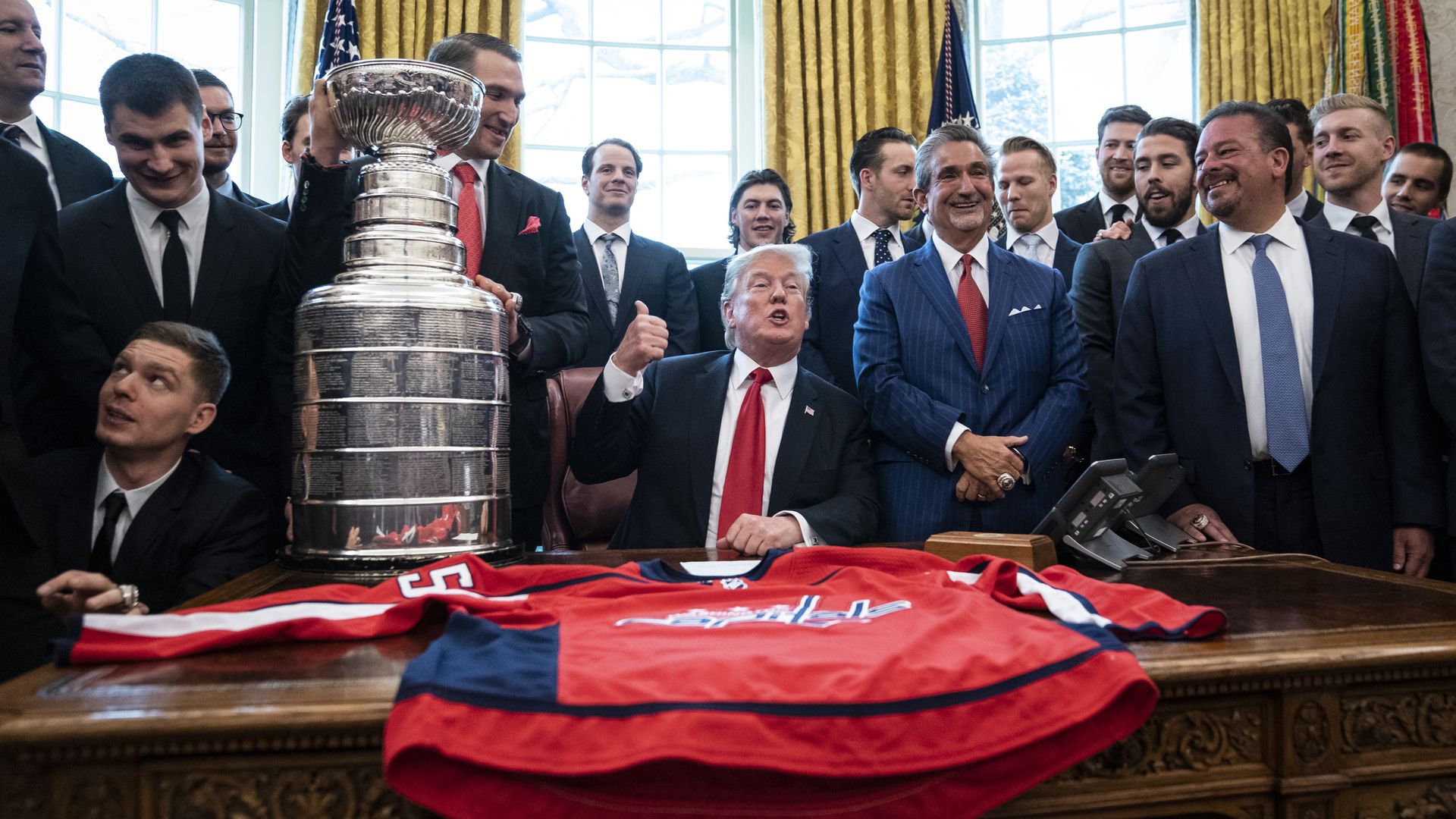 Sen. Lindsey Graham, who was with President Trump in Palm Beach this weekend as the president awaited news of Robert Mueller's findings, tells Axios that it was like "waiting on a jury."
What happened: "He was amazingly calm," Graham recalled. "I think it's literally driving people crazy that he's got a little discipline. I told him: If you really want to screw over your enemies, just be quiet for a while and be happy."
Graham said that after learning that Attorney General William Barr's letter was exculpatory on Russia, Trump was "just frustrated, like: 'They turned my life upside down, they've ruined the lives of a lot of people around me, for nothing.'"
"And I said: 'All of that's true. But it happens every day in America.'"
Officials at the White House and Trump's reelection campaign said they feel a sense of overwhelming relief.
The Trump campaign took in a good haul of text-message fundraising after the no-collusion Barr summary. 
For Trump himself, it was more complicated:
On camera, he sometimes raged. Behind the scenes, he alternated between ebullience, and venting about how nobody should have to go through what he had.
A source who was with Trump at Mar-a-Lago tells Axios' Alayna Treene that Trump "was initially frustrated with Barr" over the line saying the president hadn't been exonerated on obstruction of justice.
"The media chyrons and outlets all jumped on that as a sign of more to come/the case not being tied up with a bow."
"Which is why he's pushing the 'complete and total exoneration' line. His initial reaction was angry, over the coverage that line got."
"[B]ut after discussing the letter with his team/lawyers, his frustration went away."
Over the weekend, Graham socialized with Trump and First Lady Melania Trump, and played golf with the president on Sunday. Graham said he told Trump several times after the Barr letter was released:
"You're stronger today than any time since you've been elected. It legitimizes your election in the eyes of those who doubted."
"This is sort of the first day of a new presidency. What are you going to do with it? How do you use this capital?"
Graham said Trump is "upset about what happened to a lot of people in his family, and friends."
"I promised him that I'm going to take a hard look at the FISA process and intelligence operation. Not to lock up Clinton, but to try to figure out: How did it get off the rails? And that will be done, because it needs to be done."
"And my advice to him is to think of issues that it would be hard for Democrats to say 'no' to. Prescription drugs and infrastructure."
Graham said there's one person Trump has mentioned most as someone he feels badly about having been dragged into the investigation.
A second source, who was with Trump over the weekend in Palm Beach, said Trump mentioned "a couple of times, Paul Manafort's situation and how he was treated very unfairly. He said the guy was prosecuted because he worked for me."
But nobody Axios has spoken to has heard Trump privately entertain the idea of pardoning his former campaign chair.
When Graham was asked about the idea, he replied: "I don't think that would be very smart, no."
Go deeper:
Go deeper