Party accused of asking NRA for money to influence Australian gun law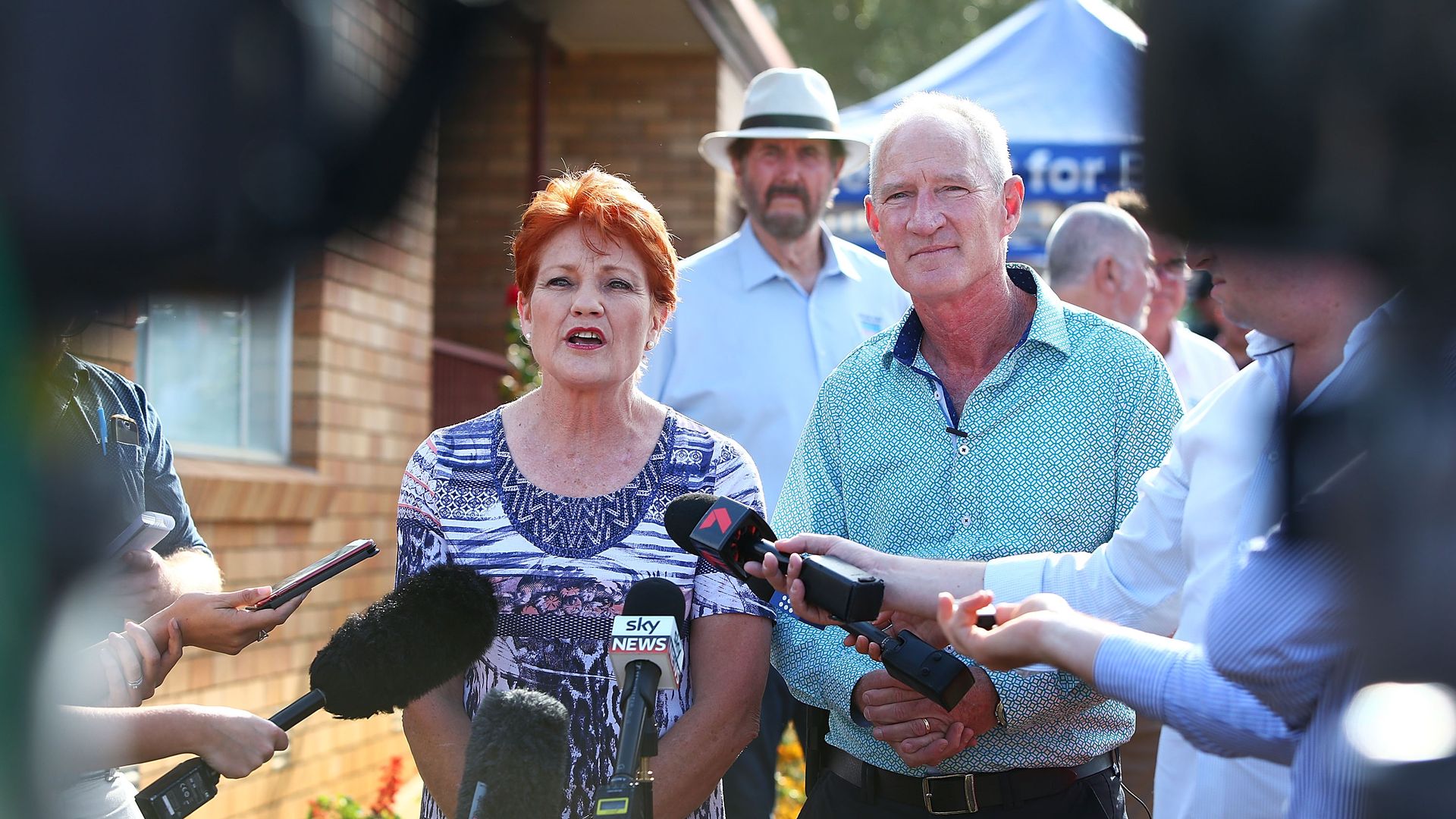 Australian Prime Minister Scott Morrison denounced a right-wing populist party Tuesday after its officials were filmed seeking millions of dollars in U.S. funding in exchange for pushing to ease Australia's strict gun laws.
The details: Al Jazeera's undercover report showed One Nation officials Steve Dickson and James Ashby meeting with U.S. pro-gun representatives. At one point, an NRA rep rejected their request for A$10 million ($7.1 million) in funding — which they said could win them enough seats in Australia's Senate to influence government decisions. At a press conference Tuesday, Dickson and Ashby blamed alcohol for the incident.
What they're saying: Morrison said at a press conference he found reports that One Nation officials had sought to "sell Australia's gun laws to the highest bidders, to a foreign buyer" abhorrent.
Driving the news: The Al Jazeera documentary comes at a sensitive time for the gun debate in Australasia, after this month's New Zealand terrorist attack. One Nation has long supported easing Australia's gun restrictions, but it says it's always complied with the law.
The other side: One Nation alerted police to Al Jazeera's report, describing the news outlet as a "state-owned propaganda arm of the Qatari government." The political party has been widely criticized for being anti-Muslim. One Nation said in a statement Al Jazeera targeted it "because of its strong approach to reducing immigration numbers and a travel ban on countries with terrorism links," according to 9 News.
Ashby said the conversations with the NRA were to look at nothing more than the techniques they had used that helped the Trump campaign. "This was about sourcing technology, an understanding of how they operate, but never was it about seeking $20 million from the NRA," he said.
"I will be the first to admit, we'd arrived in America, we got on the sauce," Ashby said, referring to Australian slang for drinking alcohol. "We'd had a few drinks and that's where those discussions took place — not with any potential donors."
The one Nation officials also blamed the the undercover Al Jazeera reporter for "skulduggery."
The backdrop: Morrison praised former Prime Minister John Howard for tightening legislation after the 1996 Port Arthur Massacre, which resulted in a ban on fully automatic and semi-automatic weapons in Australia.
Go deeper