A real U.S.-China trade deal is a long way away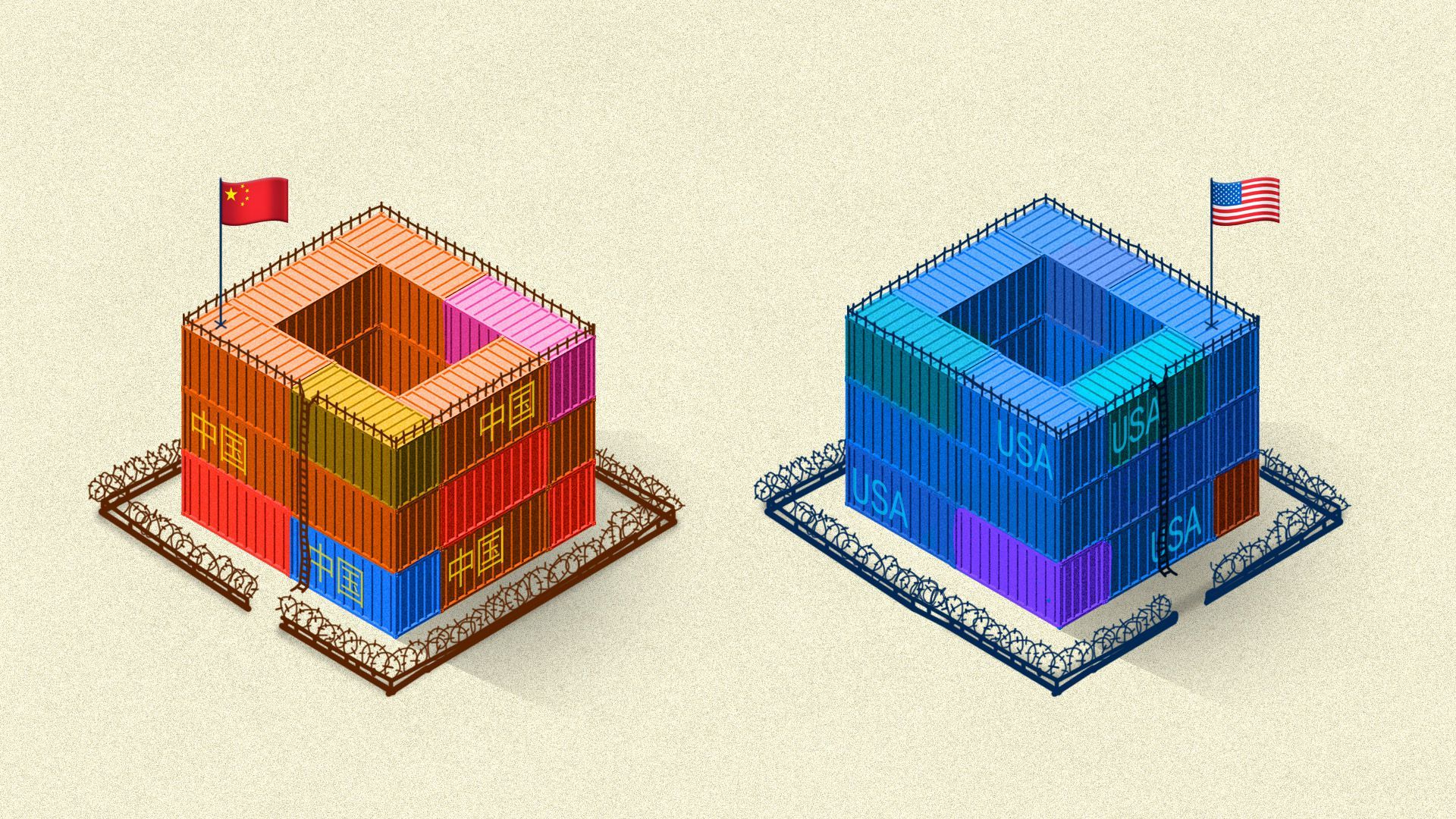 President Trump roiled markets yesterday when he said his administration would likely keep tariffs on Chinese goods until he's certain Beijing is fully cooperating with the terms of a trade deal. That could mean years of negotiation, acrimony and tariffs, given the nature of the changes being discussed.
The big picture: A trade agreement between Trump and Chinese President Xi Jinping is just one piece of a wide-ranging confrontation between the world's top economies.
Trump has shown that tariffs are his favorite weapon, and he's concurrently pushing a number of international efforts that have thus far been wildly unsuccessful.
Trump wants to keep countries from using Huawei equipment in their 5G networks, but has been rebuffed by Britain, Germany, India and the United Arab Emirates, who have all signaled they'll work with the Chinese telecom.
European countries have continued to sign onto China's Belt and Road Initiative, with Italy next week expected to become the 17th European nation to do so.
Why it matters: Trump's remarks on Wednesday played to investors' worst fears about how much longer the trade war between the two countries could continue. Stocks fell from their highs of the day — the S&P 500 dropped from above 2,850, which it had touched for the first time since October — after the news.
"The markets have priced in the trade-war resolution, so if there's any chance this gets extended, delayed or changed, this causes markets to be jittery," Gene Goldman, chief investment officer at Cetera Investment Management, told Bloomberg yesterday.
Remember: China isn't paying the tariffs. U.S. businesses and consumers are. Tariffs are "a consumption tax ... they hurt the economy," as Trump's former economic adviser Gary Cohn pointed out earlier this month.
The bottom line: While it now looks to be on shakier ground, an agreement between the U.S. and China on trade would be just the first step in a much longer negotiation process. NAFTA began as a proposal by Ronald Reagan in 1979 and was signed by President Bill Clinton, so the market is likely in for more surprises and more tariffs in the meantime.
Go deeper: Investors bet on China beyond the trade war
Go deeper