Jay Inslee shows more cards in climate run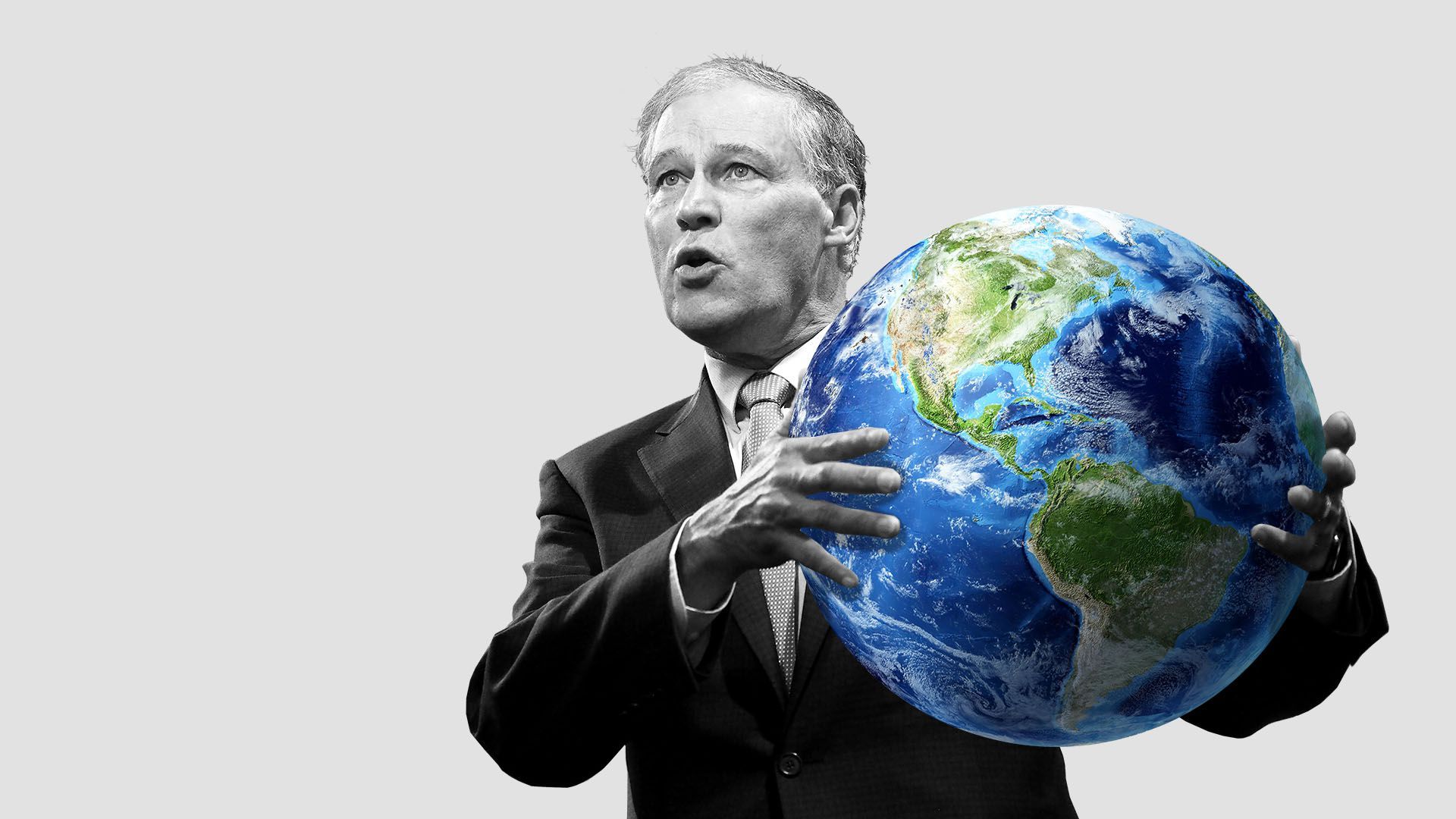 Washington State Gov. Jay Inslee, who is running a climate-focused White House campaign, is sharing more of his thinking about his platform and approach as the Democratic primary race heats up.
Why it matters: The Democratic party is debating the best method of tackling human-caused global warming and other climate problems, including whether to embrace the Green New Deal (GND) resolution fully or partially. Inslee also is signaling the ways in which he's closer to Sen. Elizabeth Warren's reformist view of capitalism than to the democratic socialism of Rep. Alexandria Ocasio-Cortez and Sen. Bernie Sanders.
Where it stands: Inslee shared more of his thinking about his platform with reporters yesterday while in Washington, D.C., for a renewable energy industry event. He said a detailed platform is still weeks away, but offered some clues.
Takeaways:
1. Inslee offered hints that his climate and energy platform won't be constructed around a single big idea analogous to Medicare for All. Instead look for a constellation of policies.
"Here's some news: There is not one silver bullet on this," he told the American Council on Renewable Energy (ACORE).
Inslee cited several things enacted or proposed in his state and elsewhere around electric vehicle targets, a clean transportation fuels standard, "net-zero" buildings, and more.
"I don't think we should take carbon pricing off the table, but whether I propose it or not, that remains to be seen," he said onstage. (Carbon fee ballot measures have twice failed in his state.)
2. His comments on the filibuster suggest a lot of his platform will require legislation, not just administrative action.
"I don't believe you can really be serious about saying you are going to defeat climate change unless you realize that we need to have the filibuster go the way of history," he told reporters.
3. Inslee's basic jobs message is that what he's calling for is already happening — the country just needs more of it.
"I've got a shiny blue General Motors all-electric Bolt charging in my driveway made by American workers in Michigan. That is a pretty good vision for the United States," he said at the event.
4. Inslee places more emphasis on the role of the private sector than some advocates of the GND, although he praises the concept. The resolution itself focuses huge public-sector investments and financing tools to a very rapid scale-up of zero-carbon energy and climate-friendly infrastructure and industrial practices.
"I think sometimes it's easy for folks to forget what is by far the largest driver and provider of equity and entrepreneurial skills, and labor skills, and intellectual talent. It is the private sector," Inslee said (although those remarks weren't made in relation to the GND).
"I think the most important public policy aspect is to create a demand for these products," he added.
"Once you can show a demand, a steady-state demand for your products and services, that is going to help have capital flow into this industry," he told ACORE.
My thought bubble: That sounds a lot like the rationale for policies like clean power targets that lots of states have imposed and federal lawmakers — like Inslee, a former congressman who's worked on climate problems for decades — have unsuccessfully pushed nationally.
But, but, but: "We do have to have massive new investments in the public sector," Inslee later clarified to reporters.
"We do need massive public infrastructure investment, but we'll need more massive private equity which will really drive the development of a lot of this technology and infrastructure," he said.
And his message doesn't flatly collide with the GND per se. This primer from the pro-GND think tank Data for Progress has similar things to say about policy goals that move private capital.
Go deeper:
Go deeper