GM's Lordstown closure set to be a key 2020 issue for Trump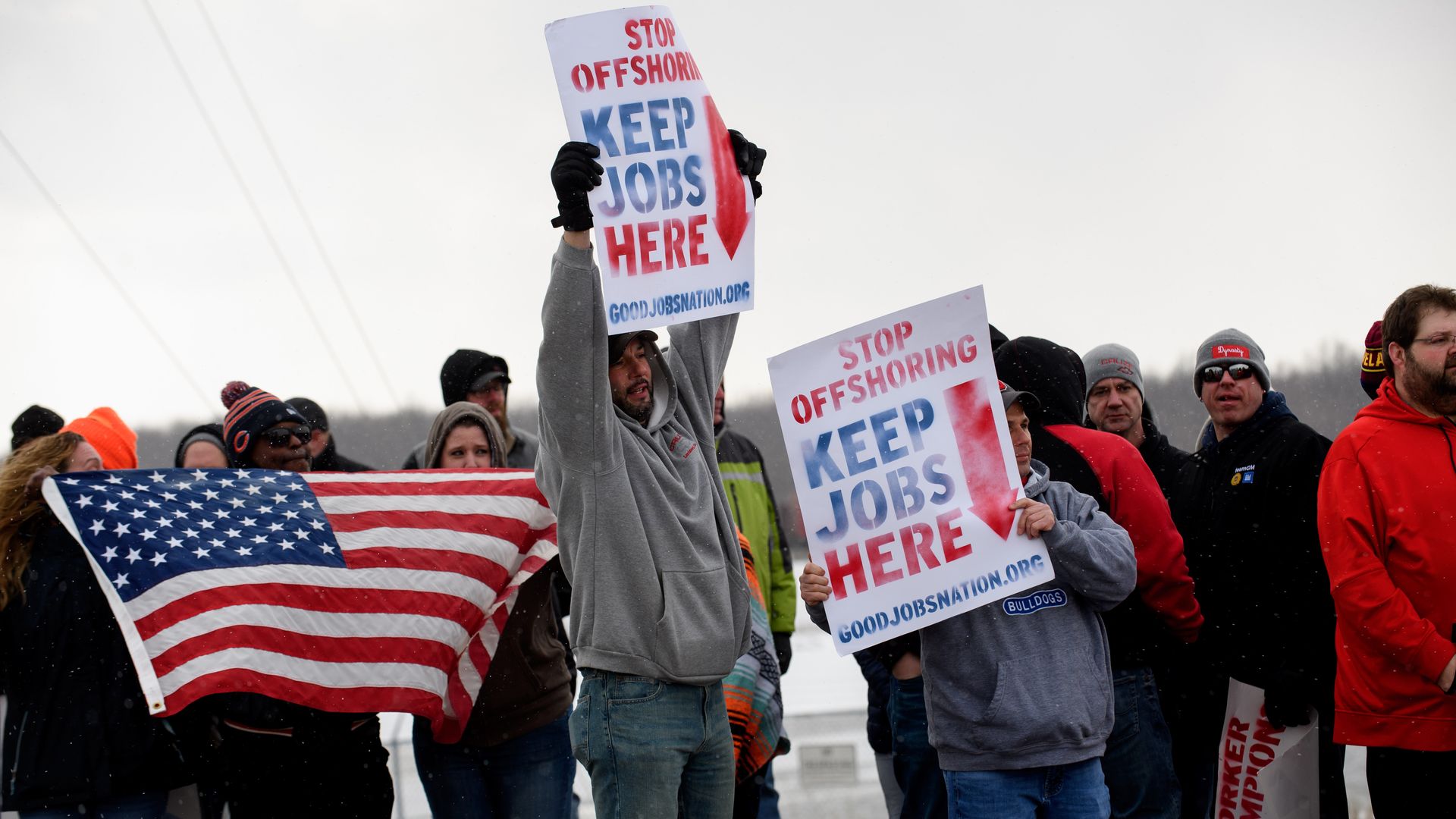 President Trump once again blasted General Motors and the United Automobile Workers this week for closing a Chevrolet Cruze plant in Lordstown, Ohio, as union activists accused the carmaker of favoring hedge funds over the workers laid off amid plant closures.
Why it matters: Ahead of Trump's visit to Ohio later this week where he's expected to push for more manufacturing jobs, the closure of the GM plant has become a key issue in a state critical for him in 2020. The closure in Lordstown was part of a 15% cut to GM's salaried workforce in North America, affecting jobs that the president promised were "all coming back" to the state in 2017.
What Trump's saying: He tweeted Sunday: "Democrat UAW Local 1112 President David Green ought to get his act together and produce. G.M. let our Country down, but other much better car companies are coming into the U.S. in droves. I want action on Lordstown fast. Stop complaining and get the job done! 3.8% Unemployment!"
Later that day, he indicated that he spoke to both leaders in the dispute, tweeting: "Just spoke to Mary Barra, CEO of General Motors about the Lordstown Ohio plant. I am not happy that it is closed when everything else in our Country is BOOMING. I asked her to sell it or do something quickly. She blamed the UAW Union — I don't care, I just want it open!"
The state of play: UAW filed a lawsuit against GM last month, alleging that it could not idle the Lordstown plant under a previous labor contract, per the Detroit Free Press.
UAW retweeted Trump Sunday with a comment, "Thank you, Mr. President, for fighting alongside the UAW against @GM. We will leave no stone unturned to keep the plants open!"
Driving the news: A new report from Hedge Clippers and the American Federation of Teachers showed that GM diverted $25 billion to shareholders over the last 4 years — including $10 billion in stock buybacks, set to be a key 2020 issue — which is more than 5 times the amount GM said it needed to try and save the Lordstown facilities.
The other side: In response to Trump, GM said on Monday that the automaker and UAW will decide what happens to the plant.
"We remain open to talking with all affected stakeholders, but our main focus remains on our employees and offering them jobs in our plants where we have growth opportunities. We have opportunities available for virtually all impacted employees."
Go deeper: Politicians react to GM closings in their backyards
Go deeper