Youth protests sweep the globe demanding action on climate change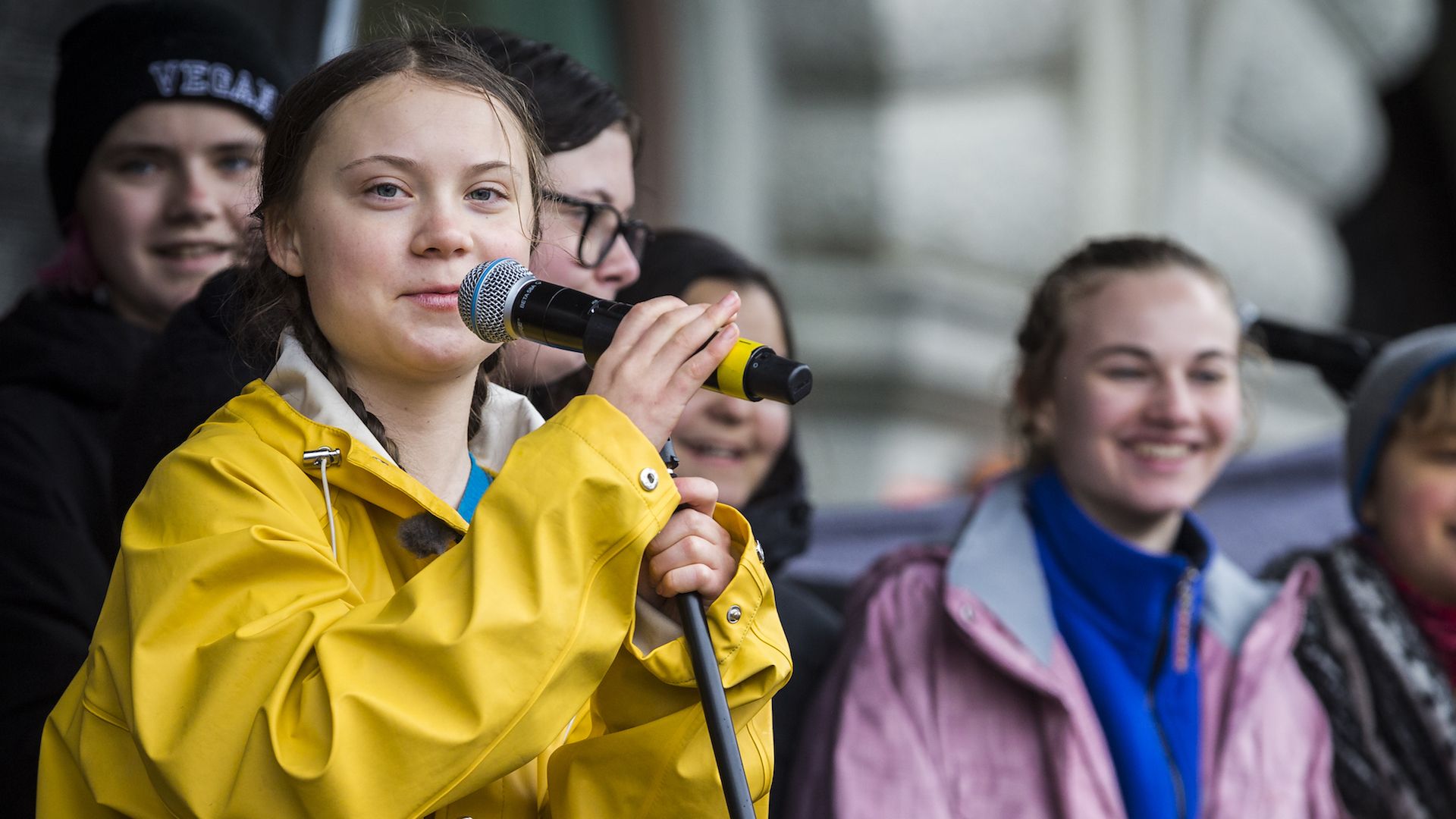 Youth demonstrations and school walkouts against climate change are expected in at least 112 countries, including the U.S., on Friday in a global movement sparked by 16-year-old Swedish climate activist Greta Thunberg. Thunberg rose to prominence through weekly climate protests and prominent speaking roles at the UN Climate Change Summit in Poland and the World Economic Forum in Davos.
The big picture: These walkouts were inspired by the Fridays for Future movement, which calls for students to skip classes once a week to make a statement about the existential threat posed by climate change for the young and future generations. The protests reached America by way of Europe on Friday morning, and even spread to Antartica.
The details: Thunberg has made clear that she understands the implications of the science showing that the world has a narrow window of time to cut greenhouse gas emissions before locking in more significant global warming impacts. Speaking at the climate talks in Poland, she shamed negotiators there for not acting boldly:
"Adults keep saying we owe it to the young people, to give them hope," Thunberg said, "But I don't want your hope. I don't want you to be hopeful. I want you to panic. I want you to feel the fear I feel every day. I want you to act. I want you to act as you would in a crisis. I want you to act as if the house is on fire, because it is."
— 16-year-old climate activist Greta Thunberg, speaking at the World Economic Forum in January
What's happening:
Our thought bubble, per Axios' Andrew Freedman: The protests on Friday are the largest and most widespread demonstrations on this issue since the run-up to the Paris Climate Summit in 2014 and 2015, and show that young people feel a sense of urgency on this issue that those in power have lacked.
In the U.S. the youth movement is poised to play a significant role in the 2020 presidential election, having already pushed Democratic primary candidates to embrace the Green New Deal.
What's next: In the U.S., climate groups such as Zero Hour and the Sunrise Movement are coordinating demonstrations on Friday as well as subsequent work to advocate for ambitious climate policies. Much of their efforts will focus on climate justice issues.
"It's reasonable to assume that climate change is separate from all other issues. But that's wrong, and it is dangerous to even push the narrative that climate justice and social justice are separate," Jamie Margolin, founder of Zero Hour, said in a statement.
Go deeper: A tipping point on climate change
Go deeper