Brexit's overstated importance for the global economy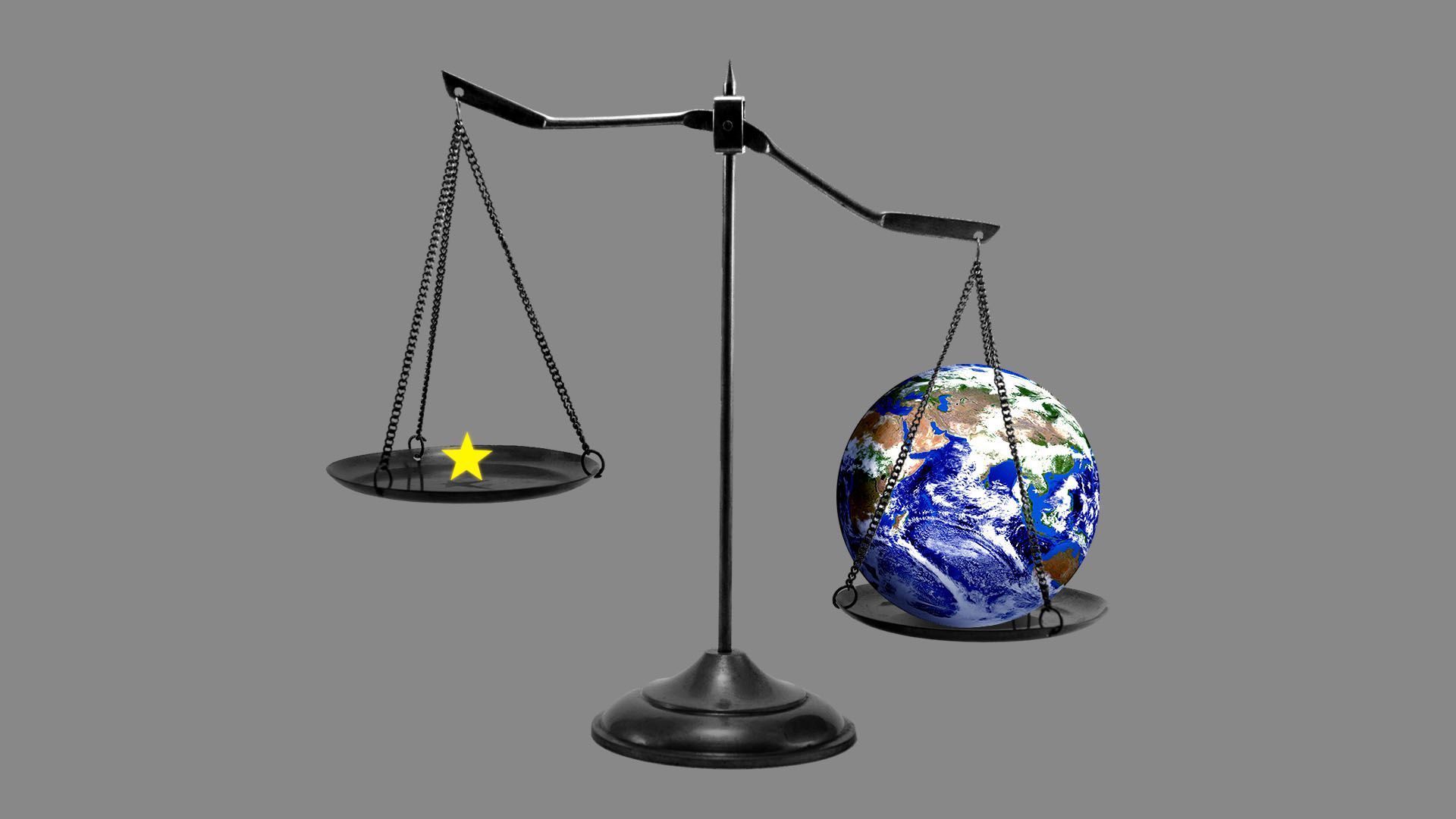 Brexit has grabbed global news headlines, but capital markets have shown little fear and Britain's currency has even strengthened as the March 29 deadline nears with no resolution in sight.
What's happening: British government debt is trading little moved from its levels at the start of the year, and London's benchmark FTSE 100 is up more than 6% year-to-date — less than S&P 500 and European Stoxx 600, but not out of sync with global equity markets.
Why it matters: Even if Brexit does happen, its impact on the global economy has been far overstated by central bankers and politicians, says Jennifer McKeown, head of global economics service at Capital Economics.
"While the prolonged uncertainty would not be good for business or financial market sentiment, an ultimate deal and softish Brexit would have little economic effect in either direction. And even in a no deal scenario, the implications for other economies would not be too severe," she said.
The big picture: To wit, a recent paper from Britain's New Economics Foundation based on Office for Budget Responsibility data finds that the country's austerity measures instituted in 2010 will cost the country's economy more than twice what Brexit will.
"Discretionary policy decisions since 2009-10 have reduced real GDP growth by such an extent that in 2018/19, GDP is 4.7 per cent lower than it would otherwise have been without the austerity," Alfie Stirling, NEF's head of economics, writes.
Austerity has suppressed "incomes and expenditure in the economy by just under £1,500 per person and more than £3,600 per household, in this year alone. We also know the effects have not been evenly felt, with the heaviest burden borne by the poorest households in society," Sterling writes.
Between the lines: To put this in perspective, policymakers warned that the vote to leave the European Union would cause rampant uncertainty and seriously damage Britain's economy.
The Bank of England recently estimated that since the 2016 Brexit vote the economy has lost 2% of GDP in the 2018-19 fiscal year. That's about £900 less per person or £2,100 less per household than what the numbers show austerity has cost.
Our thought bubble, per Axios' Felix Salmon: "Austerity has always been Europe's Achilles heel. The European monetary union was built on the Maastricht limits (debt no greater than 60% of GDP, deficit no greater than 3% of GDP) which caused unnecessary austerity and a bunch of governments lying about the true nature of their finances."
"Both phenomena increased mistrust of Europe's institutions. Ultimately, the EU's insistence on austerity was instrumental in souring some 500 million people, to a greater or lesser degree, on the entire European project — including the 17.4 million Britons who voted to leave the EU in 2016."
"Austerity has had many deleterious consequences, but Brexit is the greatest of them all."
Editor's note: This piece was corrected to show Maastricht limits say government deficit should be no greater than 3% of GDP (not 60%).
Go deeper