Brexit deadlock and the political abyss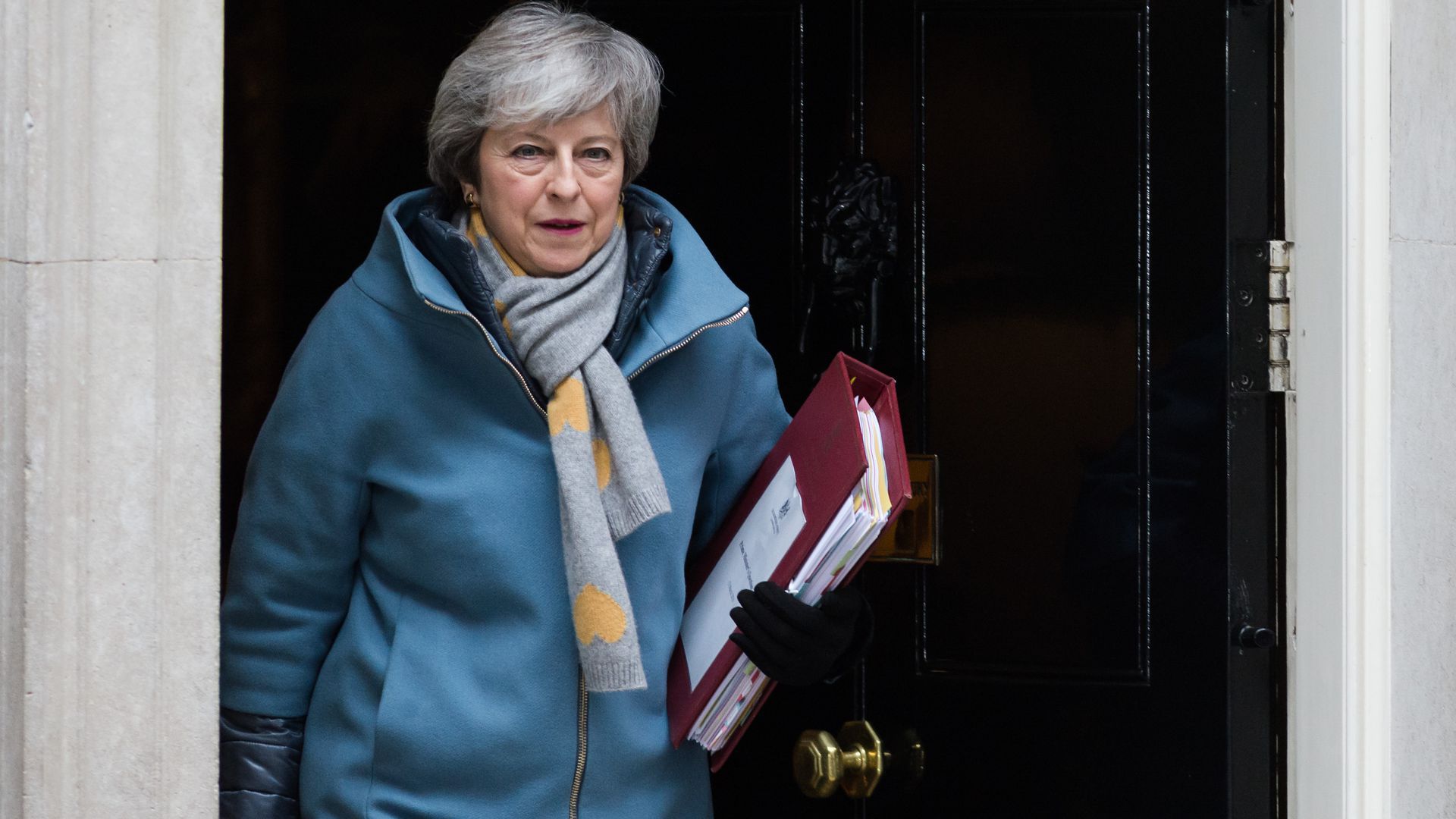 Here she comes, again.
Catch up quick: Having today secured a parliamentary mandate to extend the Brexit deadline, Prime Minister Theresa May plans to bring her remarkably unpopular plan up in Parliament for a third and final time next week. If she fails, it's off to the Continent to seek a delay that could ultimately last over a year.
Flashback: May has already cut a deal with the EU, which Brussels considers its final offer. That deal was defeated by the heaviest margin (230 votes) in modern U.K. history. On Tuesday, the margin was a mere 149 votes.
The latest: Having overwhelmingly rejected on Wednesday the idea of a "no deal" Brexit, which would see the U.K.'s trading arrangements with the EU vanish overnight, Parliament today collectively conceded that this won't get solved by March 29.
Between the lines: May is desperate to deliver Brexit without tearing whatever threads still hold her Conservative Party together. She's hoping fear of the unknown will lead Brexit enthusiasts in the party — who declare that her deal would spurn a historic opportunity to regain sovereignty — back into her camp. Hence, the third vote.
The big picture: This isn't just about Brexit anymore. It's a genuine political crisis. The prime minister has been repeatedly humiliated. The opposition leader, Jeremy Corbyn, has largely been irrelevant. No one is at the wheel.
Watching this week's proceedings, you could be forgiven for forgetting that the U.K. in many ways remains an economic, military and cultural power (perhaps a bold sentence for an American to write, I'll admit).
The Economist's Brexit editor, John Peet, sums it up (podcast): "British stability has been built around the two main parties … but Brexit has cast across that stability because the bigger divide now is between those who support 'Remain' and those who support 'Leave' and both parties are split from top to bottom on this issue."
The debate goes beyond politics. "Brexit is a feeling," a British former diplomat told me this week. He cited a 2017 YouGov poll that found a majority of "Leave" voters would support Brexit even if it damaged the economy, while just 38% said they'd change their vote to save their job, or a family member's.
What they're saying:
"The British have always kind of been a model for us," one diplomat from a small European country told me. "I don't really know what to think."
"It's tearing a country apart. It's actually tearing a lot of countries apart and it's a shame that it has to be that way," President Trump said today. "I'm surprised by how badly it's gone from the standpoint of a negotiation."
What's next: If May passes her deal by March 20, she'll need a short extension from the EU to get the necessary legislation in order. If not, she'll head to Brussels to face a roomful of exasperated European leaders. They're also anxious to avoid "no deal," but don't want to simply give the U.K. more time to continue the current squabble.
European Council President Donald Tusk today supported a "long extension" to allow the U.K. to "rethink its Brexit strategy and build consensus around it." If any of the 27 member states vetoes an extension, though, things will get more chaotic still.
Looming ever larger is the prospect of a second referendum to break the deadlock. May has long said a re-do would betray the faith of the British people in their government.
In the meantime, how about that third vote?
Go deeper