FAA grounds Boeing 737 MAX aircraft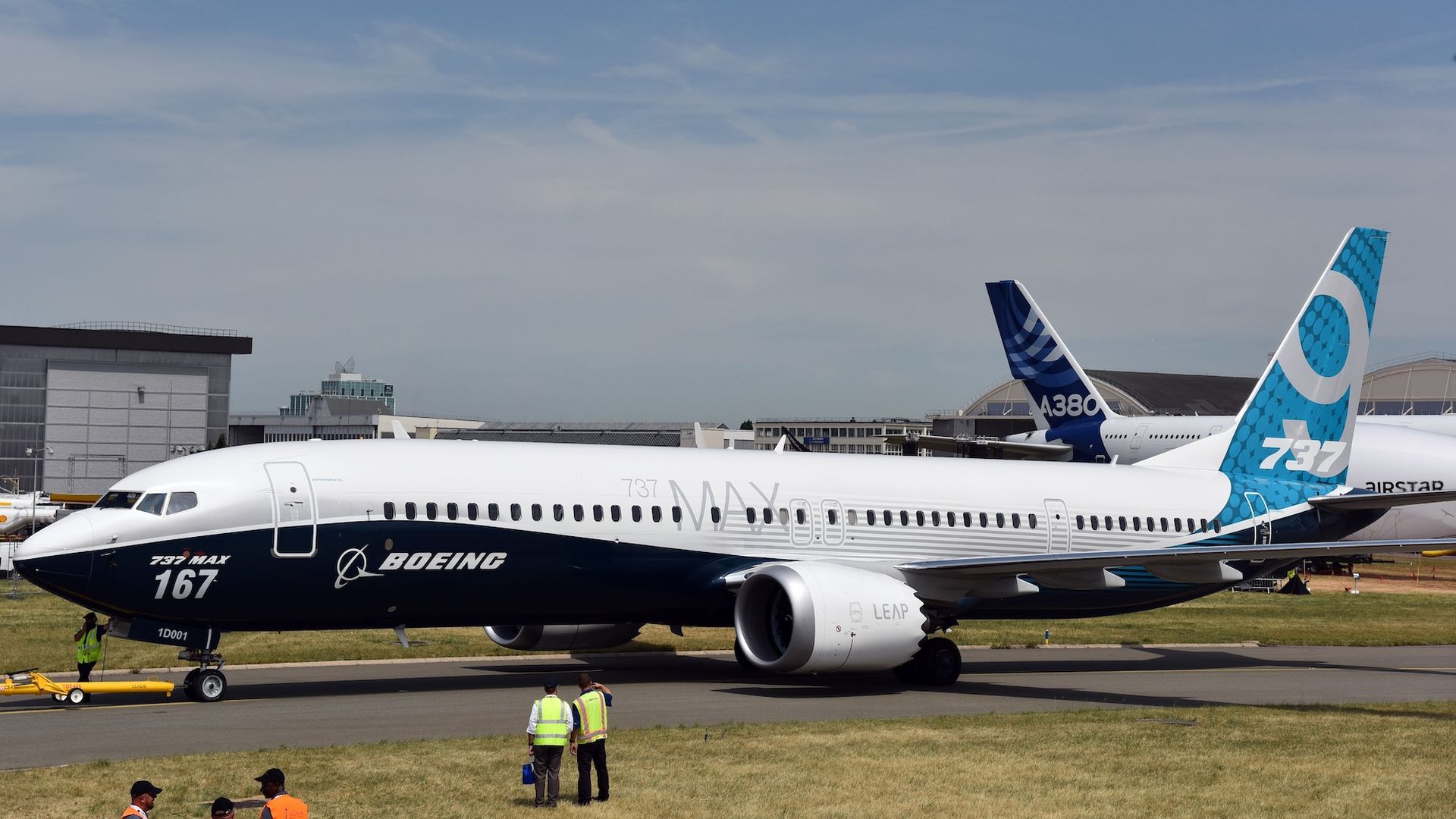 Following 2 fatal crashes in less than 6 months, the FAA said it will issue an emergency order temporarily banning Boeing 737 MAX series aircraft from flying in the U.S., or entering its airspace.
Why it matters: The action is a retreat from the FAA's previous strategy of reaffirming the safety of the new aircraft, even as airlines and aviation regulators from dozens of countries, including Canada and the European Union, went ahead and grounded their fleets. The FAA has not grounded a new aircraft type since the Boeing 787 had a series of non-fatal lithium ion battery fires in 2013.
"The safety of the American people, of all people, is our paramount concern," Trump said in advance of the ban, telling reporters the ban would be "until further notice."
A ban would affect 3 U.S. airlines that operate these aircraft: United, American and Southwest Airlines.
Details: In a statement, the FAA said it made the decision as a result of "new evidence" from the Ethiopian Airlines crash that was analyzed today.
"This evidence, together with newly refined satellite data available to FAA today, led to this decision," the FAA stated.
"The grounding will remain in effect pending further investigation, including examination of information from the aircraft's flight data recorders and cockpit voice recorders," the FAA said, declining to speculate how long the grounding will last.
FAA Administrator Daniel Elwell said "Since this accident occurred we were resolute that we would not take action until we had data," adding, "That data coalesced today ... added fidelity — missing pieces that we did not have prior to to today."
Boeing released a statement saying it remains confident in the aircraft's safety, but that it recommends a temporary suspension of operations of the global fleet of 737 MAX aircraft.
"We are supporting this proactive step out of an abundance of caution. We are doing everything we can to understand the cause of the accidents in partnership with the investigators, deploy safety enhancements and help ensure this does not happen again."
— Boeing CEO Dennis Muilenburg
Between the lines: A suspected cause of the Lion Air crash in Indonesia on Oct. 29 is a malfunction with an automated system Boeing installed to prevent a dangerous flight condition known as a stall.
The system, called the maneuvering characteristics augmentation system, or MCAS, appeared to activate based on faulty readings from a flight sensor, pushing the plane's nose down repeatedly as the pilots struggled to regain control.
Investigators are looking to see if the Ethiopian crash, which also took place shortly after takeoff, was caused by the same system.
Read the FAA's emergency order:
Go deeper