Trump envoy says it's all or nothing on North Korea's nukes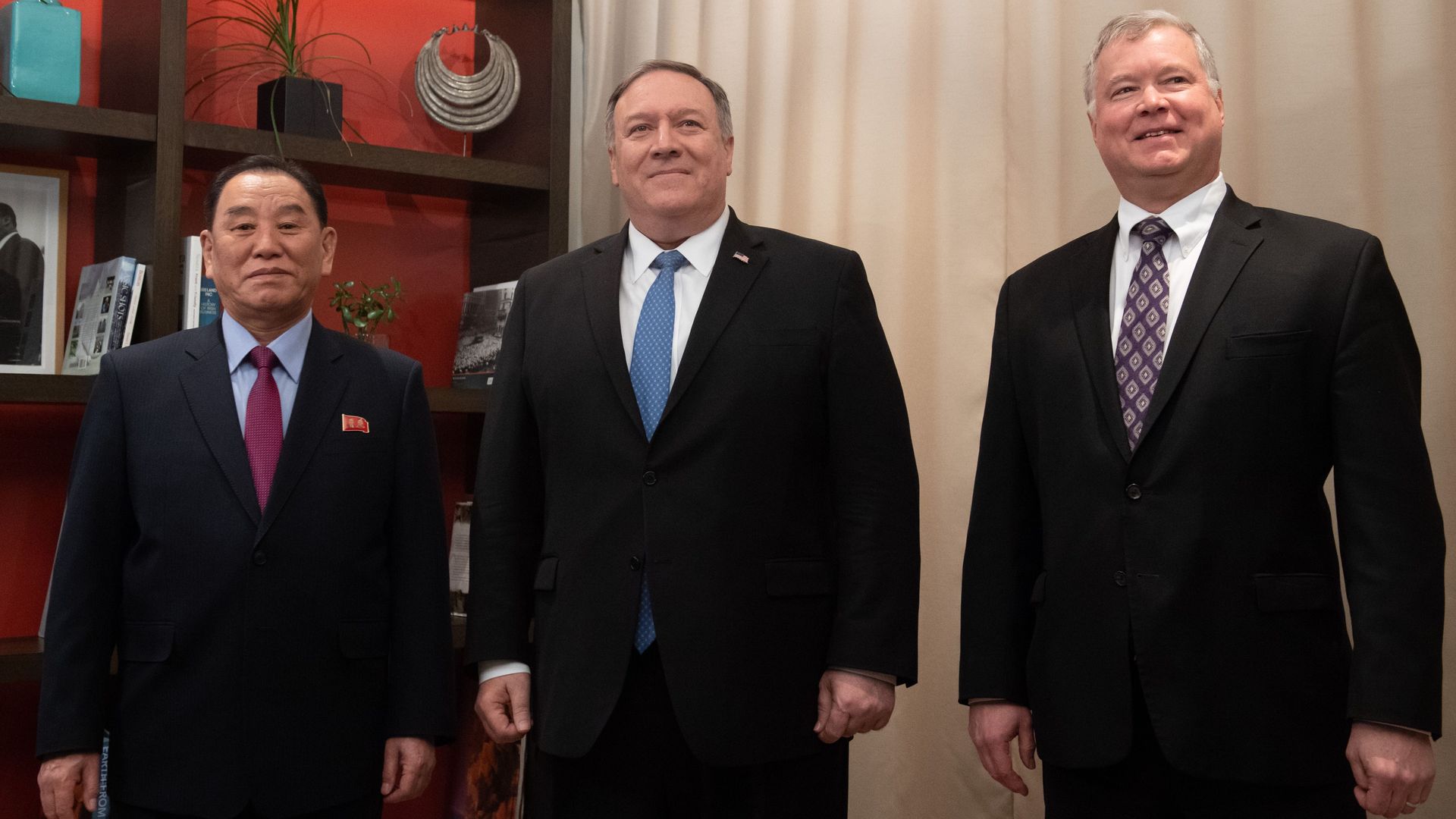 The man tasked with laying the groundwork for a nuclear deal with North Korea says the U.S. is committed to an all-or-nothing approach in which sanctions relief would only follow complete denuclearization — a demand North Korea has said it will never meet, and one that could put a deal beyond reach.
Between the lines: In the lead-up to the Hanoi summit, U.S. officials seemed to hint at openness to a step-by-step process in which some economic carrots would be available before North Korea gave up its full nuclear stockpiles. The rhetoric has been more hawkish since. Special envoy Steve Biegun denied the position was shifting, but insisted: "We are not going to do denuclearization incrementally."
Speaking at the Carnegie Endowment's nuclear policy conference, Biegun said if Kim Jong-un decided to "go big" on denuclearization, as Trump was pressing him to do, it could be achieved "in something approaching a year," to be followed by sanctions relief.
Biegun was also asked about the recent activity at North Korean launch sites:
"I don't know what message they are trying to send. We have certainly sent our message loudly and clearly from the president of the United States, that it would not be a productive step to test a rocket or missile."
Biegun acknowledged that the results, after 6 months on the job, have fallen short of his hopes. However, he said "diplomacy is still very much alive."
Despite the hard line on denuclearization, Biegun said there were "confidence-building" steps under discussion, including the possibility of establishing a liaison office in North Korea.
Kelsey Davenport of the Arms Control Association said on another panel at the conference that Kim realizes his "window of opportunity with Trump" could close in a year or so, and wants to capitalize on "the benefits of engaging in the process."
Citing Kim's messaging on "economic transformation," she said his focus will continue to be on trading some nuclear concessions for sanctions relief.
In that scenario: "You get economic development, you retain your deterrent, you keep some covert facilities, and you keep your diplomatic rehabilitation" process going. Of course, that's exactly the scenario Biegun ruled out.
What to watch: Even if the U.S. and North Korea can agree in principle to a denuclearization deal, several experts noted, there's a massive risk it could will be undercut by rivals like Russia and China, who have different objectives, and allies like Japan and South Korea, who have different priorities.
Carnegie's Chung Min Lee said it was hard to see China and Russia putting aside all tensions in their bilateral relations with Washington to get behind the U.S. on North Korea. He also noted the distrust between Seoul and Tokyo, and the fact that South Korea's Moon Jae-in — who has bet big on a breakthrough with Kim — will effectively become a lame duck next year.
Zhang Yan, president of the China Arms Control and Disarmament Association and a former longtime Chinese diplomat, said it was "inevitable in the future for other parties and stakeholders to get involved in the process."
In other news: One of the women accused of murdering Kim's half-brother in a Malaysian airport in 2017 by smearing a nerve agent on his face has been freed. She and another suspect, who is still in custody, say they thought they were taking part in a TV prank.
Go deeper