Masters of Scale: The persistence of the "gender investing gap"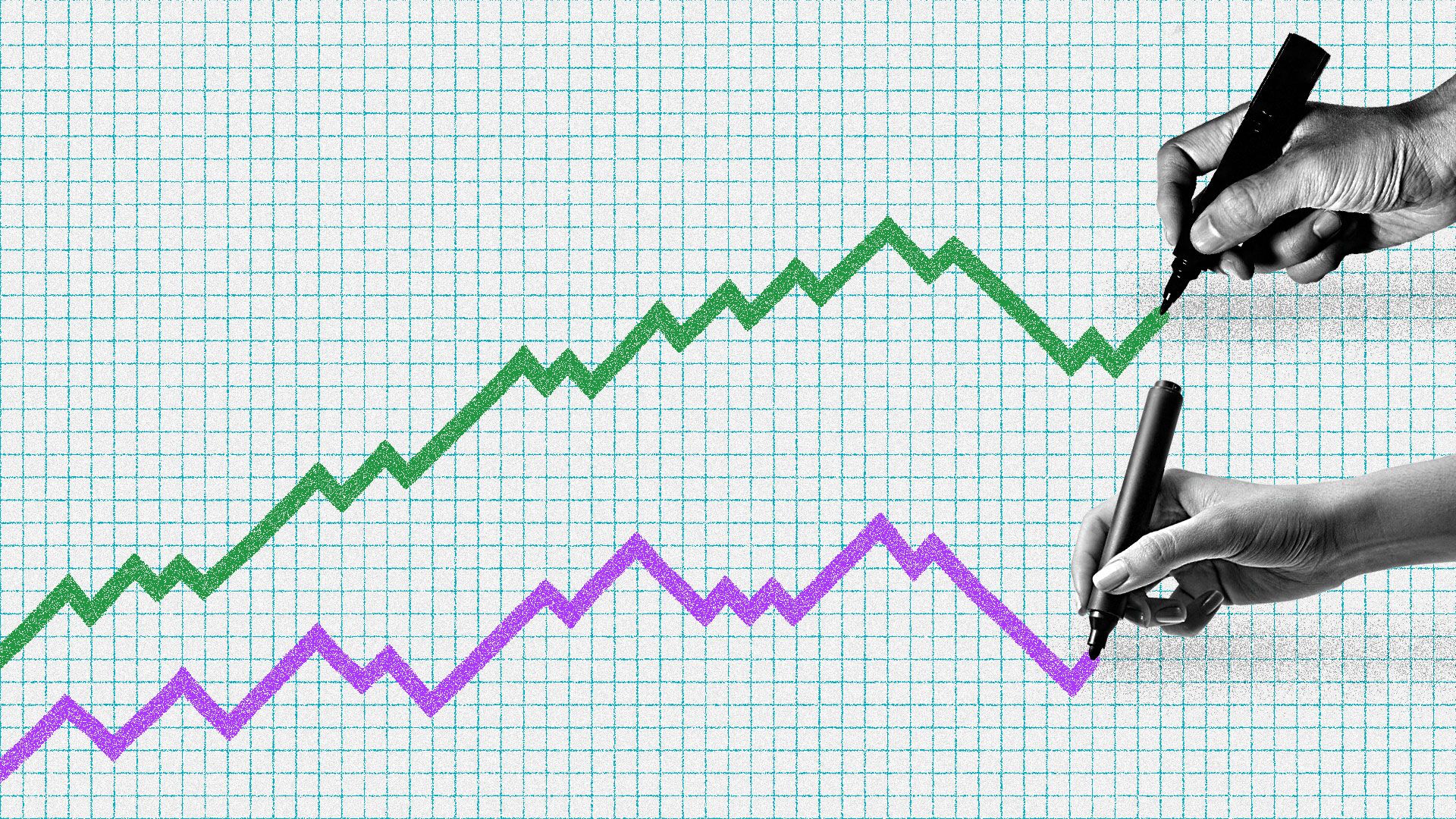 In addition to facing inequality in pay, women are also lagging behind when it comes to investing. In the latest episode of the Masters of Scale podcast, Ellevest CEO Sallie Krawcheck talks about the cost this disparity in financing has on women's lives:
"A woman making $85,000 keeps $.71 of every dollar in cash; it costs her, versus a similarly situated guy, $1 million over her life. Let's pause here. Because that's "start my business" money, "buy my dream house" money, take your friggin' hand off my leg" money, "leave the job you hate" money, "leave the relationship you hate" money."
Why it matters: With women earning only 50% of what men earn, the "gender investing gap," as Krawcheck calls it, further exacerbates the wealth divide among genders, making it even harder for women to make independent financial decisions.
In the last week, two studies have shed light on the persistence of the wage gap and how women approach investing:
Efforts to close the gap are moving at a "snail's pace" and parity is expected to take another two centuries, according to research published by Bank of America Merrill Lynch.
While the majority of women manage their daily household expenses, only 23% "take charge of long-term financial planning decisions," a UBS study of women investors found.
What's next: Last week, a federal judge ruled that the Trump administration must require companies to disclose employee salaries by race and gender. The ruling is expected to affect more than 60,000 companies and 63 million people.
But, but, but: More work beyond salary transparency is needed to close both the wage and investing gaps. It is also unclear whether the Trump administration will appeal this ruling.
Go deeper: Listen to Krawcheck's full interview on the Masters of Scale podcast
Editor's note: Details of this podcast available exclusively to Axios readers first through a partnership with Masters of Scale.
Go deeper