The overlooked, bleak future of work for women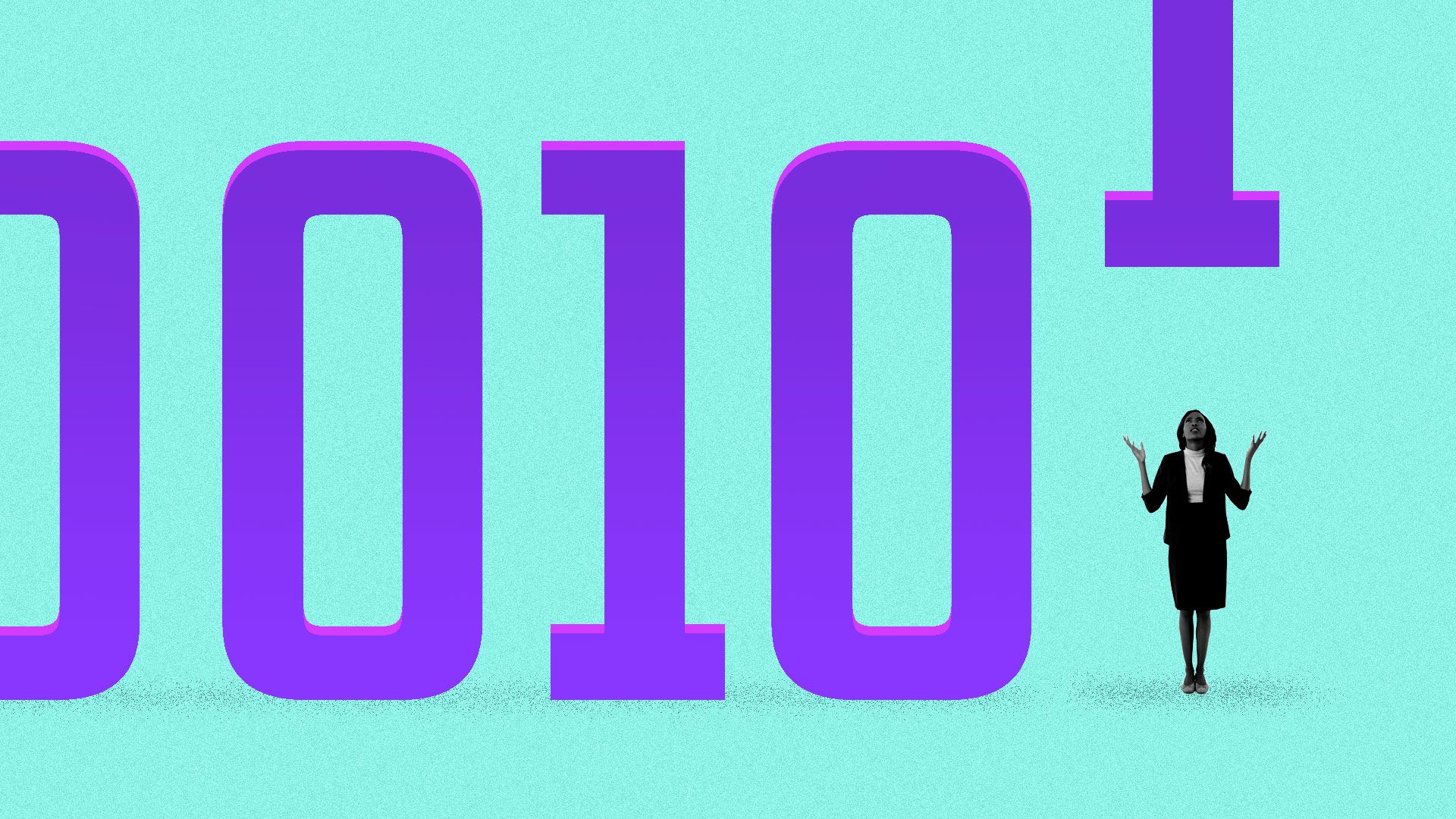 The most visible faces in the predicted coming wave of job displacement belong to the likes of factory workers and truck drivers — primarily men threatened by robots and AI.
The big picture: But the wave will crash harder over women, who do the majority of highly automatable jobs. Policymakers thus far appear blind to the coming job losses for women, experts say, and risk putting in place training programs and safety nets that mainly rescue men.
What's going on: Automation is expected to devastate jobs that involve routine tasks, such as back-office clerical jobs like accounting and service jobs in retail and fast food. Women do the majority of this repetitive work, according to the International Monetary Fund (IMF).
Key stat: Women will make up 57% of the Americans likely to see their jobs either eliminated or changed significantly by 2026, according to the World Economic Forum (WEF). That's despite women making up less than half of the workforce.
At the same time, women risk missing out on the fastest-growing jobs of the future, like data analysts and AI experts, because relatively few are in these occupations or are training for them.
As of 2018, only 22% of people working in AI were women, according to WEF and LinkedIn.
"We risk living in a world where the clearest winners from technological change and the growth from it are disproportionately men," says Molly Kinder, a researcher at New America. In this scenario:
"Women fall further behind in terms of gender parity and upward economic mobility, and we design policies that try to buffer the fall for men and improve their ability to do jobs for the future — but we don't do the same for women."
— Molly Kinder, New America
What's happening: On March 8, WEF announced a new project meant to curb this potential impact on women.
WEF will work with companies to identify the 5 fastest-growing jobs in each firm and try to persuade them to commit to hiring equal numbers of men and women into those roles.
The surging jobs vary by industry, according to WEF data shared with Axios, but in most sectors, the top 5 include engineers, scientists and computer experts.
Currently, there are too few women trained for many such jobs.
But increasing demand for women in high-growth jobs will likely encourage more women to obtain the skills for them, says Era Dabla-Norris, a division chief in the IMF's fiscal affairs department. This would take a bite out of the so-called "pipeline problem," which describes the relative lack of women in STEM education.
Widening the pipeline, programs like AI4ALL, a nonprofit that began at Stanford University, are teaching AI skills to high schoolers from groups that are underrepresented in computer science — like women. And Silicon Valley, drawing fire for sexism, is under pressure to fix it.
But, but, but: Another surging future-proof industry that skews heavily female is home care for older or disabled patients (84% female), along with child care (94% female).
A graying population will cause home care to grow by 41% from 2016 to 2026, the Bureau of Labor Statistics projects. This work requires skills, like empathy, that are still out of reach of machines — though researchers are now developing personal robots intended to provide basic care.
Though abundant, many of these jobs do not pay well, can be unsafe and offer no career advancement.
One frequent suggestion: Subsidize this care work, turning the sector into an anchor for the coming choppy waters.
Go deeper