Pelosi says impeaching Trump is "just not worth it"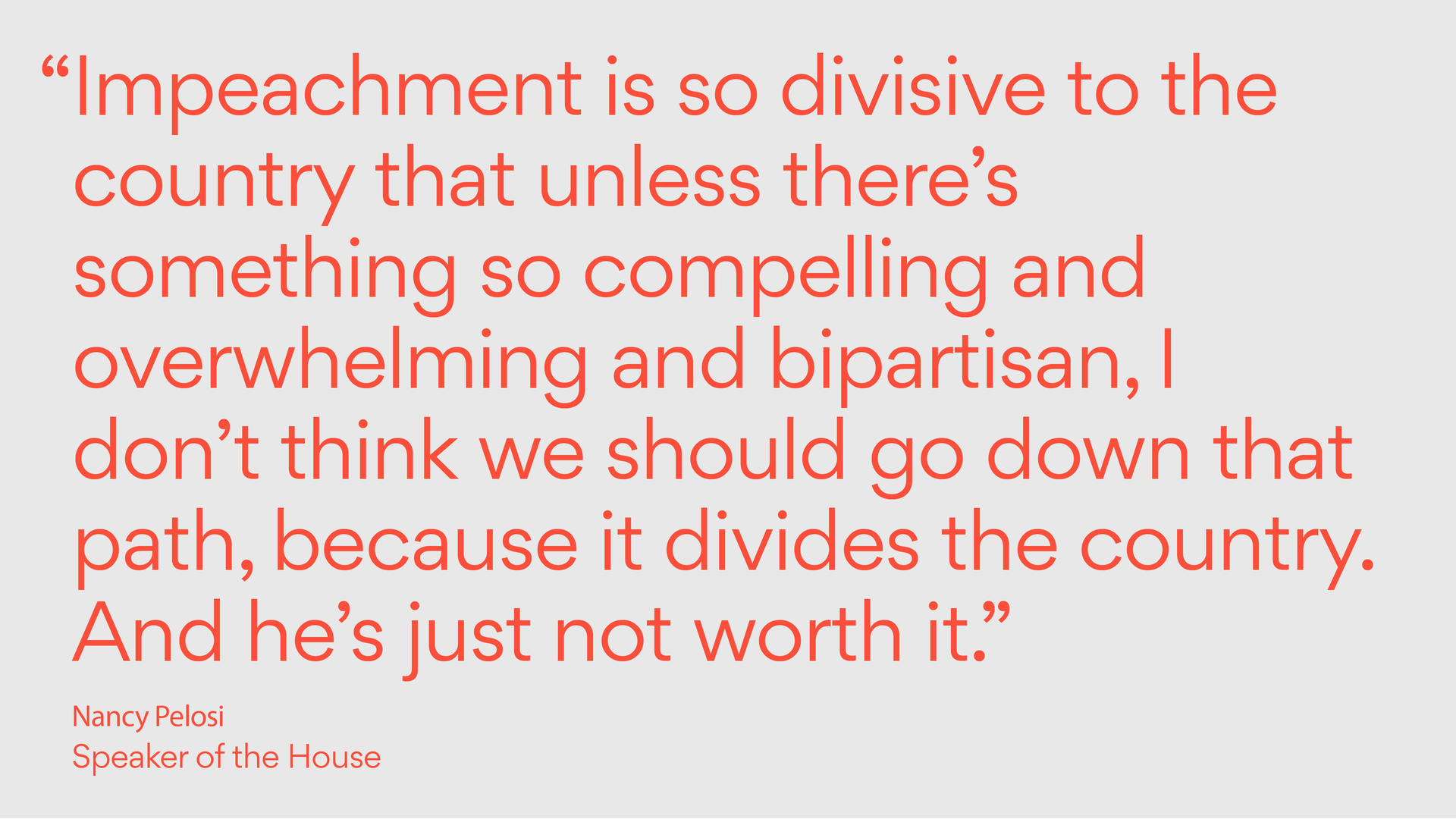 In an interview released Monday, House Speaker Nancy Pelosi told the Washington Post that impeaching President Trump is "just not worth it."
"Impeachment is so divisive to the country that unless there's something so compelling and overwhelming and bipartisan, I don't think we should go down that path, because it divides the country. And he's just not worth it."
Why it matters: Pelosi's comments — which mark the most definitive public stance she's taken on impeachment — will certainly rattle rank and file Democrats, especially progressives and party activists who have been calling for impeachment since the day they took back the House in the 2018 midterms.
Key highlights of the Post interview:
"I don't think he's fit to be president of the United States. And that's up to us to make the contrast to show that this president — while he may be appealing to you on your insecurity and therefore your xenophobia, whether it's globalization or immigrants — is fighting clean air for your children to breathe, clean water for them to drink, food safety, every good thing that we should be doing that people can't do for themselves."
On the Green New Deal, Pelosi reiterated how important the issue climate change has always been to her: "Here's the thing: When I was speaker, the first time, my flagship issue was climate and energy. ... [T]he fact that the Green New Deal raises the profile of the issue, that's really important. But any proposal that someone has, has to come through the committee process."
Pelosi said the president has "been a great organizer for Democrats, a great fundraiser for Democrats and a great mobilizer at the grass-roots level for Democrats. And I think that's good for America."
When asked if she's anxious about the state of the country, Pelosi said: "Our country is great. It's a great country. Our founders gave us the strongest foundation. … All the challenges we have faced, we can withstand anything. But maybe not two [Trump] terms. So we have to make sure that doesn't happen."
Go deeper