Trump tells RNC donors: "The Democrats hate Jewish people"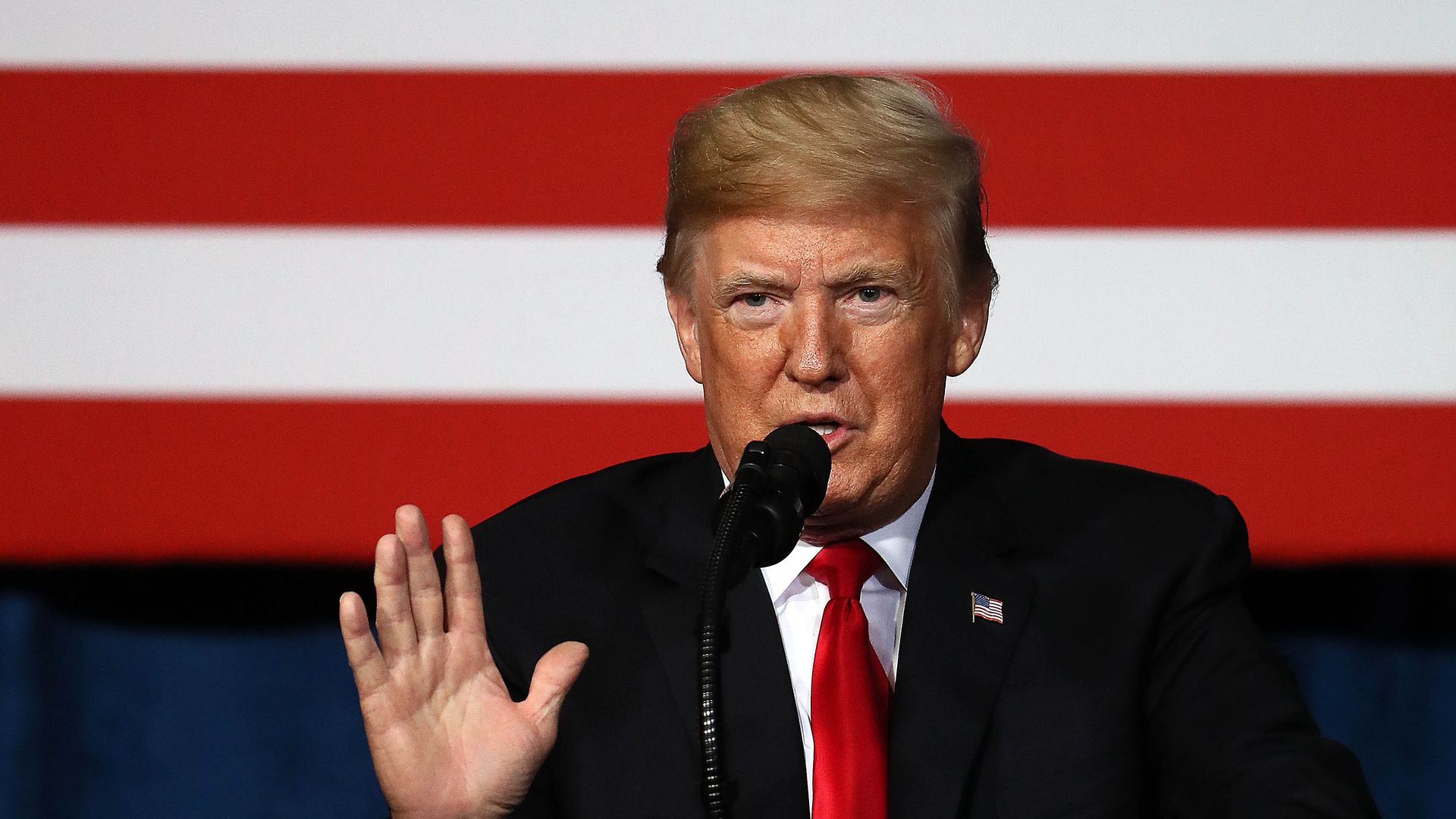 To prevent leaks from Trump's Friday night Mar-a-Lago speech to RNC donors, security guards made attendees put their cellphones in magnetized pouches that they carried around like purses until they left the club.
So leakers had to rely on their memories. Trump entered to Lee Greenwood's "Proud to Be an American," then launched into one of his trademark stream-of-consciousness speeches, according to three people who were there. They said the crowd roared with laughter throughout.
Some of his remarks raised eyebrows.
1. Referring to the recent anti-Semitism controversies with Democratic Rep. Ilhan Omar, Trump told the donors: "The Democrats hate Jewish people."
Trump said he didn't understand how any Jew could vote for a Democrat these days. Trump talked about how much he'd done for Israel, noting his historic decision to move the U.S. Embassy in Israel to Jerusalem.
Trump said if he could run to be prime minister of Israel, he'd be at 98% in the polls, according to three sources who were there.
2. Trump went off on what one guest called a "bizarre tangent." He described being home alone in the White House over Christmas "while the Democrats were in Hawaii."
Trump described opening his curtain to look at Secret Service agents swarming the White House lawn. "They're in the trees, on the lawn," he said.
He said he saw agents wearing night vision goggles. "They're in blackface," Trump added, jokingly referring to the masks over the agents' faces.
Trump joked that the agents were "in blackface" because of the masks so maybe "they have to take them away," according to two sources who were there. (The sources assumed Trump was referring to the recent controversy in which the Democratic Virginia Gov. Ralph Northam was caught in a racist costume in his 1984 medical school yearbook.)
Behind the scenes: The confab was for the RNC to update its donors on its activities. Secretaries Wilbur Ross and Linda McMahon attended, as did Don Jr. and Kimberly Guilfoyle, and Florida Gov. Ron DeSantis. Guests munched on surf and turf under a tent with dangling chandeliers. Many of the private discussions turned to the 2020 race.
Trump only mentioned three 2020 Democrats in his remarks: Joe Biden, Bernie Sanders and Elizabeth Warren.
Trump called Biden "the dummy."
He announced that he now calls Sanders "the nutty professor" instead of "Crazy Bernie."
Referring to Warren's low poll numbers, Trump said he "took her out really early" and that he doesn't want to do that to anybody else.
Go deeper