Sky-high hopes for drones tethered to safety concerns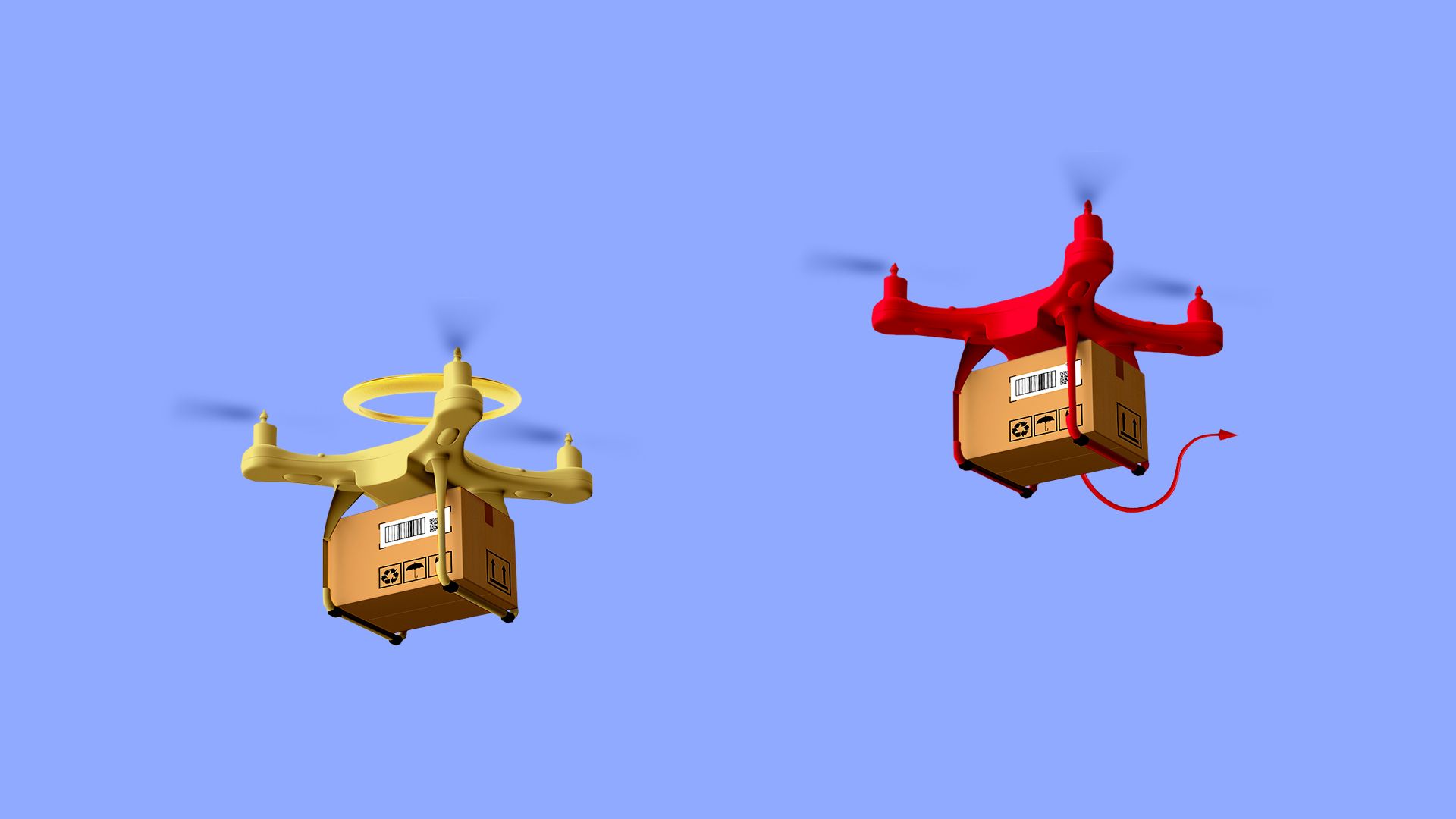 Unmanned aerial vehicles, or drones, have the potential to transform our daily lives but not until regulators can be sure they won't fall from the sky or crash into other aircraft.
The big picture: UAVs have almost unlimited uses — from combatting disease to delivering pizza — and their numbers are expected to soar across multiple industries in the next few years. The Federal Aviation Administration wants to relax some of its rules to allow that growth but in doing so it has to determine how safe is safe enough.
What's happening: A series of pilot projects are under way or starting soon in the U.S. that aim to demonstrate how drones could be operated safely.
The projects range from delivering packages in Nevada and medical supplies in North Carolina to inspecting pipelines in Alaska and jets in Tennessee.
The FAA is seeking public comments on proposed rule changes that would allow drones to fly over people and at night — two circumstances that are currently prohibited without a waiver.
The goal is to find a way to safely integrate small unmanned aircraft into the national airspace and avoid incidents like the one that shut down London's Gatwick Airport in December.
Demand is exploding. The emerging global market for drone-based services is valued at over $127 billion, per consulting firm PwC.
Last week, top FAA officials traveled to Rwanda to see how the country has managed to embrace drones on a national scale with the help of an American company.
Zipline, based in San Francisco, makes thousands of deliveries per day of blood and other medical supplies by drone in Rwanda.
Rwanda recently expanded the company's contract from 25 hospitals to 450, serving 15 million people.
"Rwanda has set a powerful precedent for how a large national-scale UAV implementation could work"
— Keller Rinaudo, CEO and co-founder, Zipline
The safety measures Zipline already uses in Rwanda are similar to what the FAA is proposing for the U.S.
If a drone runs into trouble, an emergency parachute is triggered that can bring it safely to the ground.
The two-winged drones, which look like small planes, are built from materials that crumple upon impact to absorb energy so no one gets hurt on the ground.
About 1 in 1,000 flights ends in an emergency landing, Rinaudo says, and the drones are easily repaired and back in the air within an hour.
What's next: This summer, Zipline will bring its fleet of delivery drones to North Carolina, where they will be used to deliver medical supplies to rural hospitals as part of the FAA's UAS Integration Pilot Program.
Yes, but: The U.S. national airspace system is more complicated than Rwanda's, says Jenny Rosenberg, executive director of the Alliance for Drone Innovation, which represents drone manufacturers.
The U.S. has tens of thousands of commercial flights a day, plus military and general aviation flights.
There's also a multitude of restricted zones, not to mention security and privacy concerns.
The bottom line: The FAA's challenge is to balance the risks and opportunities created by all those drones without stifling innovation.
Go deeper: A sky full of driverless flying cars in just a decade
Go deeper