Sanders, Harris, Warren defend Ilhan Omar amid backlash over Israel comments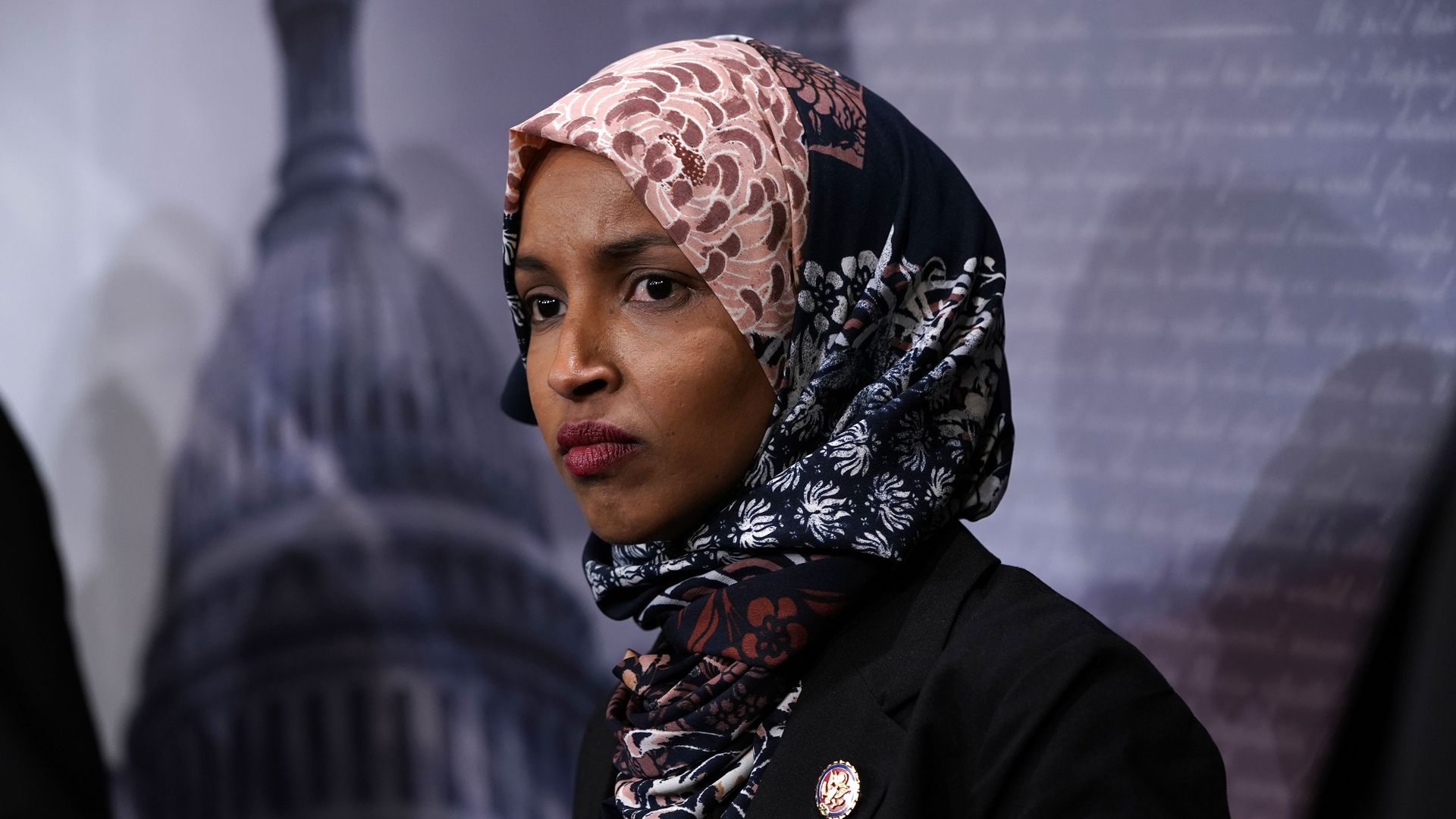 Democratic presidential candidates Sens. Bernie Sanders (I-Vt.), Kamala Harris (D-Calif.) Elizabeth Warren (D-Mass.) on Wednesday condemned anti-Semitism along with House Democratic leadership who planned to vote on a resolution rebuking Rep. Ilhan Omar (D-Minn.) over her recent comments about the influence of pro-Israel lobbying groups.
The big picture: Omar's remarks, characterized as anti-Semitic, have triggered a clash between House Democratic leaders and rank-and-file lawmakers who believe the Minnesota freshman was unfairly singled out. The internal backlash forced leadership to postpone Wednesday's vote, as the language of the resolution — which does not specifically reference Omar — would likely be broadened to reject other forms of bigotry, including Islamophobia.
What they're saying:
"Anti-Semitism is a hateful and dangerous ideology which must be vigorously opposed in the United States and around the world. We must not, however, equate anti-Semitism with legitimate criticism of the right-wing, Netanyahu government in Israel. Rather, we must develop an even-handed Middle East policy which brings Israelis and Palestinians together for lasting peace."
— Sanders, who is Jewish, in a statement
"We all have a responsibility to speak out against anti-Semitism, Islamophobia, homophobia, transphobia, racism, and all forms of hatred and bigotry, especially as we see a spike in hate crimes in America. But like some of my colleagues in the Congressional Black Caucus, I am concerned that the spotlight being put on Congresswoman Omar may put her at risk. We should be having a sound, respectful discussion about policy. You can both support Israel and be loyal to our country. I also believe there is a difference between criticism of policy or political leaders, and anti-Semitism. At the end of the day, we need a two-state solution and a commitment to peace, human rights, and democracy by all leaders in the region ― and a commitment by our country to help achieve that."
— Harris said in a statement.
"We have a moral duty to combat hateful ideologies in our country and around the world — and that included both anti-Semitism and Islamophobia. In a democracy, we can and should have an open, respectful debate about the Middle East that focuses on policy. Branding criticism of Israel as automatically anti-Semitic has a chilling effect on our public discourse and makes it harder to achieve a peaceful solution between Israelis and Palestinians. Threats of violence — like those made against Rep. Omar — are never acceptable."
— Warren said in a statement
Go deeper: Omar reignites anti-Semitism controversy in exchange with top House Dem
Go deeper