The "national 5G" plan that won't die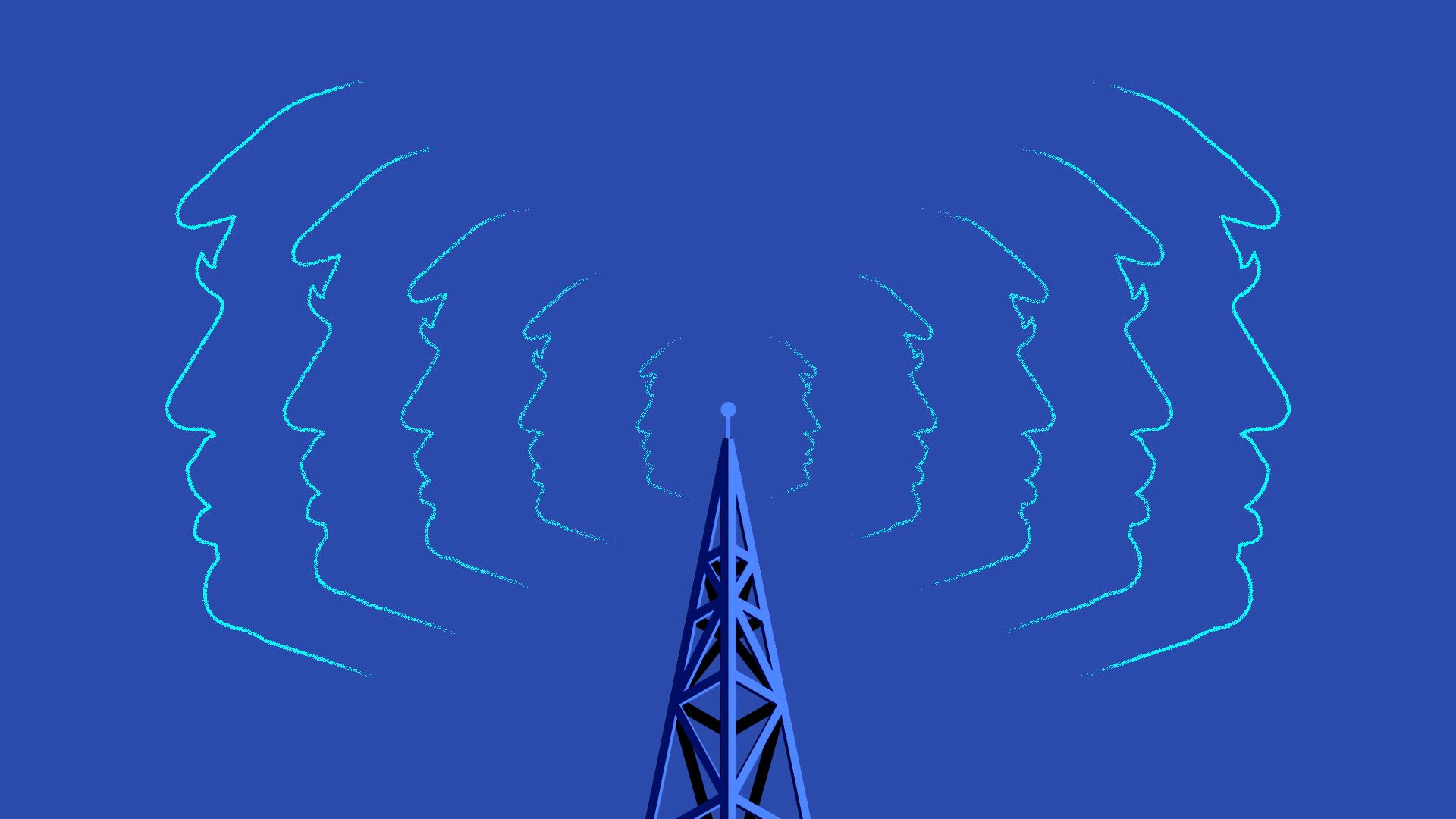 The idea for a government-mandated nationwide 5G network has reared its head again, and it may not be the last time.
Why it matters: 5G is the focal point for a global rush to dominate the next wave of technology development — a race many policymakers worry the U.S. is already losing. National security fears about Chinese firms like Huawei are also motivating efforts to build home-grown 5G infrastructure.
Driving the news: As reported by Politico Friday, President Trump's re-election campaign had latched on to the idea of a nationwide "wholesale" 5G network, which is a dramatic departure from the free-market position of Trump's own administration.
Policy staffers working on the issue were taken by surprise, and the FCC hadn't been contacted by the campaign, per an agency spokesman.
On Sunday, the Trump campaign walked back that position and said there was "no daylight" between the campaign and the administration, as Axios reported.
It's the second time an idea for a national 5G network has been tamped down. When Axios reported last year that a Trump National Security Council staffer was considering a national 5G network, administration officials reiterated the White House's support for a free-market, private-industry driven approach.
Yes, but: Wireless industry insiders worry they haven't seen the end of it.
The broad outlines of the plan have been described in op-eds and tweets from people close to Trump.
In June last year, Trump's re-election campaign manager Brad Parscale described "a great 5G network" as an "open wholesale market with a privatized company that is not a carrier," in his "personal opinion." Last month he tweeted again about the need for a "wholesale" network.
Newt Gingrich said in a Newsweek op-ed last month that a "public-private partnership" was needed for a "carrier-neutral, wholesale-only, nationwide 5G network."
The company pushing the latest iteration of this idea is a small firm called Rivada, which says its technology can set up auctions for use of the airwaves and manage the demands of different companies accessing them.
The company unsuccessfully bid on wireless airwaves to build out a national public safety network, a deal that AT&T ended up securing. The company has talked with the Defense Department and other bodies in Washington, but has not submitted a formal proposal, said Rivada spokesman Brian Carney.
Rivada CEO Declan Ganley wrote in an op-ed after last year's leak of an NSC official's plan to build a nationwide 5G network that doing so "with private capital" wasn't nationalization, but a worthy "moonshot."
A year later Gingrich described his ideal plan as "a kind of wireless moonshot (but with private capital)."
Between the lines: The system they're describing, which is similar to what the Trump campaign appeared to be backing, would be a major break from today's wireless network arrangements.
Right now, carriers like AT&T, Verizon, T-Mobile and Sprint buy exclusive rights from the government to use certain blocks of airwaves to build their networks.
Gingrich and Parscale appear to be backing the idea that the government should allocate a broad swath of airwaves to a single private company that would then manage the sharing process between different wireless providers.
Rivada describes its offering in similar terms.
Carney told Axios he was not aware of conversations between the company and Parscale or the Trump campaign on the subject.
The revival of the national network plan comes amid mounting anxiety about China's 5G ambitions and efforts to inject its chips and equipment into U.S. infrastructure.
The Trump administration had reportedly been working on an executive order to stop Chinese chip maker Huawei from selling advanced telecom equipment to the U.S., but an order was put off during trade negotiations, per Bloomberg.
In a tweet last month, Trump called on U.S. firms to "step up their efforts" and that the U.S. should win through competition, "not by blocking out currently more advanced technologies."
Fears about China gave Rivada an opening to push government intervention in 5G as a way for the U.S. to stay ahead, wireless industry sources tell us.
Go deeper:
Go deeper