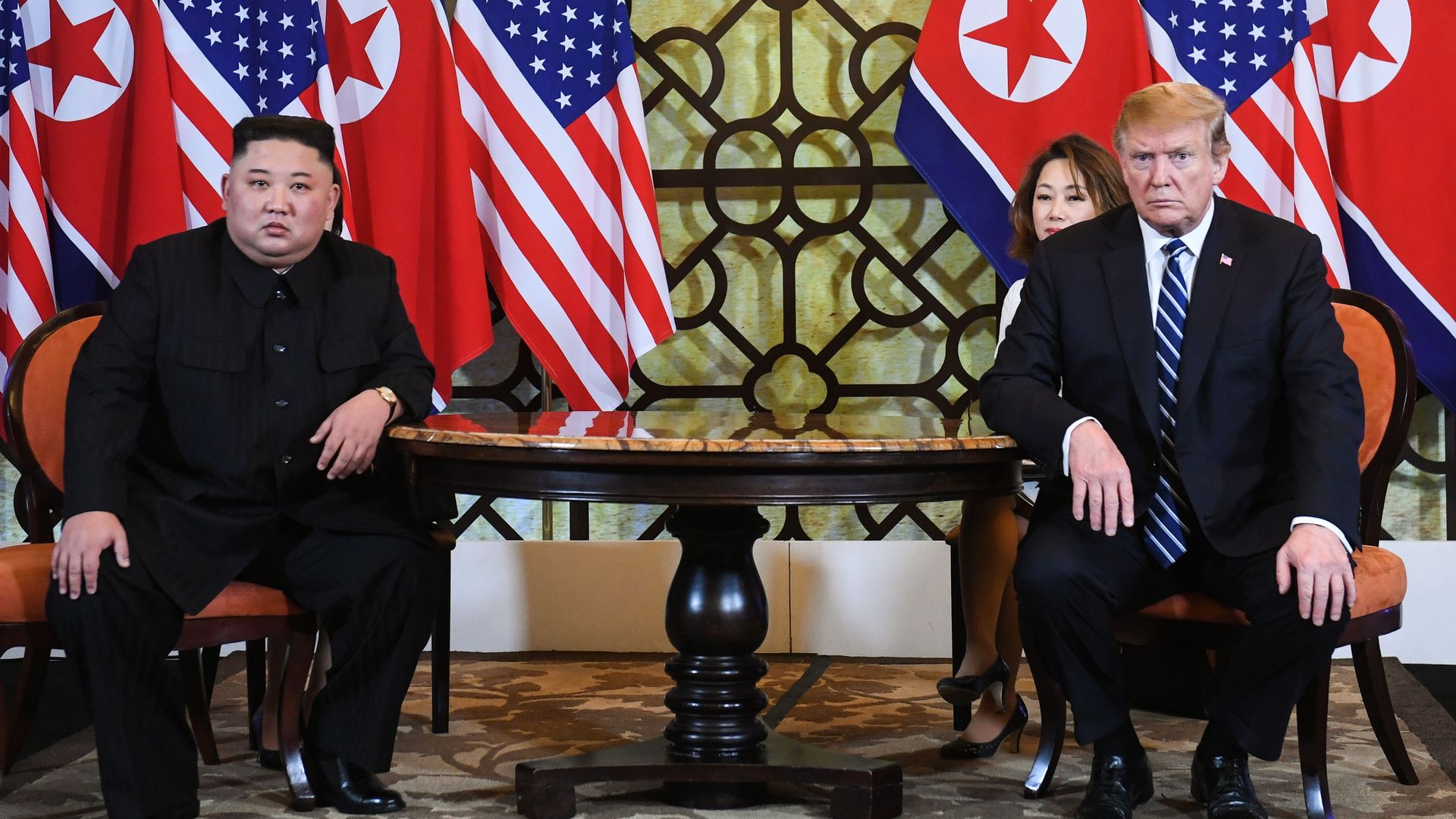 President Trump and Chairman Kim are returning to their respective capitals empty-handed, with conflicting explanations for how talks broke down and where we go from here.
Why it matters: Trump showed both flexibility — he backed off the long-standing U.S. demand that any deal requires complete and verifiable denuclearization — and a willingness to walk away. The summit also laid bare the limits to his charisma-based negotiating style and revealed how far the two sides are from agreeing to anything of substance.
Catch up quick: In a press conference this morning, Trump looked dejected but still called Kim "quite a guy," said progress had been made, and he insisted the U.S. was on track to become "very good friends with Chairman Kim and with North Korea."
The North Koreans then held an unexpected, late-night press conference to contradict Trump's claim that Kim had demanded all sanctions be waived in exchange for partial denuclearization. Vice Foreign Minister Choe Son-hui also said her "impression" is that Kim "has lost the will to engage in deal-making" with the U.S.
Between the lines: North Korea's demands on sanctions relief still went far beyond what was likely to be accepted in exchange for limited steps toward denuclearization.
Jung Pak, a former CIA analyst now at Brookings, emails that Trump "demonstrating his desire for substantive actions on denuclearization was important because Kim has been ignoring U.S. negotiators and banking on his personal appeals to Trump, whom he probably judged was more malleable."
While the abrupt ending of the summit was a surprise, the absence of a major breakthrough was not.
Jim Walsh, an international security expert at MIT who has negotiated with North Korea, says the two sides "squandered their time since Singapore," adding: "It took 2 years of intense, regular negotiation to get the Iran deal. And Iran is easier. … So no, 30 days and winging it isn't going to get it done."
"Trump was told — and the expert community has long stressed — that Kim wanted immediate sanctions relief," says Van Jackson, a former Pentagon strategist and author of "On the Brink: Trump, Kim, and the Threat of Nuclear War." "Because most sanctions are by legislation and not executive order, that meant Trump literally couldn't give Kim what he wanted. But Trump went ahead with the summit anyway out of a heady mix of hubris and ignorance."
The question now is whether this was a bump in the road or if we've now veered entirely off course.
Bruce Klingner, a former CIA official now at Heritage, isn't expecting a return to fire and fury in the short term, given Kim "promised not to resume nuclear or missile testing" — at least according to Trump — and the U.S. has shown no interest in "activity that could trigger a strong North Korean response."
"The negotiations will resume sooner or later, and the misfortune in Hanoi might impart a different kind of momentum to what is destined to be a fluctuating, arduous diplomatic process," Gi-Wook Shin of Stanford University writes for Axios Expert Voices.
Behind the scenes: For the South Koreans and anyone banking on positive momentum, this was a bad outcome. As Axios' Jonathan Swan points out, hawks like John Bolton won't share that disappointment.
The bottom line: "Now that many of the critics ... have got what they wanted — a tougher approach to North Korea — they have to accept the consequences, whatever they may be," write Joel Wit and Jenny Town of 38 North.
Correction: This post has been corrected to reflect the fact that Choe Son-hui is North Korea's vice foreign minister, not its foreign minister.
Go deeper