The race to become the all-in-one transport app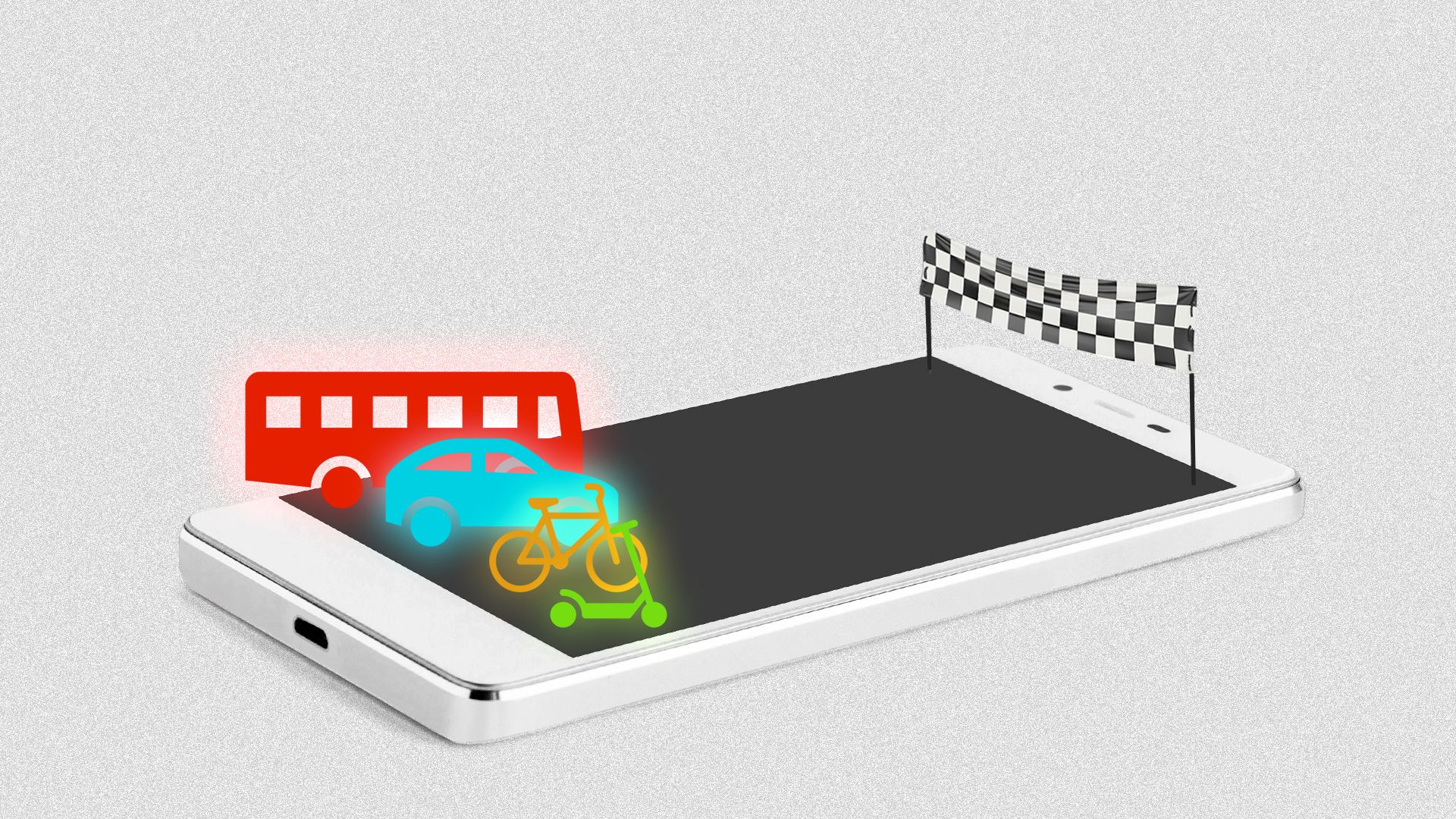 As new transportation options like bike and scooter rental services proliferate, ride-hailing companies are rushing to outfit their mobile apps with as many services as possible, including public transit.
Yes, but: They still have to compete with Google Maps, the 800-pound gorilla in this realm —which is also their business partner.
"Just like Amazon sells third-party goods, we are going to also offer third-party transportation services," Uber CEO Dara Khosrowshahi said last year. "So we wanna kinda be the Amazon for transportation."
For years, both Uber's and Lyft's U.S. apps offered only their various car ride services.
Over the years, the companies gradually added more options, including higher-end ride services as well as carpooling.
They also experimented with special discounts and drop-off locations for riders heading to major public transit hubs.
With the boom in bike and scooter rentals last year, both companies started adding new transportation options to their apps.
In February 2018, Uber inked a partnership with JUMP in San Francisco and made its electric bike rentals available to some customers via its app.
Shortly after, Uber acquired JUMP, announced it would add scooters to its arsenal, and even inked a partnership with Lime to include its scooters in its own app in some cities.
Meanwhile, Lyft acquired bike-sharing operator Motivate and has begun to roll out Lyft-branded scooters in a small number of cities. (At one point, Lyft was also exploring a partnership with scooter startup Spin, as Axios reported.)
Uber has also experimented with car rentals via a partnership with startup Getaround, though it recently suspended a pilot rental service for Uber riders. It continues to offer rentals to Uber drivers who need a car.
In September, Lyft started adding public transit information in its app, now available in a handful of cities, while Uber made its first foray last month, starting with Denver.
The big picture: Expanding their apps' services only makes these companies' relationships with Google Maps more complicated.
Despite strongly prohibiting third parties from creating "aggregator" apps that display both companies' services side by side, both Uber and Lyft have long made an exception for Google Maps. For years now, Google Maps users have been able to see Uber and Lyft rides in the app with routes, get approximate fares and hail a ride via the respective apps.
Last year, Google also inked a partnership with Lime to make its bike and scooter rentals available as a transportation option to users in some cities.
And of course, Google Maps has long made it possible for users to plan a route via public transit and even compare it to alternatives like driving and walking.
All this has made Google Maps the original all-in-one transportation planning app.
Payments for transportation also remain a tricky area.
A year ago Uber inked a partnership with Masabi, which handles ticket payments for 30 public transit agencies, but has yet to make that available. (The company says that's coming soon — first in Denver, where it integrated transit data.)
In 2017 Google Maps announced it would provide the ability to book and pay for an Uber ride via its own app, but the short-lived experiment ended the next year. A separate app for Android, Google Pay, does let users pay for some local transit services.
Meanwhile, some smaller players, like transportation apps Transit and Citymapper, have been able to make inroads in local transit purchases.
The bottom line: Uber and Lyft have an opportunity to broaden their apps' value by integrating more information and services with them. But they'll have to improve fast to best Google and persuade users that their apps are good for more than summoning a car.
Go deeper