A surprising factory in downtown San Francisco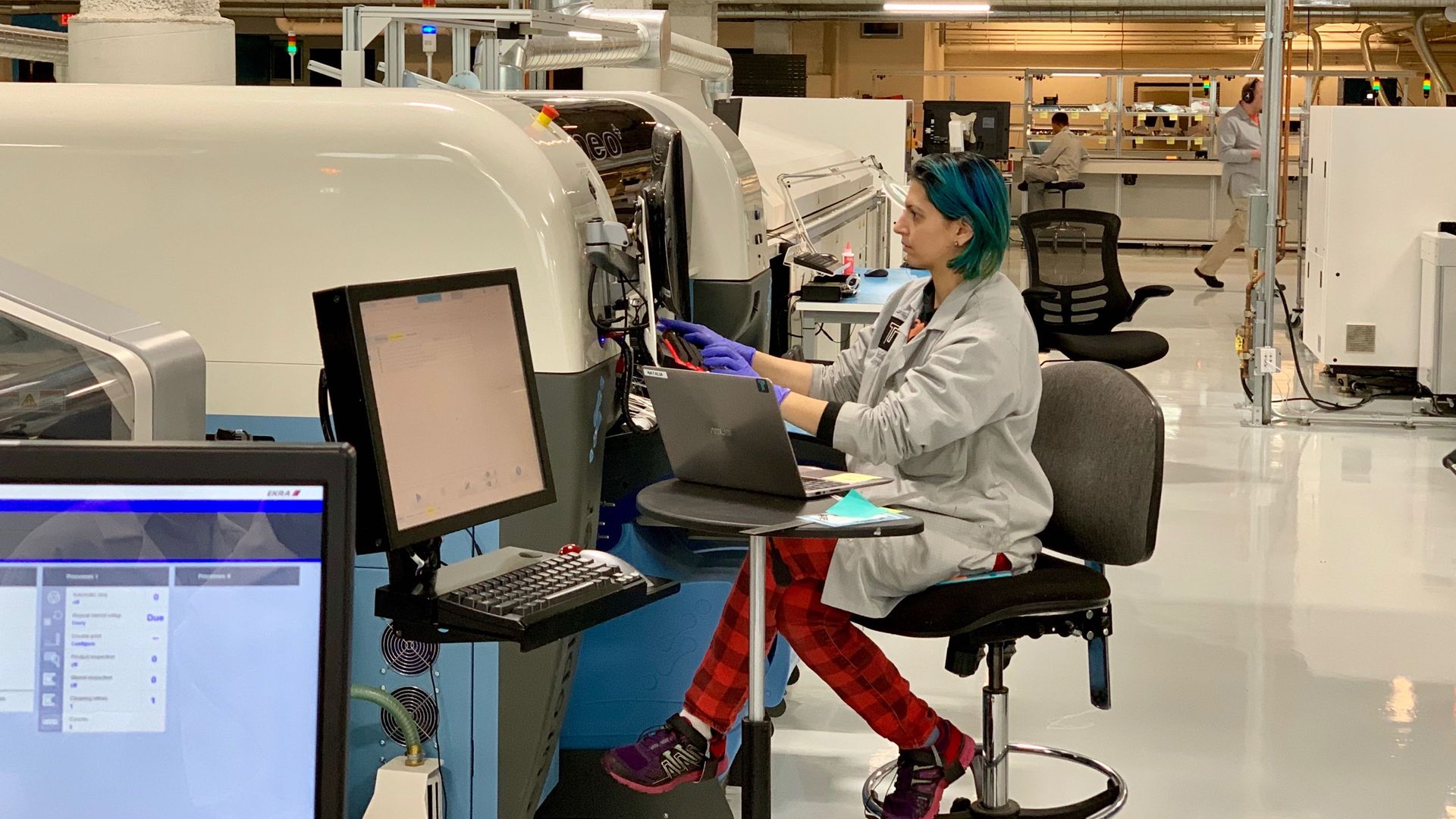 China and its neighbors dominate electronics manufacturing, a key part of Beijing's aggressive push to become the globe's tech leader. But, in a surprising turn, a vital part of the lucrative industry has remained in the U.S.: boutique factories that build prototype circuit boards.
A buzzy example: Tempo Automation is pumping out small batches of circuit boards for top tech and defense companies — attracted by its partially automated assembly line — from a squat white building tucked beneath a highway in the warehouse district of San Francisco.
I visited Tempo's factory last month, where I saw the company's play to modernize the cumbersome process by automating much of it.
Background: Before ordering up big shipments of circuit boards — the essential innards of nearly every electronic device — companies generally send out for a small set of prototypes to make sure everything works as it should.
They can contract with a manufacturing giant in Asia, which is designed for huge orders and takes a long time to set up a new product, or they can go to a smaller manufacturer that specializes in prototypes.
Both can be slow and vary in quality. This is a "big bottleneck" for tech companies, says Mark Thirsk, founder of Linx Consulting.
The fast pace of prototyping favors smaller shops located near the firms designing the boards over reigning electronics makers like Taiwan's Foxconn. So there are still several hundred quick-turn shops in the U.S., even while large-volume production has fled the U.S. and Europe entirely, says Jeff Doubrava of consulting firm Prismark.
Tempo's customers upload their plans and select parts on an online form. It works a bit like a car website that lets you choose color and options before spitting out an instant quote.
For now, Tempo can build up to 250 boards at a time, and it can prepare orders in a day or two. Thirsk says Tempo's capabilities rival those of advanced manufacturers.
Tempo makes boards for clients like NASA's Jet Propulsion Laboratory, Hitachi Metals and GE Life Sciences.
The factory floor was far from empty when I visited. Employees in white coats twiddled with imposing machines, or typed at standing desks in a corner of the cavernous space.
Automation kicks in when interpreting a customer's digital plans, says Tempo Automation co-founder Shashank Samala. The company's software can read blueprints and automatically program assembly machines.
Only about a dozen people touch any individual order, says Ryan Saul, Tempo's VP of manufacturing.
Go deeper: Tempo Automation gets $20 million to make tech gear in pricey SF
Go deeper