Julián Castro on the issues, in under 500 words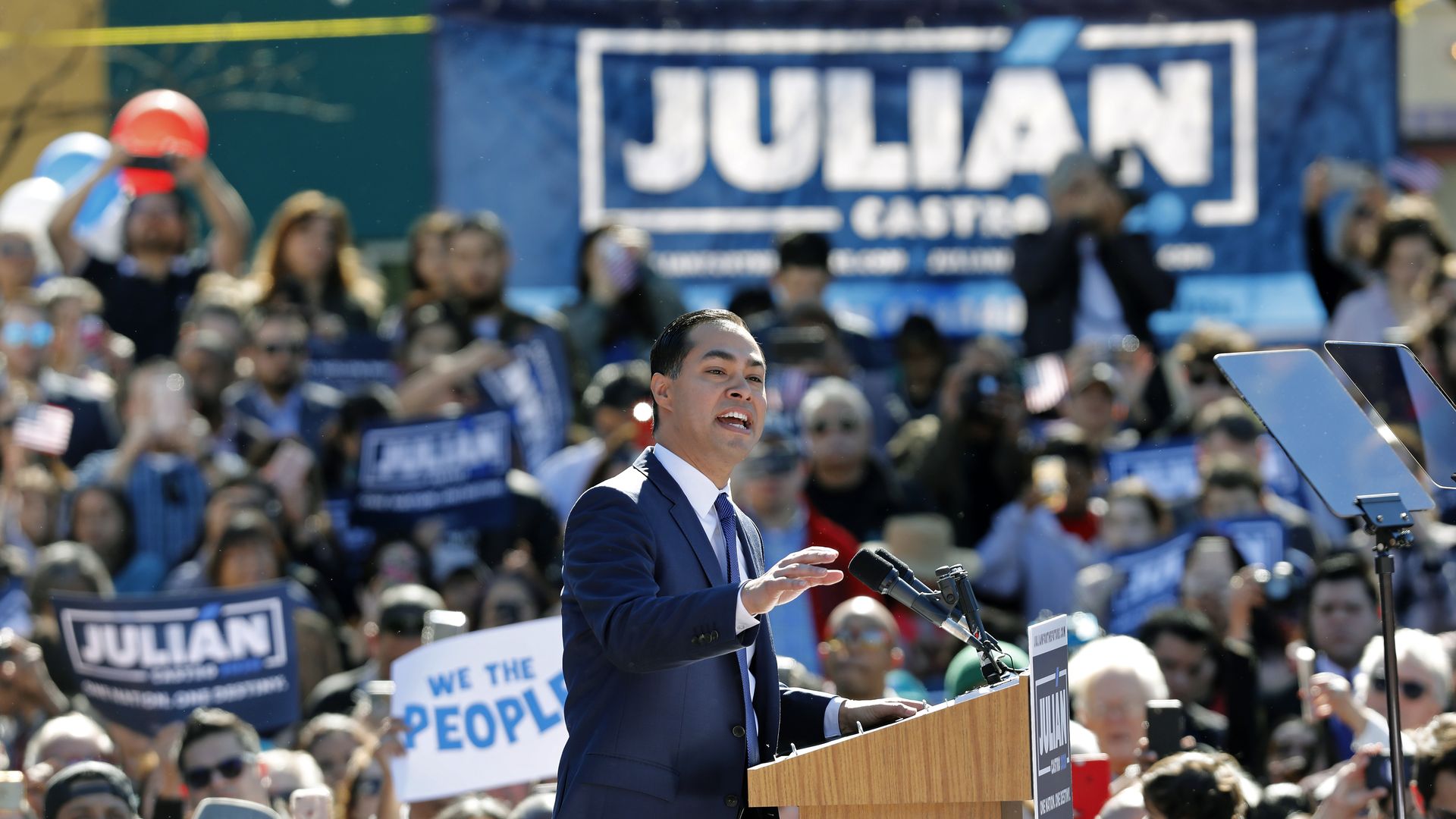 Editor's Note: Castro dropped out of contention for the Democratic presidential nomination on Jan. 2, 2020. Below is our original article on his candidacy.
Julián Castro, the first Texas Democrat to run for president since 1976, is a former San Antonio mayor and the youngest cabinet secretary in the Obama administration. Castro was among those considered to be Hillary Clinton's vice president in 2016 and, while he didn't get the spot, made frequent appearances with Clinton during the election.
Key facts about Julián Castro:
Current position: n/a
Age: 44
Born: San Antonio
Undergraduate: Stanford University
Date candidacy announced: Jan. 12, 2019
Previous roles: Obama's Secretary of Housing and Urban Development, Mayor of San Antonio, member of San Antonio City Council
Julián Castro's stance on key issues:
Housing: Launched a plan in June to create more affordable housing and end homelessness.
Medicare for All: Supports it. Says the U.S. should "be the healthiest nation," per the Hill.
Education: Released a plan that would create a universal pre-K program and create tuition-free public colleges, community colleges, technical and vocational programs. Pre-K would be funded by a grant program to state and local governments.
Economic inequality: Proposed an "inherited wealth" tax in August that would "raise the capital gains rate to match the marginal income tax rate for the wealthy." The plan includes giving a $3,000 earned income tax credit to families "per child for every family of modest means."

Would raise the capital gains rate to 40% for people who earn $400,000+ a year.

Immigration: Would reverse Trump policies such as the Muslim ban, spending on a southern border wall and cuts to refugee programs in his extensive immigration policy.

Proposed a 21st Century Marshall Plan for Central America to focus on stabilizing the countries with the largest number of migrants coming to the U.S.
Wants to split ICE in half to keep "national security functions such as human and drug trafficking and anti-terrorism investigations within the Department of Homeland Security."
Plans to overhaul the pathway to citizenship for immigrants, especially for DACA recipients.
Key criticism:
As HUD secretary, Castro faced criticism from a group of progressives — many of whom supported then-2016 candidate Bernie Sanders — over his handling of mortgage sales, Politico reported at the time.
1 fun thing about Julián Castro:
He is 1 minute older than his identical twin brother, Rep. Joaquin Castro (D-Tex).
Go deeper: Everything you need to know about the other 2020 candidates
Go deeper