Thailand's least democratic actors gaining power ahead of elections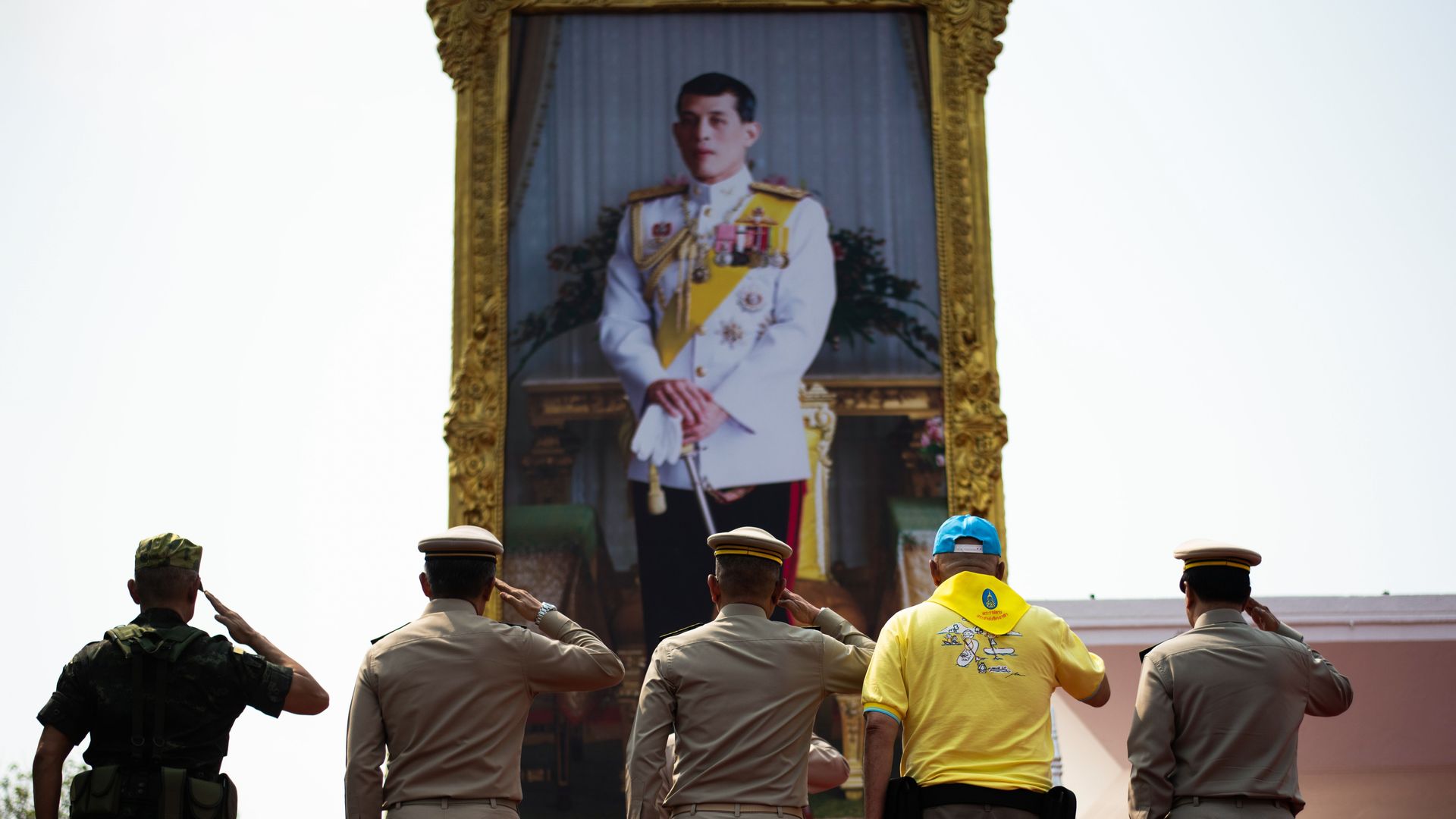 Thailand's forthcoming elections in March, the first since the country was taken over by a military junta in May 2014, are unlikely to bring much peace or stability to the kingdom, which has been in turmoil for more than a decade.
The big picture: Instead, undemocratic actors are likely to become only more powerful. While the junta is not popular — recent polling shows that the main pro-junta party is likely to get only a tiny fraction of the vote — the army will likely take tough actions if the anti-junta parties win.
Polls show that non-junta parties, including those linked to the populist politician Thaksin Shinawatra, will do well if the vote is free. But the electoral environment is already unfair: The junta limited the period of campaigning, Thailand's top court might dissolve one major pro-Thaksin party, and Thai police could prosecute another top opposition leader.
Still, it's very possible that a coalition of anti-junta, pro-democracy parties, including several who have vowed to cut the military's budget, could take a majority of seats in the lower house of parliament.
Yes, but: The military is keeping all its options open, in one of the few wealthy or middle-income countries on earth where coups are still common. In a recent, rare, interview with Singapore's Straits Times, hardline army commander Apirat Kongsompong refused to rule out a coup in the future and offered veiled threats against anyone who disrespects the armed forces.
Thailand's king, too, is hardly a democrat. As the army prepares to hold on to power, he has grown increasingly powerful, and appears to want to push Thailand back in the direction of an almost absolute monarchy.
Although he does not technically have the right to determine who can and cannot run in elections, he effectively prevented his sister, Princess Ubolratana (who had renounced her title and is technically a private citizen) from running for prime minister at the head of one of the pro-Thaksin parties.
What to watch: Even without a coup, the armed forces could try to prevent an anti-junta coalition from wielding power by using the judiciary, widely seen as allied with the army and the crown, to start disqualifying politicians on dubious charges, a tactic used in Thailand many times in the past.
Joshua Kurlantzick is senior fellow for Southeast Asia at the Council on Foreign Relations.
Go deeper