Concerns rise over Neomi Rao, Trump's D.C. Circuit nominee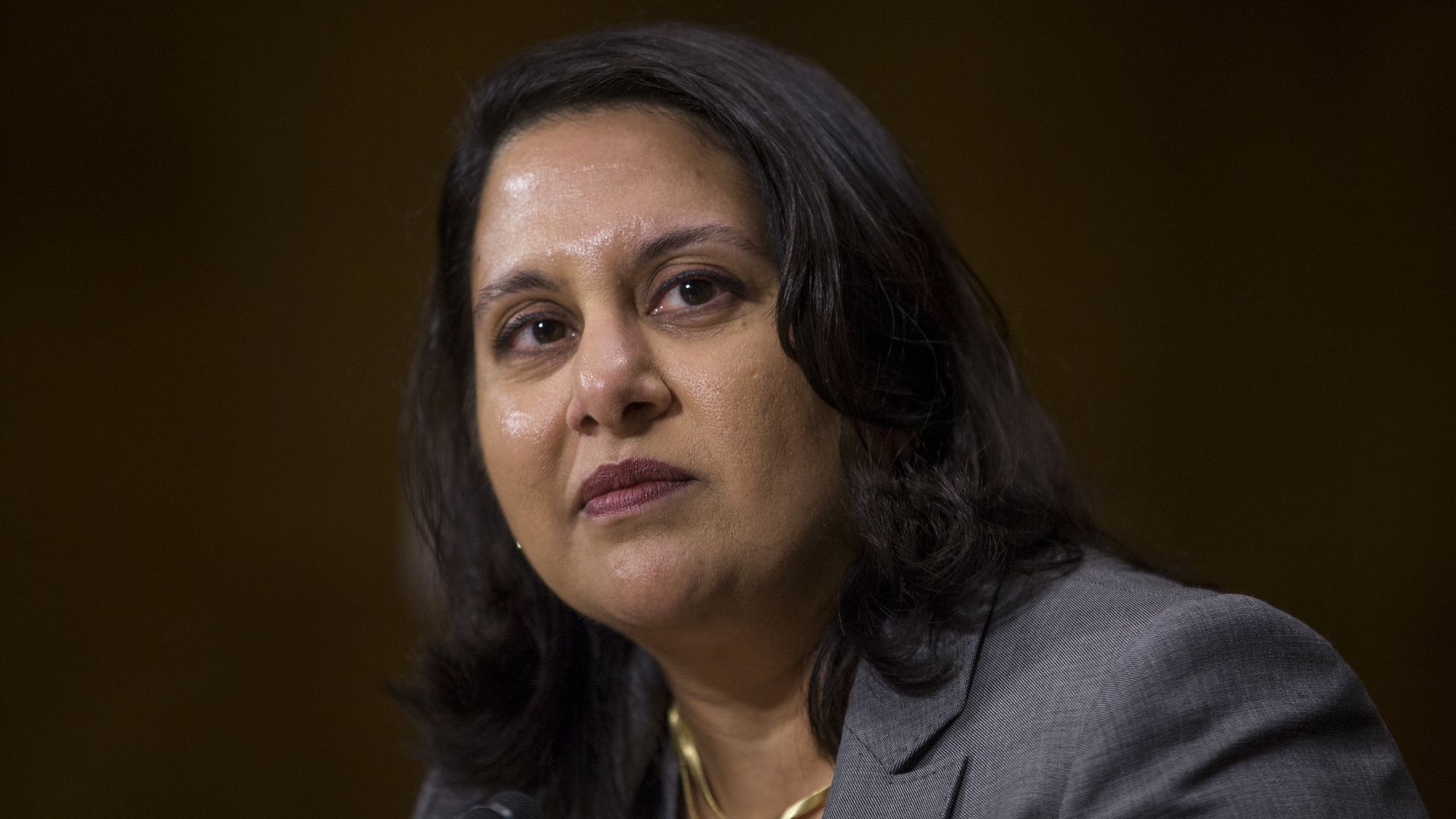 A new obstacle has emerged in the path to Neomi Rao replacing Brett Kavanaugh on the powerful D.C. Circuit Court.
The state of play: A source close to the White House confirmation process told me that Republican Sen. Josh Hawley has "deep concerns" about Rao's judicial philosophy and has raised these concerns with a number of key figures including Senate Majority Leader Mitch McConnell and White House Counsel Pat Cipollone.
Why it matters: The D.C. Circuit feeds judges to the Supreme Court — raising the stakes of Rao's confirmation. She's already had a bumpy ride. Hawley isn't the only Republican senator to register concern about Rao, and in this polarized environment she can't afford to lose many others when the Senate votes on her soon. Sen. Joni Ernst (R-Iowa) said during Rao's committee hearing that Rao's 1990s writings on date rape "do give me pause."
What we're hearing: I checked with Hawley and he confirmed what I was told about him. He elaborated on his concerns in a phone interview on Sunday. "I am only going to support nominees who have a strong record on life," Hawley told me.
"To me, that means ... someone whose record indicates that they have respect for what the Supreme Court itself has called the interests of the unborn child; someone whose record indicates they will protect the ability of states and local governments to protect the interests of the unborn child to the maximum extent ... and number three somebody who will not extend the doctrines of Roe v. Wade and Casey, which I believe are deeply incompatible with the constitution."
Hawley said he'd read Rao's academic work and was concerned that some of her writings suggested to him that she might be comfortable with "substantive due process" — a legal interpretation, loathed by many conservatives, that can be used to protect rights, such as the right to an abortion, that aren't mentioned in the Constitution.
Hawley told me that if there's evidence out there that Rao opposes substantive due process he'd like to see it.
After Axios published the Sneak Peek newsletter on Sunday, another Republican senator reached out to say they had concerns about Rao's judicial philosophy and views on abortion.
Hawley added: "I have heard directly from at least one individual who said Rao personally told them she was pro-choice. I don't know whether that's accurate, but this is why we are doing our due diligence."
Behind the scenes: Marjorie Dannenfelser, the president of Susan B. Anthony List, a pro-life group, also raised concerns about Rao with the White House. But Dannenfelser told me on Sunday she's no longer concerned about Rao, at least so far as her appointment on the D.C. Circuit.
The other side: Word spread around some conservative movement figures that Axios was working on this story about Rao. 
Carrie Severino, chief counsel at the Judicial Crisis Network, a group that spends millions on Republican Supreme Court confirmations, blasted Hawley in an unsolicited statement:
"Neomi Rao is President Trump's nominee to the second highest court in the land because she is committed to the Constitution and because she has been a warrior in President Trump's fight against government overreach.  Sadly, barely a month after moving to Washington, Josh Hawley is already acting like Claire McCaskill when it comes to judges. Instead of supporting President Trump's top judicial nominee, he is spreading the very same kind of rumors and innuendo and character assassination that Republican leaders fought during Justice Kavanaugh's confirmation.  Hawley could be working to confirm her and other extraordinary nominees, but it seems he'd rather be making headlines."
Americans for Prosperity plans to ramp up its grassroots and digital advertising efforts this week urging the Senate to support Rao. AFP President Tim Phillips called Rao "fair, impartial, extremely qualified," adding that she has the group's "full support."
And a Rao ally who is familiar with the process told me he disagreed vehemently with Hawley's interpretation of Rao's academic work. He said there's no evidence she supports substantive due process and "some of her writings describe the problems that other people have pointed out with that doctrine."
"One final thing," the source said. "Any U.S. senator who is running on the legacy of Ronald Reagan ought not to be using any political or social policy litmus tests for whether they're going to vote for a judge."
Go deeper: Trump's pick for Kavanaugh replacement grilled over controversial op-eds
Go deeper