Allies question U.S. hardline on Huawei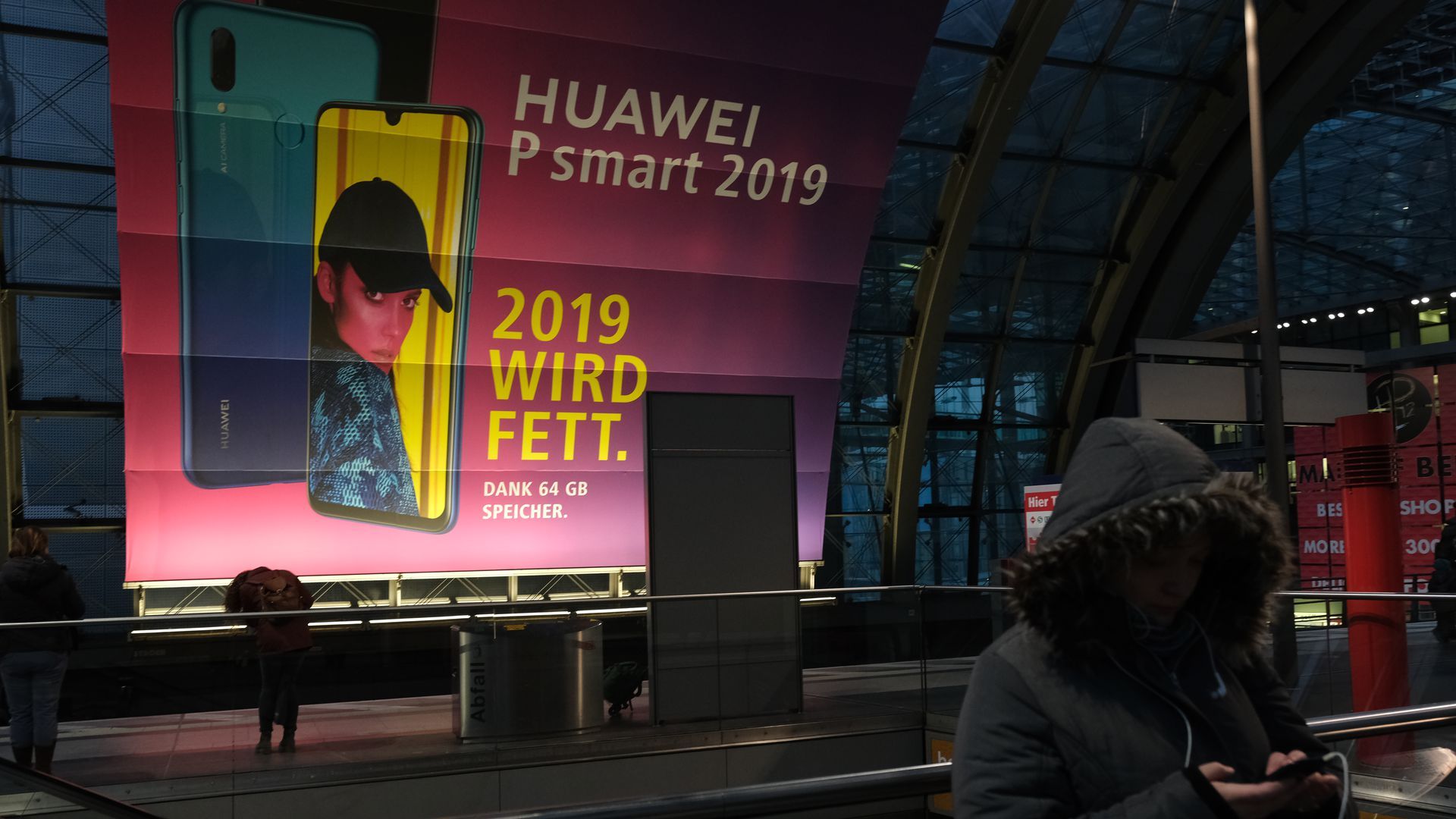 The U.S. campaign to prevent key allies from using Huawei equipment in 5G networks may be floundering.
What's happening: In an interview Thursday, Secretary of State Mike Pompeo made the U.S. position clear...
'"[C]ountries [must] understand the risk of putting this Huawei technology into their IT systems. We can't forget these systems were designed by — with the express work alongside the Chinese PLA, their military in China. They are creating a real risk for these countries and their systems, the security of their people..."
"If a country adopts this and puts it in some of their critical information systems, we won't be able to share information with them, we won't be able to work alongside them. In some cases, there's risk we won't even be able to co-locate American resources, an American embassy or an American military outpost."
But, but, but: The U.K. and Germany appear to be among the U.S. allies pushing back on a complete ban of Huawei.
In the U.K., the National Cyber Security Centre (NCSC) has determined that there are ways to limit the risks from using Huawei in 5G networks, FT reports. And, on Wednesday, the NCSC published a long blog post explaining how they secure the U.K.'s telecom networks while clearly not ruling out Huawei for 5G...
How Huawei (and other vendors) are used in the UK's 5G build out will be determined by the government's telecoms supply chain review, which is gathering evidence at the moment and will report to ministers in spring. That review is the only policy vehicle for making decisions on how future telecoms networks in the UK will be built and run, in line with strong security principles.
Germany has also not ruled out Huawei, according to the Wall Street Journal...
The German government is leaning toward letting Huawei Technologies Co. participate in building the nation's high-speed internet infrastructure despite U.S. warnings about the risks posed by the Chinese tech giant, according to senior German officials.
India doesn't seem to be swayed by U.S. arguments either, per WSJ...
Policy makers and telecommunications firms here are so far largely unpersuaded by U.S. warnings ... according to more than a dozen government officials and industry executives. Many argue that any such risk is outweighed by Huawei's cut-rate prices and technological prowess...
While India's 5G development is still in its infancy, the heft of the Indian market means the direction the South Asian country takes could make or break U.S. efforts to thwart Chinese influence in other nations that have yet to choose a side, analysts say. For years, many officials assumed India would stay in the U.S. corner given its own longtime rivalry with China.
Why it matters: The U.S. is expending significant effort and prestige to block Huawei from 5G networks but so far looks to be less than successful. The U.K., New Zealand, Australia, Canada and the U.S. make up the "Five Eyes" intelligence sharing alliance.
My thought bubble: Will the U.S. really stop sharing information with any of the members who have Huawei gear in their networks? China would be ecstatic to see that alliance fracture.
Go deeper:
Go deeper