Venezuela's border showdown is reaching a breaking point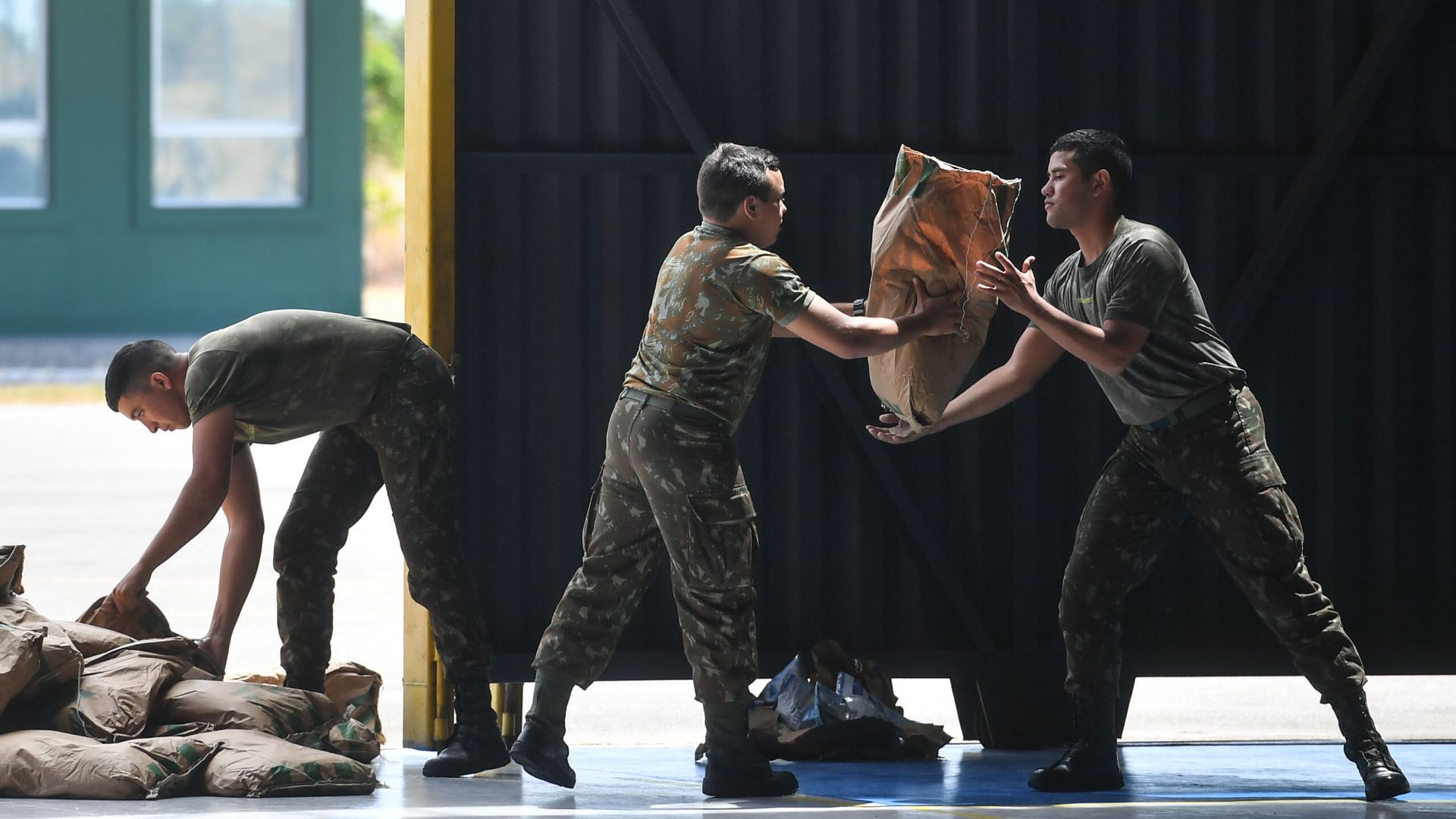 The Maduro regime is using every tactic at its disposal to block humanitarian aid from coming into the country, effectively shutting its land and maritime borders.
Why it matters: Venezuelans desperately need food and medicine. A December 2018 report noted that from 2016 to 2017, 64% of Venezuelans reported losing nearly 25 pounds. Over 9 in 10 Venezuelans, and even 6 in 10 who identify as pro-Maduro, say the food supply is bad or very bad.
Where it stands: Aid convoys are lined up at the Colombian and Brazilian borders with humanitarian assistance requested by the interim government of Juan Guaidó. Thousands of Venezuelan volunteers who have traveled to the border are ready to deliver tens of millions of dollars' worth of food and medicine provided by the U.S. and others. Interim President Guaidó and National Assembly members and volunteers have maneuvered around roadblocks on their way to the border.
Between the lines: The Maduro regime has historically refused to recognize that there's a humanitarian crisis for fear of looking weak and losing one of its primary mechanisms of social control. Aid also means international community involvement, which Maduro rejects, with the exception of Russia's.
One of the first mandates of the Guaidó government is to help alleviate suffering. Maduro is attempting to stop the interim leader from delivering on this key promise.
Yes, but: The UN and the International Committee of the Red Cross have declined to collaborate with the international aid efforts, citing concerns about the use of humanitarian intervention as a means to a political end.
Critics also note that the U.S.' $20 million aid package pales in comparison to the estimated $11 billion in revenue that U.S. sanctions will cost Venezuela in 2019, but there's reason to believe that much of that money would have redounded only to Maduro.
What to watch: The presidents of Colombia, Chile and Paraguay, along with delegations from the U.S. and other countries, are currently in the Colombian border town of Cucutá, with the goal of sending a message of international support for the entry of humanitarian supplies. Some aid is bound to come in, especially along the porous border with Colombia, which could precipitate either a domino effect or further backlash.
Jason Marczak is director of the Atlantic Council's Adrienne Arsht Latin America Center.
Go deeper