NYT details Amy Klobuchar's "demanding," "dehumanizing" behavior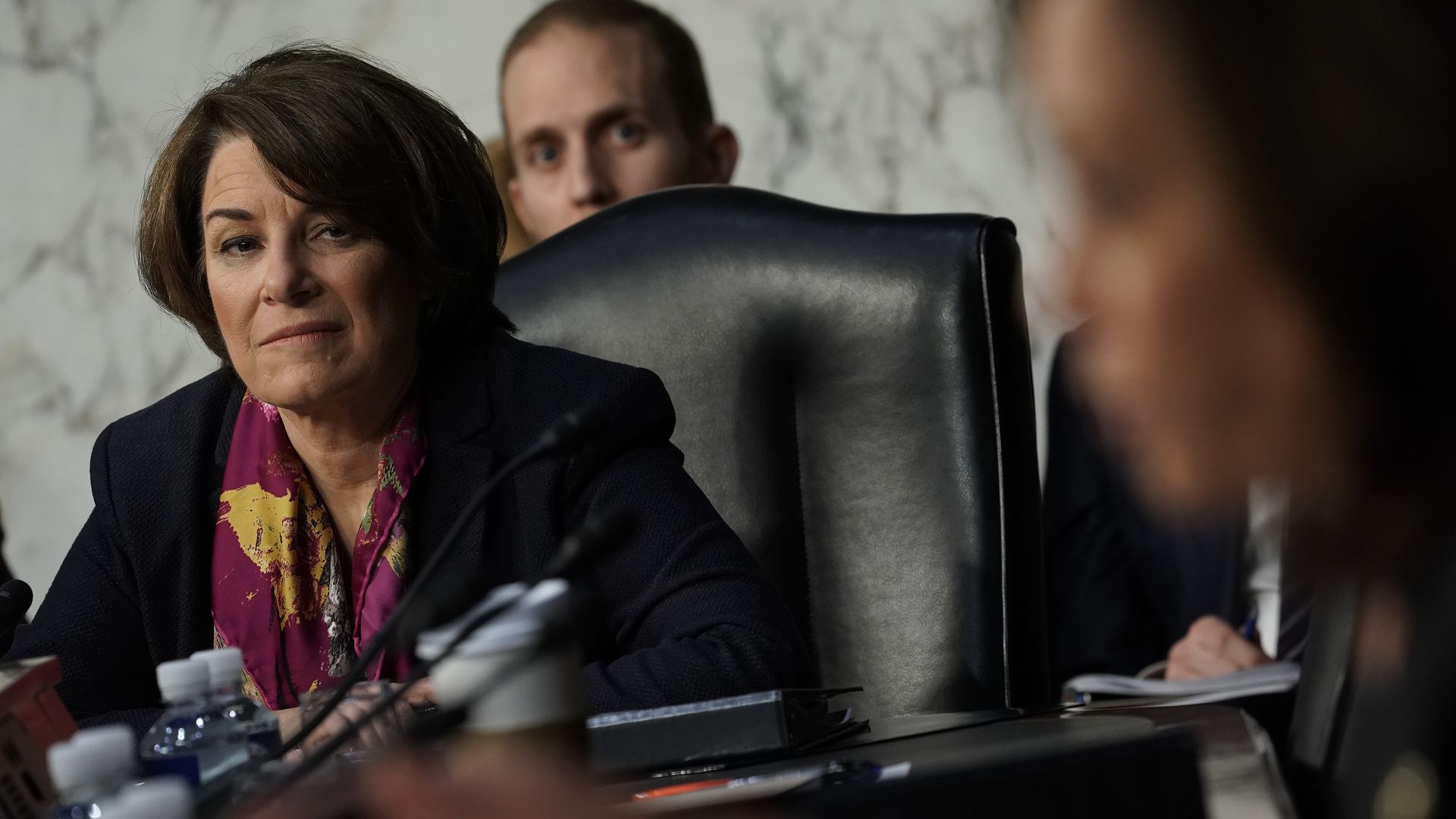 Serious concerns about Sen. Amy Klobuchar's treatment of staff have clouded the early days of her 2020 presidential campaign, as The New York Times reports her unusually high turnover, willingness to embarrass staff, odd requests and demeaning duties.
Details: "Ms. Klobuchar's exasperation often appeared connected to two factors: an abiding fear of being embarrassed in front of colleagues or in the press and the conviction that she works harder than her staff."
Biggest anecdote:
"Senator Amy Klobuchar was hungry, forkless and losing patience.
"An aide, joining her on a trip to South Carolina in 2008, had procured a salad for his boss while hauling their bags through an airport terminal. But once onboard, he delivered the grim news: He had fumbled the plastic eating utensils before reaching the gate, and the crew did not have any forks on such a short flight.
"What happened next was typical: Ms. Klobuchar berated her aide instantly for the slip-up. What happened after that was not: She pulled a comb from her bag and began eating the salad with it, according to four people familiar with the episode.
"Then she handed the comb to her staff member with a directive: Clean it."
Klobuchar was paranoid, some sources said, that there was a mole on her staff, and "often squandered time and mental energy on trivial matters, obsessing over perceived snubs."
Staffers feared Klobuchar's retaliation, some saving potentially damaging emails should "they ever need evidence of her conduct."
Klobuchar's parental leave policy required that "... those who took paid leave were effectively required, once they returned, to remain with the office for three times as many weeks as they had been gone." After the Times questioned the policy, Klobuchar's office said it would be revisited and revised.
Klobuchar made cruel comments like: "I would trade three of you for a bottle of water," according to an NYT source who witnessed the interaction.
The other side: Klobuchar admitted to the Times that she has "high expectations." Some of her supporters blame sexism for the negative assessments.
Why it matters: As a new candidate without a well-defined national profile, Klobuchar's treatment of her staff has become a damaging storyline that could overwhelm what she has to say about issues, Axios managing editor David Nather notes. There's also been debate about whether the same behavior from a male candidate would get the same amount of attention.
But the NYT adds: "Many of the aides said they had worked for both men and women, for lawmakers both compassionate and unkind, without encountering anyone else like Ms. Klobuchar," and it's led some operatives to steer clear of her campaign.
Go deeper