Trump team unsure if North Korea is serious about denuclearization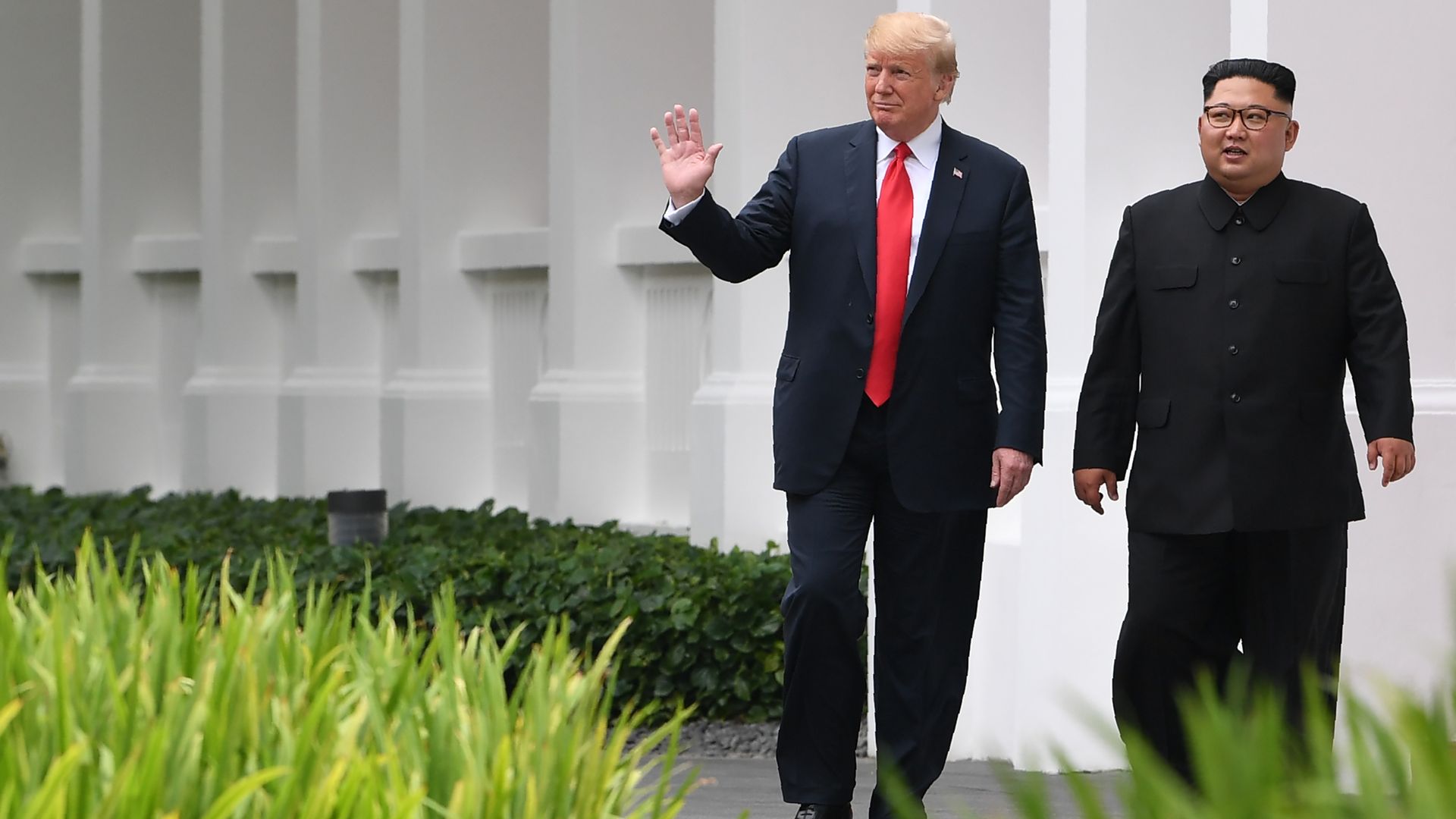 The Trump administration is heading into the Feb. 27–28 summit with Kim Jong-un unsure whether North Korea is committed to denuclearization, but standing by its position that no sanctions relief is coming until the hermetic regime follows through.
Why it matters: The U.S. intelligence community believes North Korea is unlikely to give up all of its nuclear weapons because it sees them as crucial to regime survival.
Senior U.S. administration officials briefing reporters today said that while Kim pledged to denuclearize last June in Singapore, the two sides don't have a shared definition of what that means, and it remains unclear whether Kim intends to follow through.
What they're saying:
"I don't know if North Korea has made the decision yet to denuclearize," one of the officials on the briefing call conceded, but said they continue to feel there's an opportunity for a breakthrough.
The official acknowledged the stop-start nature of talks since the Singapore summit, but said things have progressed more smoothly since Trump and Kim exchanged letters in December.
The official said negotiations are open on a variety of areas, but "we are not looking to have incremental steps as a key driver of this process."
Asked whether Trump would offer a peace treaty to end the Korean War, or the withdrawal of all U.S. troops in South Korea, another senior official on the call said those were "not the subject of discussions right now."
That official said the agenda in Hanoi, Vietnam, will be similar to what took place in Singapore, including a one-on-one meeting between Trump and Kim, an opportunity for them to share a meal, and expanded meetings with members of their delegations.
The bottom line: The officials said the goal remains the complete, verifiable denuclearization of the Korean Peninsula and noted that Trump's rhetoric has been focused on the "bright future" Kim could unlock by striking a deal.
Worth noting: Secretary of State Mike Pompeo told NBC's "Today Show" this morning that sanctions on Pyongyang would only be reduced after "we're confident that we've substantially reduced" the risk posed by the country's nuclear arsenal. That would seem to be a different standard than complete denuclearization.
Go deeper