3 stock exchanges take on the SEC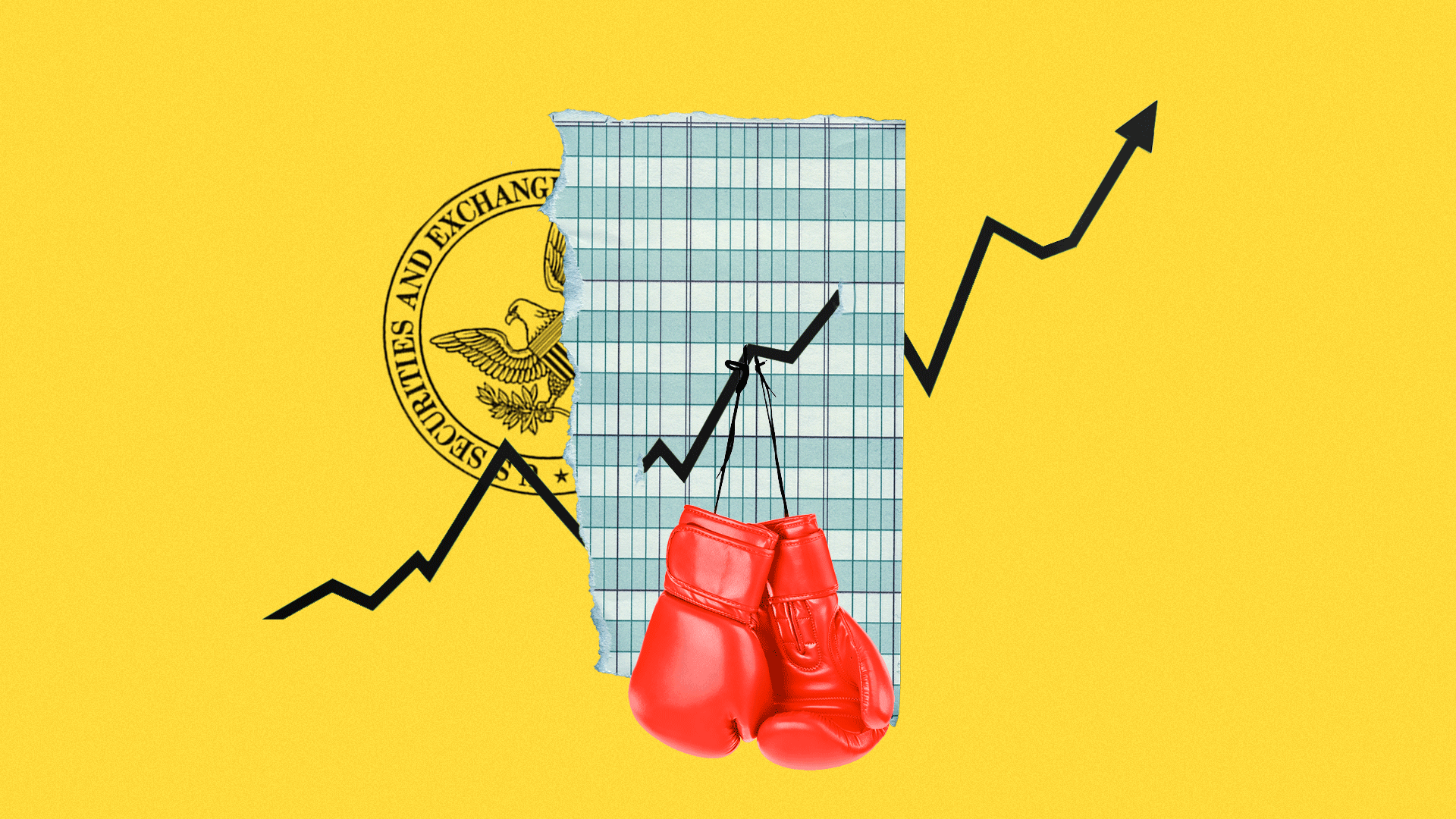 The Nasdaq, NYSE and the Cboe are seeking to block their regulator, the SEC, from implementing a new pricing program. The 3 exchanges say the program would harm investors by driving up trading costs, but those who are in favor of the rule say investors are better off.
Why it matters: The SEC says what's been called the "biggest stock market experiment in more than a decade" is designed to benefit retail investors. But the stock exchanges are fighting back against a major prong in Trump appointee Jay Clayton's push to re-regulate stock exchanges.
What's happening: Later this year, the SEC will begin a pilot program for up to 2 years that would prohibit exchanges from paying some fees to big brokers like Charles Schwab or TD Ameritrade.
The operators, which together control all but one major U.S. stock exchange, use fees to attract brokers to execute trades on their exchange as opposed to carrying out orders on private exchanges — which offer brokers no fees.
What they're saying:
"The SEC's transaction fee pilot is the exact opposite of what our markets need. It will harm capital formation [and] severely damage market participation with wider spreads," a Nasdaq spokesman tells Axios in a statement.
The current fee structure has helped "offset consequences — such as reduced liquidity — of SEC policies," NYSE President Stacey Cunningham said in an op-ed last week.
The other side: The current system, allows exchanges to "pay incentives for people to send investors' orders to places where they get a worse price," John Ramsay, IEX Group's chief market policy officer and former acting head of Trading & Markets at the SEC, tells Axios.
James Angel, a finance professor at Georgetown who's filed public comment in support of the SEC's program, says most investors would "need an electron microscope to detect the difference" in trading costs when the pilot goes into effect.
What to watch: That the fight between the exchanges and the SEC has escalated to two separate court filings is unusual because the "SEC usually consults closely with the exchanges," Adam Clark Joseph, a finance professor at the University of Illinois, tells Axios. "In the past, lots that has been subject to disagreement ... has gotten smoothed out in advance."
Our thought bubble: Clayton, a lawyer who made millions from his firm's work with Wall Street banks like Bear Stearns and Goldman Sachs, has made pushing for the "interests of America's retail investors" a primary focus of his administration. It appears this iteration has seriously stoked the ire of America's biggest exchanges. There's likely more to come.
Go deeper