Productivity is not the problem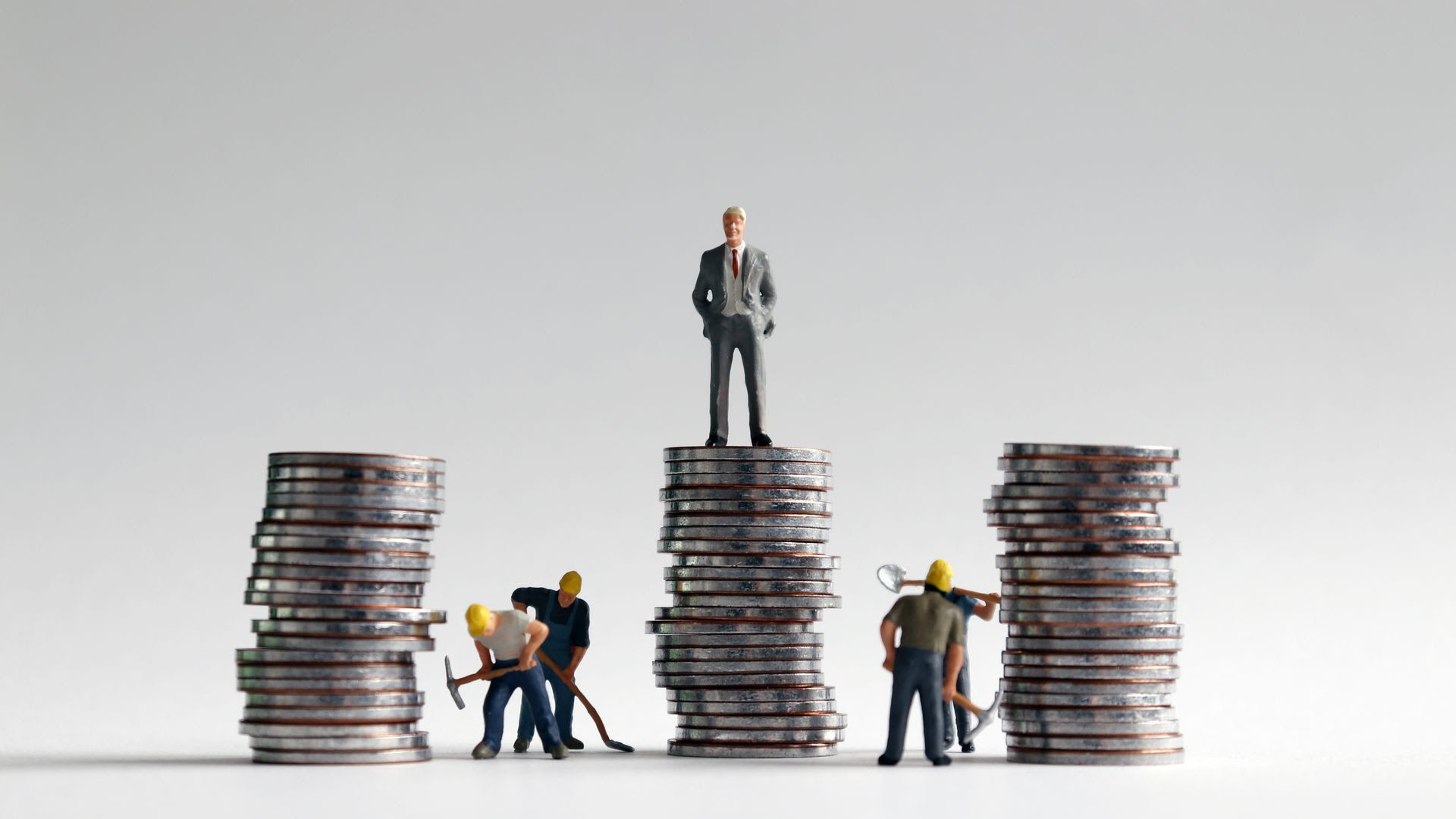 The issue driving income inequality in the U.S. has not been a lack of productivity by American workers, a new report from the Economic Policy Institute finds. Instead it is that the lion's share of gains from increased productivity have gone to a tiny segment of wage earners at the top.
The big picture: After tracking closely in the three decades following World War II, from 1979 to 2017 productivity grew 70.3%, while hourly compensation of production and nonsupervisory workers grew just 11.1%. That means productivity grew six times faster than typical worker pay.
"The data show not only rising inequality in general, but also the persistence, and in some cases worsening, of wage gaps by gender and race," EPI says in its State of Working America 2018 report. Wage growth since the Great Recession has continued to follow this trend, "and this divergence is at the root of numerous American economic challenges."
The big picture: The gender wage gap is closing among the poor and growing among the rich.
The gap for women who earn more than 10% of the population has narrowed since 2000. Men in this group make just 5.9% more than women.
Women who earn more than 95% of the population now earn 33.6% less than 95th-percentile men.
Other notable survey findings:
Throughout the wage distribution, black–white wage gaps were larger in 2018 than in 2000.
Hispanic workers have been slowly closing the gap with white workers in the bottom 80% of the wage distribution.
Among black workers, only college- and advanced-degree holders had higher wages than in 2000, but their wage growth was considerably slower than wage growth for white or Hispanic workers with those same degrees.
At nearly every education level, workers of color were paid consistently less than their white counterparts.
At every decile, wage growth since 2000 was faster for white and Hispanic workers than for black workers.
Watch this space: EPI caps its highest weekly earnings level at $150,000 a year. Workers in this category are growing their incomes so much compared to the rest of population that it is making it "increasingly difficult to obtain reliable measures of ... wages, particularly for male workers and white workers," researchers noted.
The big question: Where did the "excess" productivity go?
"A significant portion of it went to higher corporate profits and increased income accruing to capital and business owners. But much of it went to those at the very top of the wage distribution," the Economic Policy Institute's Elise Gould writes.
"The top 1% of earners saw cumulative gains in annual wages of 157.3% between 1979 and 2017—far in excess of economywide productivity growth and nearly four times faster than average wage growth (40.1%)."
"Over the same period, top 0.1% earnings grew 343.2%, with the latest spike reflecting the sharp increase in executive compensation."
Go deeper: Productivity is slowly rising, but not wages
Go deeper