Retirement communities may be perfect for launching self-driving cars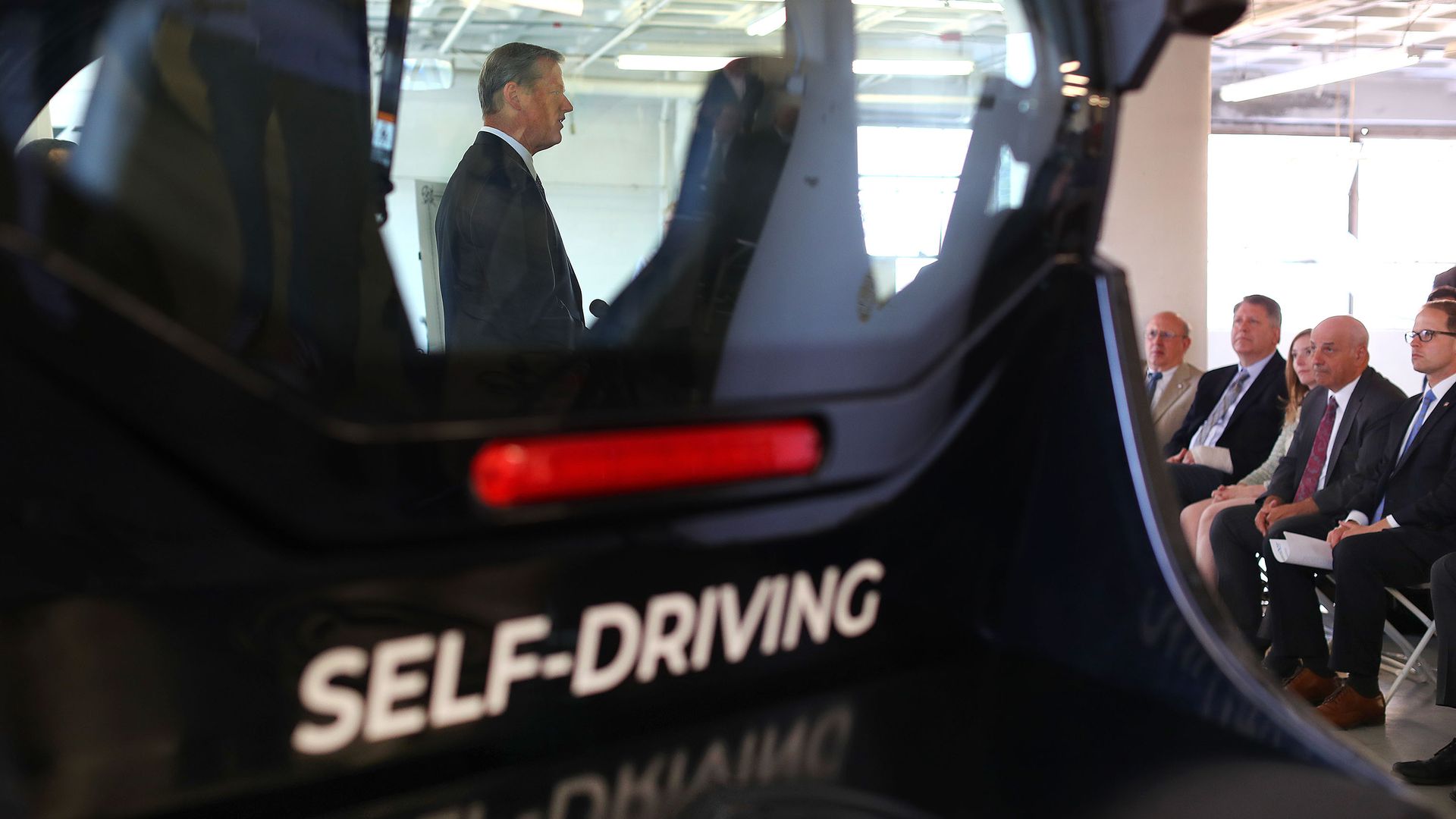 Voyage, one of America's first automated taxi services, is now up-and-running in a Florida retirement community. This means trendsetting grandparents — not car-averse urban millennials — might be the early adopters of self-driving cars.
The big picture: Retirement communities may be the perfect place to launch driverless cars — slower, simpler roads are easier to master and there's an unmet need from people who can no longer drive but want to remain active in their communities.
Yes, but: Studies show that seniors are the most reticent to ride in self-driving cars, which means it will be important to earn their trust.
What's new: After a year of testing, Voyage on Feb. 1 launched its free on-demand AV taxi service in The Villages, a sprawling retirement community with 125,000 residents north of Orlando.
For now, the robot-driven minivans, with a backup safety driver and a top speed of 25 mph, are limited to a few neighborhoods in the 33,000-acre community.
An unspecified number of "pioneers" were selected as the first customers, but the company plans to add more users and more roadways in the future.
What's different: While other AV companies are aiming for the moon — General Motors, for example, is trying to launch a robotaxi service in downtown San Francisco — Voyage CEO Oliver Cameron favors deployment on calmer streets.
As AV technology advances, the company can tackle tougher environments, he says. In the meantime, it's serving real people who need transportation.
Context:
8 million people age 65 and over don't drive, AARP says.
Most people outlive their ability to drive safely by an average of 10 years.
At least 3.6 million Americans miss medical appointments every year due to a lack of transportation, according to a 2017 study.
Yes, but: 67% of people over the age of 50 aren't willing to ride in a self-driving car, AARP found.
But, but, but: Adults with a disability are more willing to ride in an AV than those without a disability (44% vs. 31%), AARP states.
"There's a stereotype that older people are not interested in technology but when the tech enables them to accomplish something, they will use it," AARP's Nancy LeaMond tells Axios.
Many seniors have embraced smartphones and Facebook because they can keep in touch with grandkids, for example.
What's needed: Education and training to keep seniors up to date on rapidly changing automotive technology.
AARP offers programs in many places that teach seniors about the advanced safety tech in their cars and how to use ride-sharing services like Uber and Lyft. The free 90-minute workshop is also available online.
SAE International, an engineering group, has a series of AV demonstration events, which started for seniors in Florida in December.
One key takeaway: 61% said they would prefer to own a self-driving car versus 12% who said they'd prefer shared AV access, SAE tells Axios.
The bottom line: Seniors value their independence, especially when it comes to transportation, and may be the first to adopt AVs if companies can prove their worth and earn their trust.
Go deeper