U.S.-China trade talks stall as tariff deadline approaches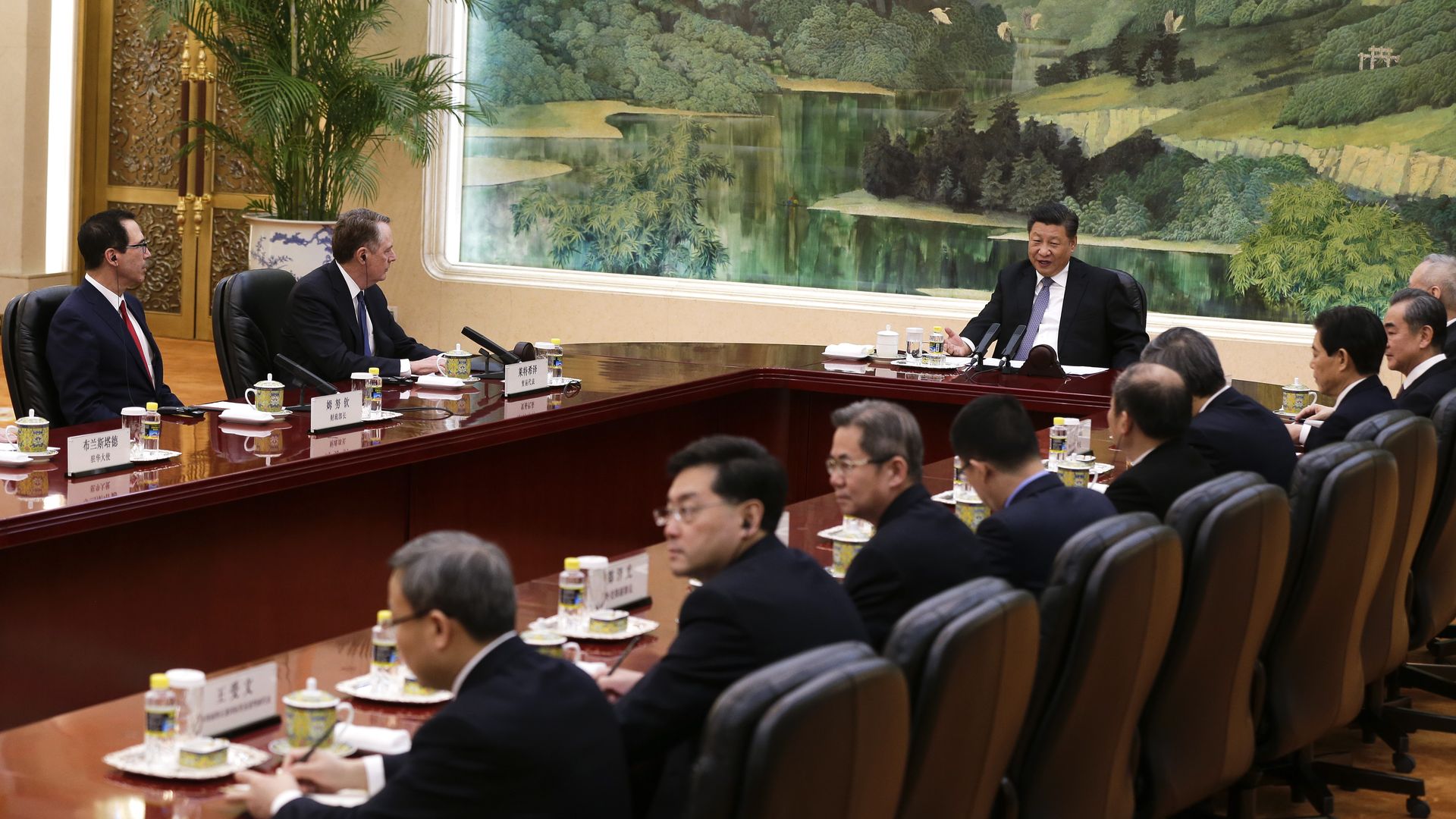 The U.S.-China trade talks in Beijing this week concluded without any sort of agreement and they will reconvene next week in Washington, D.C. There was hope for a memorandum of understanding to result from this week's talks, but clearly there was not enough progress.
Background: The U.S. team, led by U.S. Trade Representative Robert Lighthizer and Treasury Secretary Steven Mnuchin, met with Chinese President Xi Jinping after two days of talks with Vice Premier Liu He and his team.
Given that President Trump met Liu in D.C. two weeks ago it would have been a very bad sign if Xi did not reciprocate.
What we're hearing:
From the White House statement...
These detailed and intensive discussions led to progress between the two parties.  Much work remains, however.  Both sides will continue working on all outstanding issues in advance of the March 1, 2019, deadline for an increase in the 10 percent tariff on certain imported Chinese goods.  United States and Chinese officials have agreed that any commitments will be stated in a Memoranda of Understanding between the two countries...
Next week, discussions will continue in Washington at the ministerial and vice-ministerial levels.
The Wall Street Journal reports more detail from people briefed on the talks...
In the latest round, senior officials from both sides made some progress in sketching out the agreement, which would be in the form of a memorandum of understanding...
They described it as a bare-bones pact that both sides said could serve as the framework for a deal that President Trump and Chinese leader Xi Jinping later finalize at a summit...
The memorandum in the works is expected to cover issues related to Beijing's offers to purchase more American goods and services, accelerating China's market-opening efforts in sectors such as financial services and manufacturing, as well as improving its protection of U.S. intellectual-property rights...
The latest: In his press conference today, Trump affirmed a willingness to extend the discussions past the March 1 deadline if there is progress.
My thought bubble: The idea that Beijing is unable to move on the U.S. requests, most made 9 months or even years ago, and that another 60 days will be enough time for them, seems to go against the idea of seeking truth from fact.
Beijing will have more time to find and exploit various avenues to pressure Trump to agree to a lesser deal, and pushing the negotiations closer to the start of the 2020 U.S. election cycle may also increase the political pressure on the president to compromise.
It appears that there is momentum towards some sort of a framework deal to at least halt new or increased tariffs, but it is possible the markets and the Chinese are now too confident there will be a deal or at least an extension by March 1.
Go deeper:
Go deeper