The flurry of new state gun laws after Parkland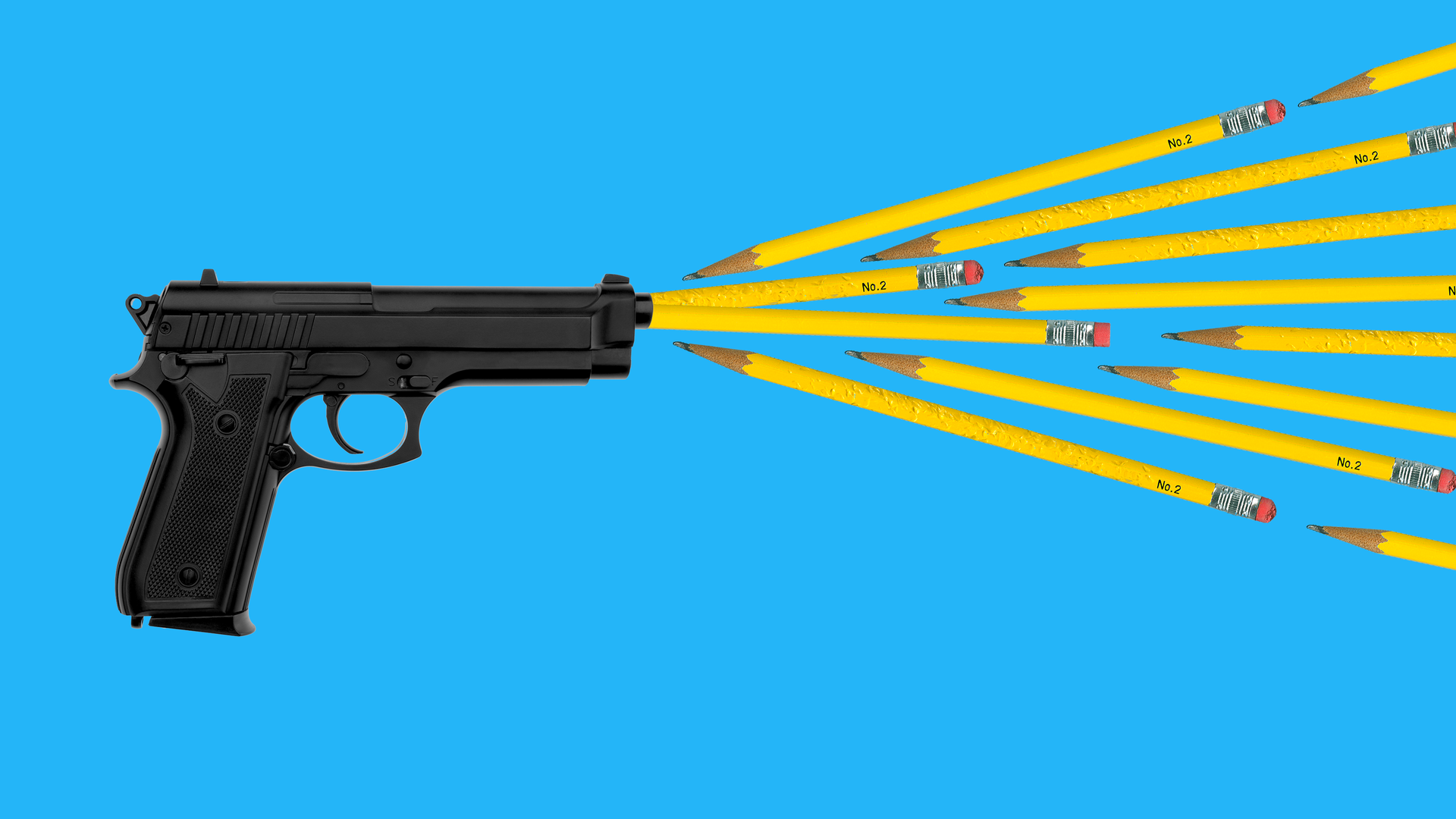 The mass shooting at Marjory Stoneman Douglas High School in Parkland, Fla., exactly one year ago has prompted the passage of 67 new gun control measures in 26 states across the country, according to the Giffords Law Center to Prevent Gun Violence.
The big picture: Thursday marks the anniversary of America's deadliest high school mass shooting. While the Trump administration fulfilled its longtime pledge to ban bump stocks in December, Congress has not passed any significant national gun control legislation in the last year. But the shootings' aftermath has turned young survivors into activists, mobilized grassroots gun reform groups and spurned plenty of movement at the state level.
The highlights
11 states passed new laws to keep firearms out of the hands of domestic abusers: California, Kansas, Louisiana, Maryland, New York, Ohio, Oregon, Pennsylvania, Utah, Vermont and Washington
9 states (and D.C.) passed new restrictions on bump stocks and other trigger activators: California, Connecticut, D.C., Delaware, Florida, Hawaii, Maryland, New Jersey, Rhode Island and Washington.
9 states passed laws to fund "urban gun violence reduction" programs: California, Connecticut, Florida, Illinois, Maryland, Massachusetts, Nebraska, New York and Rhode Island.
8 states (and D.C.) passed new laws that allow police officers and relatives to ask a judge to block "at-risk individuals" from possessing firearms: D.C., Delaware, Florida, Illinois, Maryland, Massachusetts, New Jersey, Rhode Island and Vermont.
7 states passed improved or new background check laws: Florida, Louisiana, New Jersey, Oregon, Tennessee, Vermont and Washington.
5 states tightened concealed carry laws: California, Maryland, New Jersey, South Dakota and Washington.
4 states raised the minimum age to possess a firearm from 18 to 21: California, Florida, Vermont and Washington.
Yes, but: Lawmakers still voted to expand gun access in a handful of states. However, there were significantly fewer new laws seeking to expanding gun rights in 2018 than the previous year.
In Florida, the governor signed measures that raised the age limit for buying rifles from 18 to 21 and imposed a three-day waiting period for gun purchases, among others. But they also included a provision allowing some teachers to arm themselves.
And last month, a state commission investigating the Parkland massacre unanimously backed a proposal for some teachers to be trained and allowed to carry guns in school.
Go deeper