Former FBI deputy director punches back at Trump in new book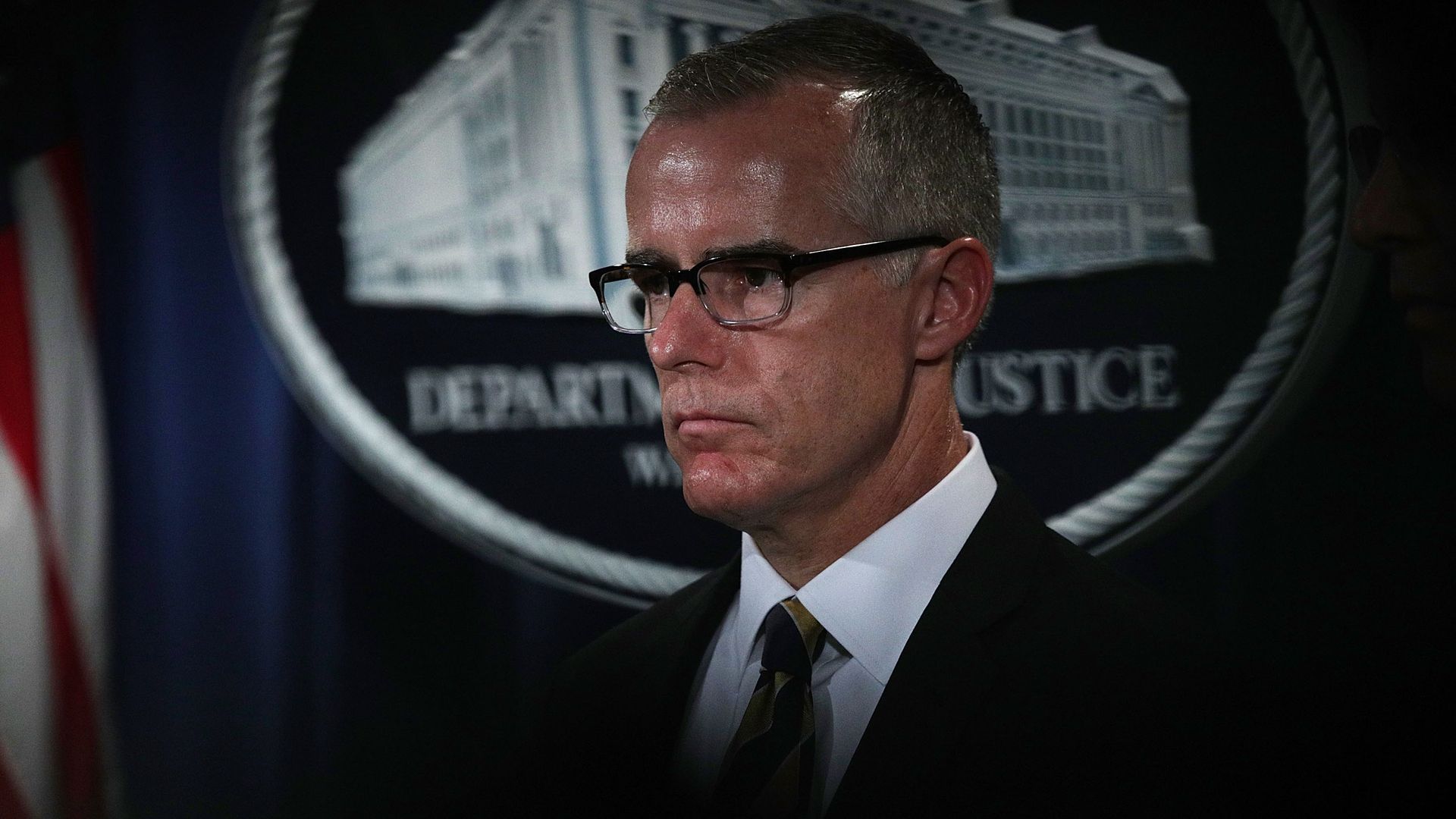 Former FBI deputy director Andrew McCabe calls President Trump "a deliberate liar who will say whatever he pleases to get whatever he wants" in his new book "The Threat," according to excerpts published Thursday in The Atlantic.
The big picture: The book recounts McCabe's role during the FBI's investigation into Russian interference in the 2016 elections and possible collusion between Russia and the Trump campaign. His publicity tour kickoff also included an interview with "60 Minutes," during which McCabe detailed discussions about removing Trump using the 25th Amendment.
Highlights from his thoughts on Trump in The Atlantic's excerpts:
"I wrote memos about my interactions with President Trump for the same reason that [former FBI director James] Comey did: to have a contemporaneous record of conversations with a person who cannot be trusted."
"People do not appreciate how far we have fallen from normal standards of presidential accountability. Today we have a president who is willing not only to comment prejudicially on criminal prosecutions but to comment on ones that potentially affect him."
"The president has stepped over bright ethical and moral lines wherever he has encountered them. Every day brings a new low, with the president exposing himself as a deliberate liar who will say whatever he pleases to get whatever he wants."
McCabe also recounts a meeting with Deputy Attorney General Rod Rosenstein just days after Comey's firing:
"[Rosenstein] started talking about the firing of Jim Comey. He was obviously upset. He said he was shocked that the White House was making it look as if Jim's firing had been his idea. He was grasping for a way to describe the nature of his situation. One remark stands out. He said, There's no one that I can talk to about this. There's no one here that I can trust."
CBS' Scott Pelley dished on "CBS This Morning" how McCabe told him about the discussions to use the 25th Amendment, which the New York Times first reported in 2017:
"They were counting noses," Pelley said. "They were not asking cabinet members whether they would vote for or against removing the president, but they were speculating."
The other side: A DOJ spokesman commented on McCabe's interview, saying Rosenstein "rejects Mr. McCabe's recitation of events as inaccurate and factually incorrect. The Deputy Attorney General never authorized any recording that Mr. McCabe references."
"As the Deputy Attorney General previously stated, based on his personal dealings with the president, there is no basis to invoke the 25th Amendment, nor was the DAG in a position to consider invoking the 25th Amendment."
"Subsequent to this removal, DOJ's Inspector General found that Mr. McCabe did not tell the truth to the federal authorities on multiple occasions, leading to his termination from the FBI."
Go deeper ... Timeline: Trump's turbulent relationship with Andrew McCabe
Go deeper