Reality check: Trump continues pushing false claims at El Paso rally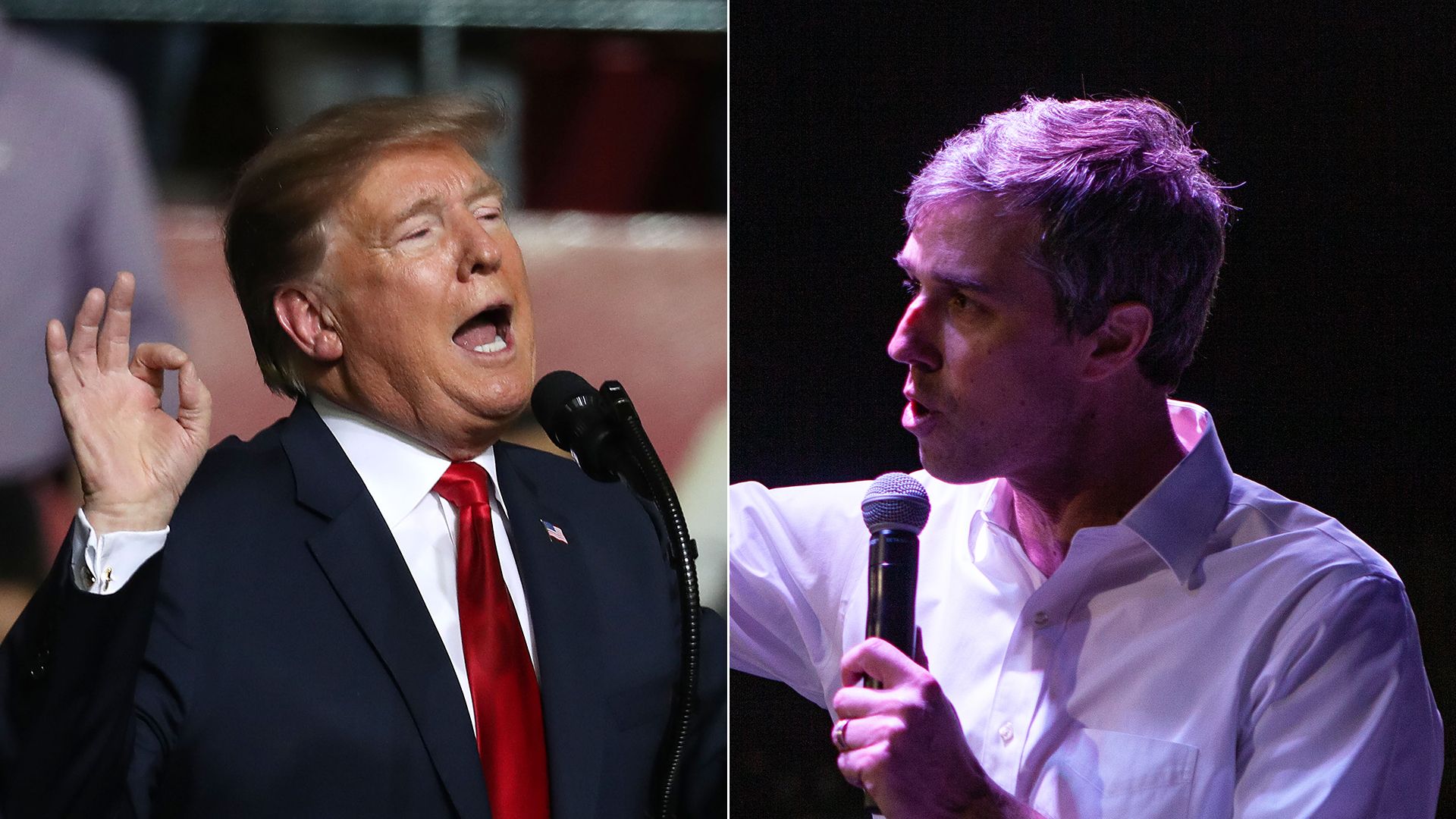 President Trump made a number of false claims Monday night during his rally in El Paso as he lobbied for building a southern border wall — including a claim that the arena the rally was held in could fit 8,000 people and that the El Paso Fire Department allowed him to let in 10,000.
Reality check: The fire department said the arena is actually capable of holding even fewer people than that — about 6,500 — and that they did not give Trump permission to admit people beyond the capacity, per El Paso Times. Trump also underestimated the size of Beto O'Rourke's competing rally, claiming there were between 15 and 300 people. Estimates suggest O'Rourke had between 7,000 and 15,000 people in attendance.
On the wall: Trump said the government has already "built a lot of" the wall. While Congress last year approved an additional 14 miles of extended barrier, there has not been a single mile of wall built since Trump assumed the presidency, the AP reports.
Trump claimed a border wall would prevent drugs from coming into the U.S. But the Drug Enforcement Administration determined in 2018 that the majority of drugs coming through the border arrive through official ports of entry.
On immigration and crime: Trump falsely claimed, as he has several times before, that a border wall helped decrease crime in El Paso. In fact, El Paso's violent crime rate was the second-lowest among similarly sized cities before the wall was built, and the city maintained second place after the wall was erected, the New York Times reports.
Trump claimed that about 2% of unauthorized immigrants who are arrested return for their court hearings. The actual number is closer to 72%, according to Justice Department data.
On oil and natural gas: Trump falsely claimed the U.S. is "now the number one producer of oil and natural gas," when in fact the U.S. has been the world's most dominant since 2013, according to the U.S. Energy Information Administration.
On the Green New Deal: Trump falsely claimed the Democrats' Green New Deal will ban Americans from owning cows and "shut down American energy" and "air travel." The plan calls for a reduction in greenhouse gas emissions, but does not ban cows or air travel, per the AP.
On experimental drugs: Trump claimed patients couldn't use experimental drugs while terminally ill before he signed the "Right to Try" law. However, another similar federal program had already been in place, according the U.S. Food and Drug Administration.
Go deeper