Little-known liberals reshape Democratic policy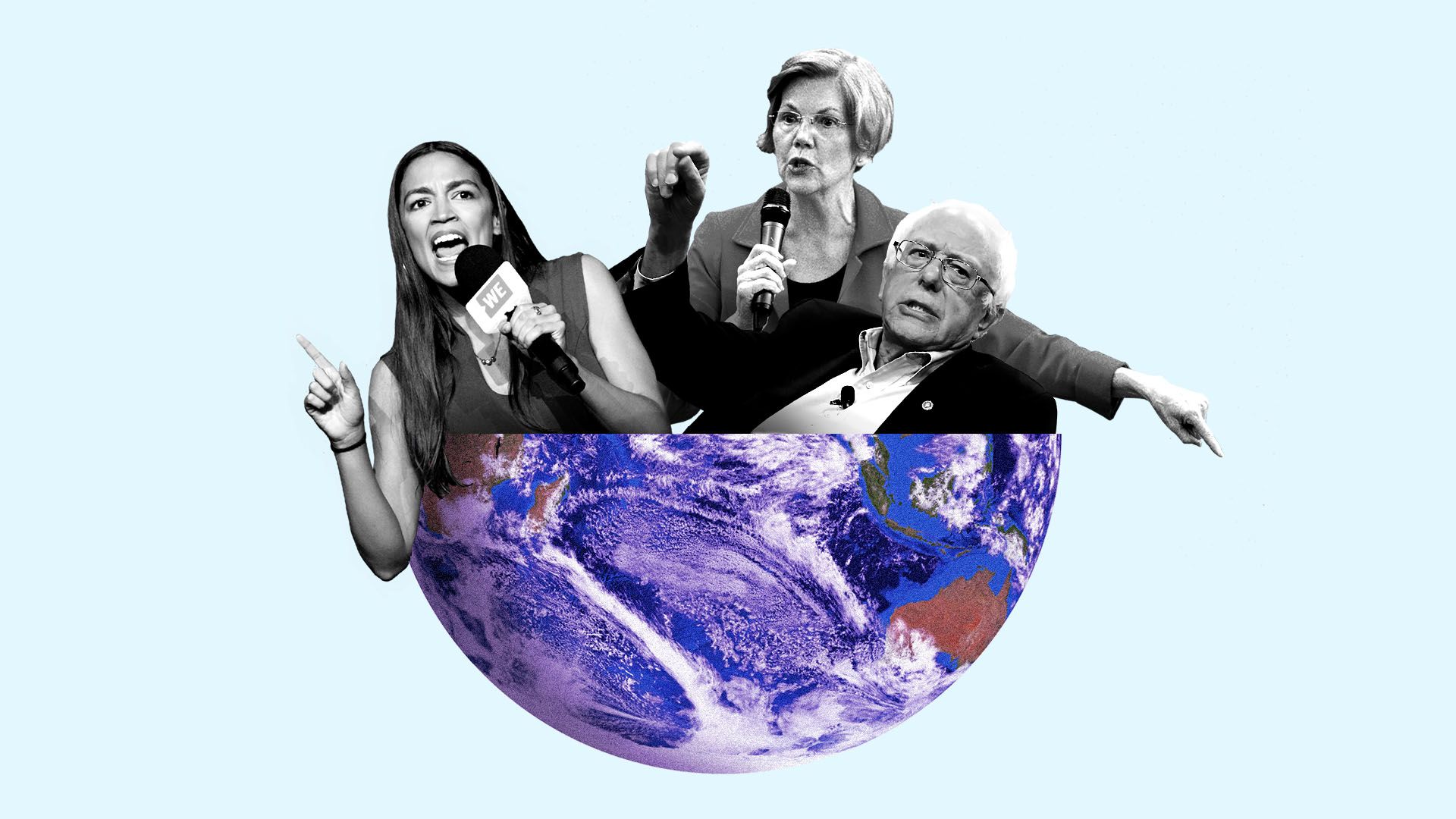 Democrats' shift to the left with big ideas like Medicare for All, along with the rise of progressives like Rep. Alexandria Ocasio-Cortez (D-N.Y.), is changing the balance of power in the party's unofficial policy establishment.
Why it matters: Think tanks, policy analysts and advocacy groups are vitally important — they help shape the party's policy platforms and channel the base's enthusiasm. And a new set of players are gaining power in that world just as Democrats seize the reins in the House and wade into a policy-heavy primary for 2020.
What they're saying: "There has been a huge shift in what kinds of policies are considered big enough to meet the scale of our problems," said Waleed Shahid of the 2-year-old group Justice Democrats.
"New, startup think tanks" are "filling the void," he said.
How it works: The universe of new or newly prominent progressive groups includes Data for Progress and New Consensus, who both worked with the Sunrise Movement, a group that's providing a lot of the advocacy muscle behind the Green New Deal.
The Green New Deal is now well on its way into the Democratic mainstream (though it remains vague), thanks largely to the mutually reinforcing combination of outside legwork and Ocasio-Cortez's nearly unrivaled ability to drive the political conversation.
Data for Progress cofounder Sean McElwee also helped popularize the hashtag #AbolishICE, which then gained steam on the left, and then became part of Ocasio-Cortez's platform, and then won its first endorsement from a senator — Kirsten Gillibrand — two days after Ocasio-Cortez won her primary.
Individual experts are also playing a big role as Democrats' 2020 candidates look beyond the familiar left-of-center policy framework.
Multiple Democrats have sought the counsel of economist Stephanie Kelton, a former aide to Sen. Bernie Sanders (I-Vt.) who has helped popularize Modern Monetary Theory.
A pair of left-leaning economists from the University of California at Berkeley reportedly helped Sen. Elizabeth Warren (D-Mass.) craft her proposed wealth tax.
Economists Sandy Darity and Darrick Hamilton consulted on Sen. Cory Booker's "baby bonds" proposal and Sen. Kamala Harris' middle-class tax cut.
The old guard — which includes Obama-era stalwarts like the Center for American Progress — is by no means dead or irrelevant. But those experts are sometimes reacting to big policy ideas, rather than writing them, as their party shifts to the left.
Medicare for All, for example, was not born out of a traditional marriage between think-tank white papers and political trial balloons.
Pretty much every Democrat — elected officials and policy analysts alike — is following Sanders' lead on Medicare for All, defining their own positions largely in terms of how they compare to his.
Sanders introduced his Medicare for All bill in September 2017, with every top 2020 prospect in the Senate signed on as cosponsors and vocal support from Sanders' political allies. But the Democratic policy establishment is still largely playing catch-up.
CAP, which was arguably the most important outside voice on health policy during the Obama administration, released a rival Medicare plan about 5 months after Sanders'. The entire policy debate over Medicare for All still revolves primarily around what people think of Sanders' bill.
Another reason for the changing of the guard: the high-profile progressives leading the leftward shift — people like Ocasio-Cortez, Sanders and Warren — are closely identified with specific policies and comfortable being out front on those issues. And they've gotten to that place without going through the Democratic policy establishment.
The bottom line: The leaders of the Democratic Party's shift are setting the terms of the debate individually, not plugging into some existing policy apparatus. And, for better or worse, that's opening up a lot of room for a new crop of experts and advocates to help them make their case.
Alexi McCammond and Stef W. Kight contributed to this story.
Go deeper: A new liberalism rises
Go deeper