Europe bands together and pulls apart
France today recalled its ambassador to Italy after the populist government in Rome publicly aligned itself with the protesters attempting to topple President Emmanuel Macron.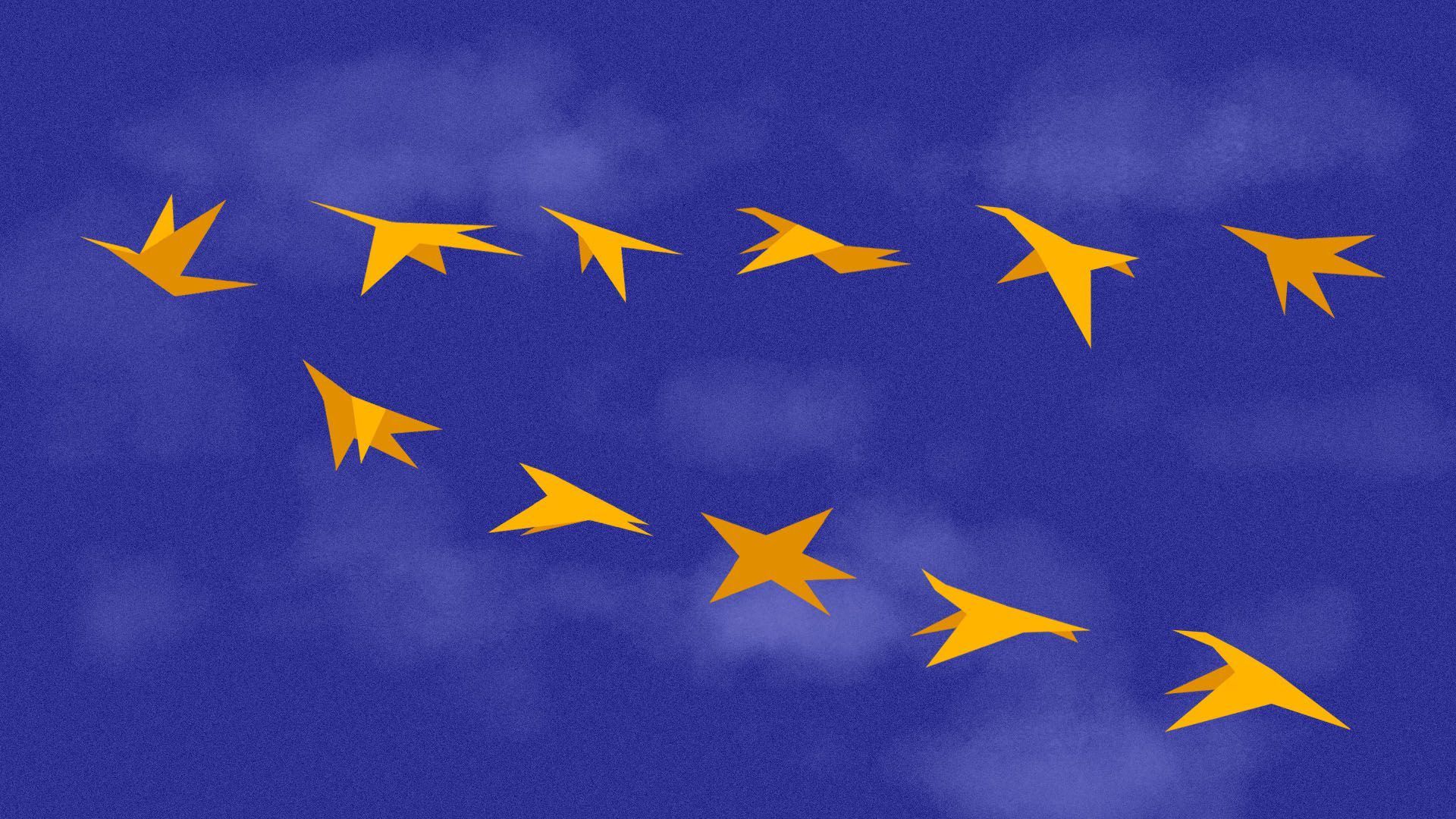 Catch up quick: Luigi Di Maio, Italy's deputy prime minister and leader of the Five Star movement, met Tuesday with leaders of the gilets jaunes (yellow vests), praising them and declaring "the wind of change has crossed the Alps." The French response was swift and furious. It culminated in today's announcement and a statement lamenting "a serious situation which is raising questions about the Italian government's intentions towards France."
Between the lines:
Constanze Stelzenmüller of Brookings says the Italians have a "genuinely divergent view" about the future of Europe, "but also a disruptive intent. They're also very close to the Russians and are disruptive on things like sanctions as well. In my view, they're out to make trouble."
Erik Brattberg of Carnegie points to "a bigger rift taking place across Europe — not just Italy but also Hungary, Poland — with populists wanting not necessarily to destroy the European Union, but to change it" in fundamental ways.
The big picture: On the other side of those battle lines stand the multilateralist powers, France and Germany. Macron and German Chancellor Angela Merkel heralded a "new chapter" in relations and pledged to tie themselves and Europe ever closer together last month as they signed a (mostly symbolic) treaty.
Yes, but: France today backed a review that could threaten the controversial Nord Stream 2 pipeline, which would deliver Russian gas to Germany. Macron also canceled a trip to the Munich Security Conference to focus on domestic concerns.
There are big divides on more fundamental issues, like the pace of European integration. Thus, Macron and Merkel tend to make bold statements on the areas they do agree — the "European army," for example — and in so doing "create false expectations and unnecessary suspicions" elsewhere in Europe, Brattberg says.
Why it matters: Europe faces massive challenges in the economy, in security and in identity. Shocks to the system like Brexit make them more urgent still. Those challenges aren't just dividing nationalists and multilateralists — cracks are showing within the opposing camps.
Go deeper