The Green New Deal may finally bring climate change to center stage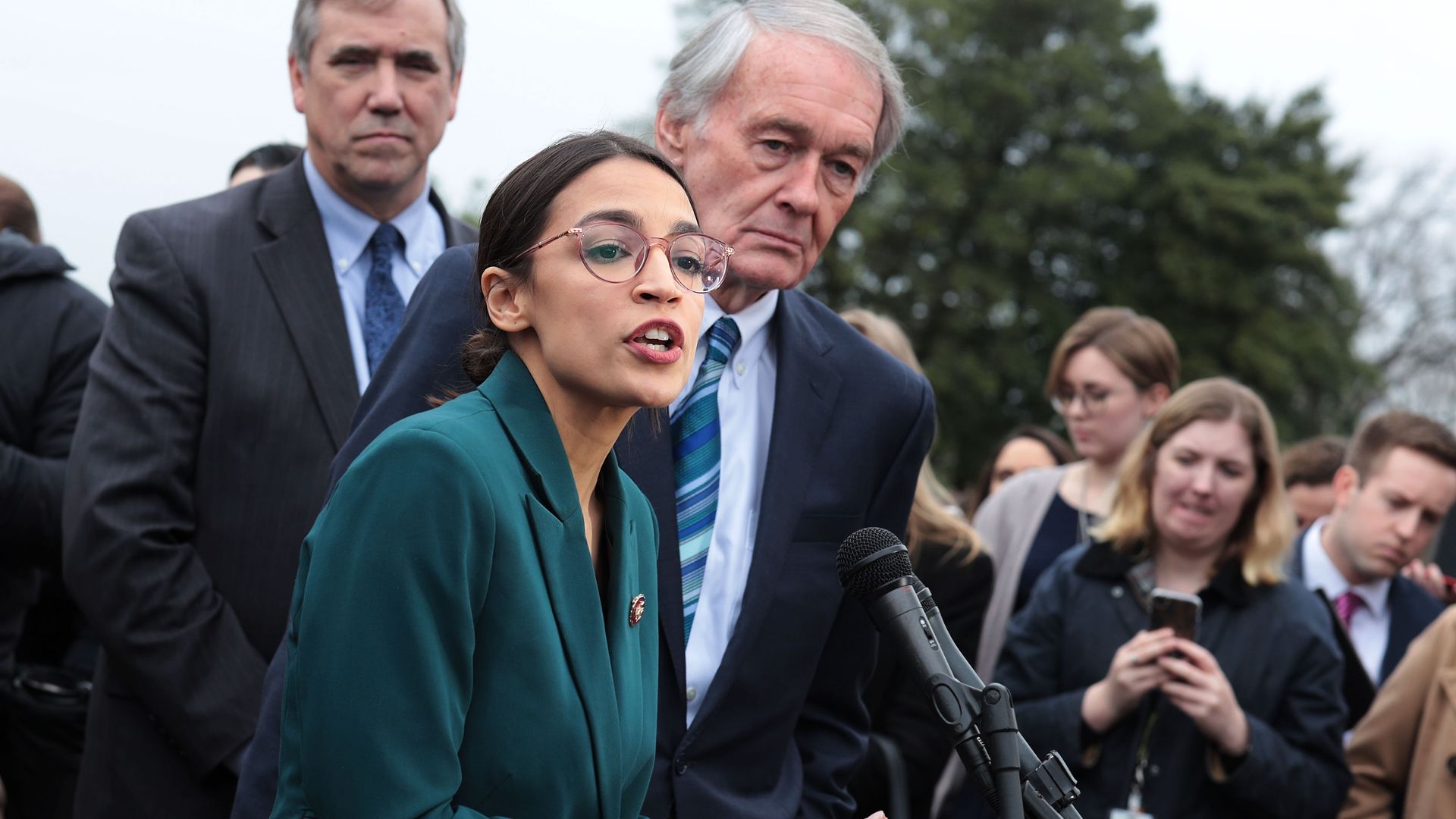 Amid the announcement of the Green New Deal (GND) resolution on Thursday, critics have been quick to characterize the policy as quixotic and extreme. But GND supporters are far from alone in advocating for a radical transformation of the global energy system, nor are such efforts confined to the left wing of the Democrat congressional caucus.
The big picture: In comparison to the rest of the world, Washington has been uniquely slow to recognize and address the threat of climate change. The GND, regardless of whether it comes to fruition, seems poised to force a conversation in the Capitol that other governments and the private sector have been holding for a long time.
Between the lines: Corporations from Walmart to Toyota are already investing in restructuring their businesses toward greenhouse gas reductions and a longer-term sustainable energy model.
Their efforts are partly about meeting changing customer and shareholder expectations and reducing costs, and partly about anticipating the kind of "massive government intervention" the GND calls for.
If GND-style proposals become a reality, such "future-proofing" efforts by greenhouse gas–intensive corporations will come to be regarded as a prudent form of risk management.
Similarly, major energy-consuming and -producing governments such as Germany, China, and even Saudi Arabia are pursuing their own versions of risk management and economic transformation in anticipation of rapid decarbonization.
What's new: While many clean energy advocates have unrealistically suggested that decarbonization can happen without economic or political pain, the GND acknowledges the necessity of massive government intervention, the insufficiency of existing carbon taxes and regulatory tools, and the possibility of economic disruption and opportunity.
The bottom line: As the 2020 elections approach, the GND will likely spark public interest in a real debate about the difficult choices around decarbonization. U.S. voters show overwhelming support for the idea of a GND, though it remains to be seen whether Congress will be as receptive.
Robert Johnston is managing director for global energy and natural resources at Eurasia Group and a senior fellow at the Atlantic Council Global Energy Center.
Go deeper