What they're saying: Fairfax accuser details alleged sexual assault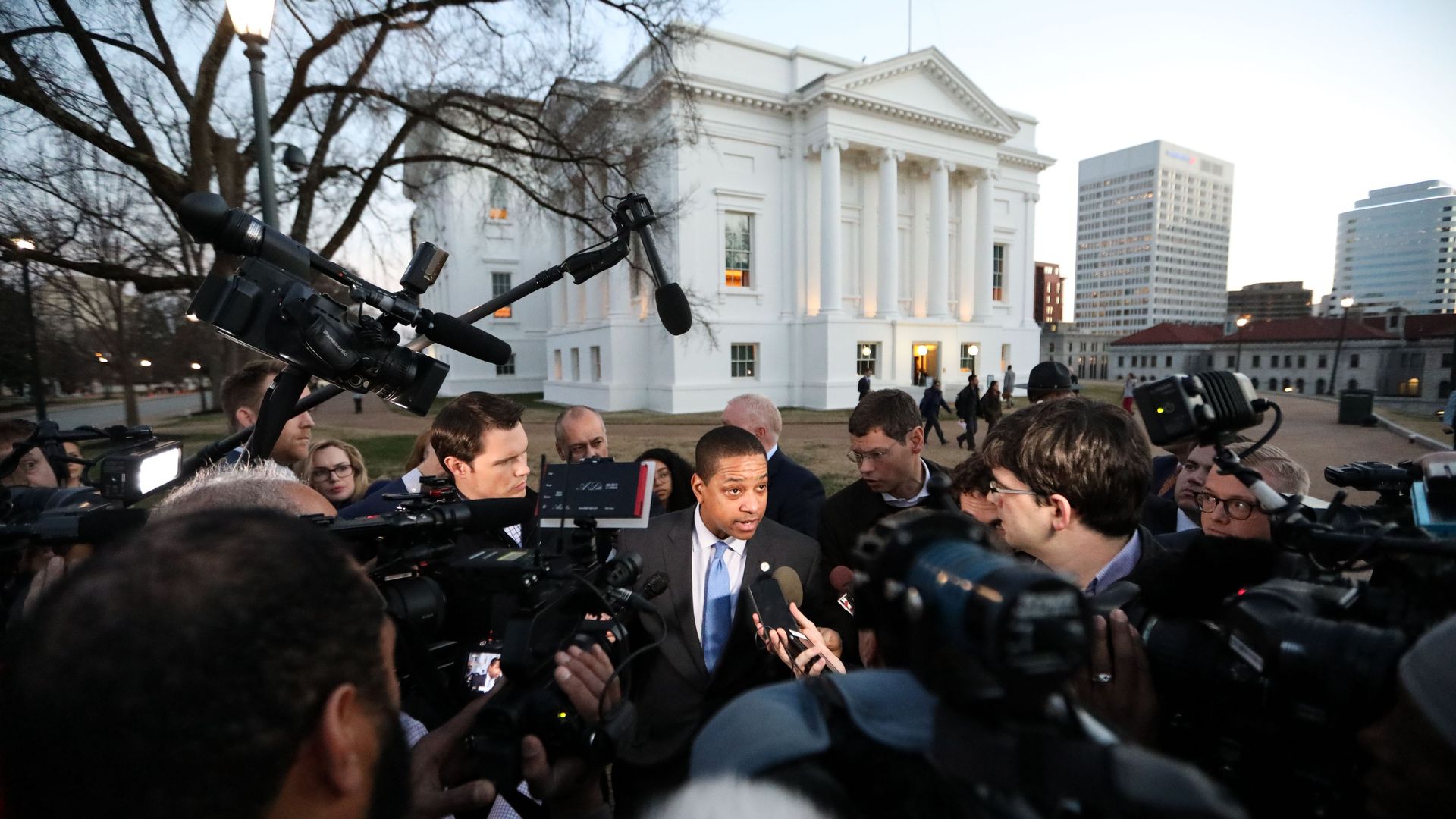 Dr. Vanessa Tyson, the woman who accused Virginia's Lt. Gov. Justin Fairfax of sexually assaulting her in 2004, came out with a statement Wednesday detailing her memory of the incident and casting disbelief at the notion that Fairfax could view "this forced sexual act" as consensual.
What they're saying: Fairfax, who issued several denials before Tyson revealed her account, issued another statement on Wednesday evening. "Reading Dr. Tyson's account is painful. I have never done anything like what she suggests. As I said in my statement this morning, I have nothing to hide ... I believe that people should always be heard and the truth should be sought." Fairfax has reportedly retained Wilkinson Walsh + Eskovitz, the same law firm that represented Supreme Court nominee Brett Kavanaugh during his confirmation hearings.
Sen. Tim Kaine (D-VA): "I feel very strongly having worked with folks who have suffered and have survived sexual assault you have to let anyone with a sexual assault claim decide when and how to tell their story ... Now I've read it, it's very serious we just have to process it and work forward. But I don't have an outcome right now that is clear in my mind."
Virginia House of Delegates Speaker Kirk Cox (R), who is third in line to replace Gov. Northam: "The allegations of sexual assault against Lt. Governor Fairfax are extremely serious. The Lt. Governor, the alleged victim, and Virginians all deserve a full airing of the facts."
Rep. Jennifer Wexton (D-VA): "I believe Dr. Vanessa Tyson."
Friend of Dr. Tyson, via ABC News: "Vanessa has always been forthright and matter of fact with me about all things and was no different in regards to this incident ... I trust her beyond measure and know how this incident haunted and traumatized her because she told me so and because I know her well and could hear the anguish in her voice ... She sounded resigned, yet disgusted, frustrated, and infuriated in a way that I can sadly recognize from personal experience."
DNC chairman Tom Perez: "I believe she is entitled to due process. We need to always take these allegations seriously. I said this whenever this issue has come up. We must accord respect to an accuser and we must accord due process to the accused."
Go deeper: Virginia's 3 highest ranking state officials all land in hot water
Go deeper