Trump's pick for Kavanaugh replacement grilled over controversial op-eds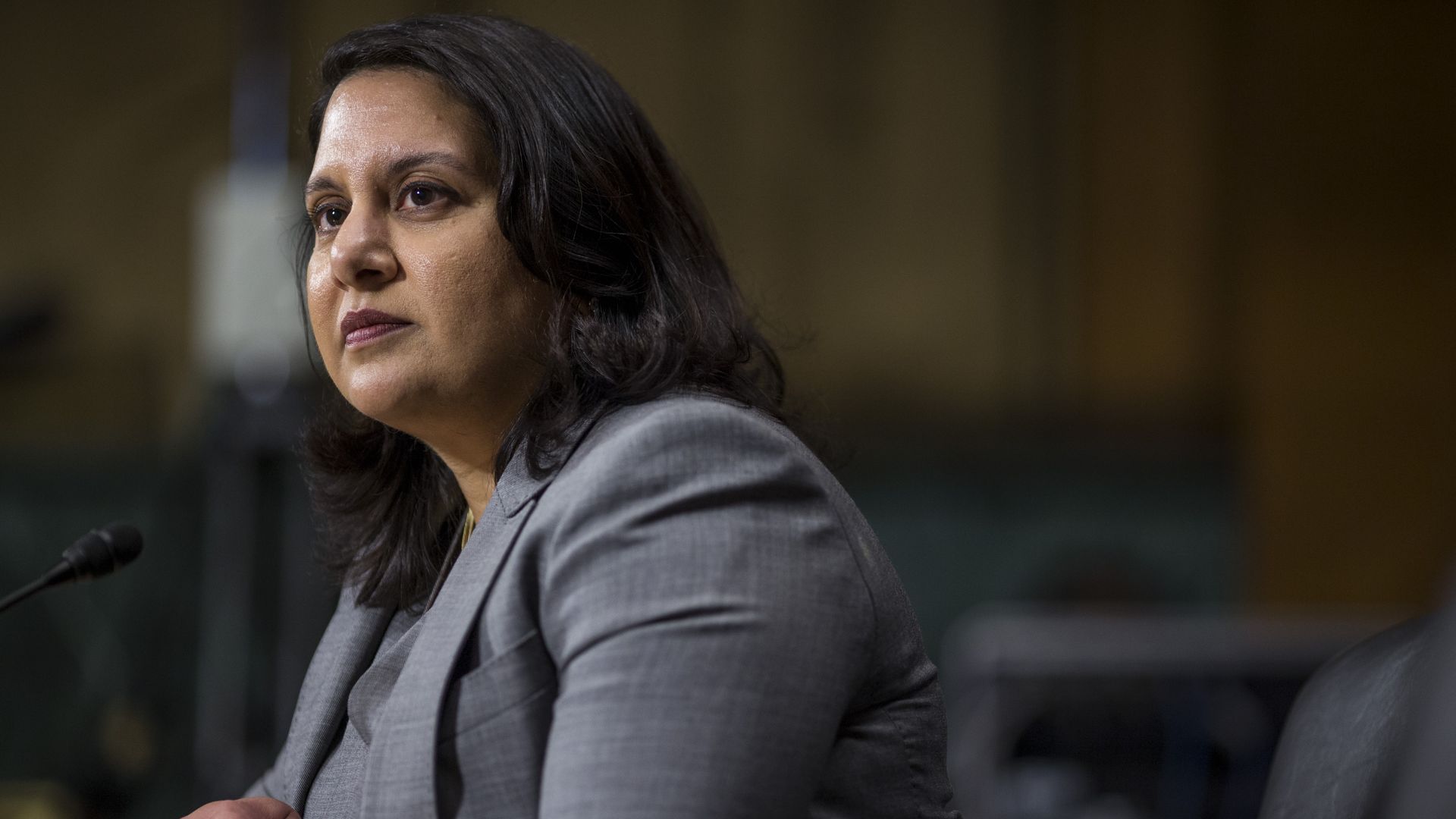 President Trump's nominee to fill Supreme Court Justice Brett Kavanaugh's seat on the D.C. Circuit Court of Appeals — the nation's second-highest court — faced criticism during her confirmation hearing Tuesday from some members of both parties on the Senate Judiciary Committee over her controversial past writings on gender equality, sexual assault and race.
The backdrop: Neomi Rao, who currently serves as administrator of the White House Office of Information and Regulatory Affairs, attended Yale University and wrote often about date rape. In an October 1994 column, she suggested that sexual assault at college parties could be avoided if women didn't drink too much. She also wrote articles that characterized sexual and racial oppression as "myths."
Rao told senators that looking back at some of her columns, she cringes at some of the language she used. She also said that with respect to her comments on race, she now realizes she was too "idealistic" as an undergraduate, prompting questions about how she could refer to her controversial writings as both "cringeworthy" and "idealistic."
What they said:
Sen. Joni Ernst (R-Iowa), who disclosed to Bloomberg last month she was sexually assaulted while in college: "I'm not going to mince words. I've had a chance to review a number of your writings while you were in college and they do give me pause. Not just from my own personal experiences, but regarding a message that we are sending young women everywhere."
Sen. Dick Durbin (D-Ill.) pressed Rao on her comments about racism being "a myth" after she referenced Martin Luther King Jr. in one of her answers: "I would really struggle to reconcile what you said about racial oppression as a myth with the legacy of Dr. Martin Luther King. I can't understand that brand of 'idealism.'"
Ranking member Dianne Feinstein (D-Calif.) voiced skepticism on how Rao, 45, would handle certain cases if confirmed, including regulations she has reviewed in her position at the White House. "The D.C. Circuit hears most challenges to federal regulations. Thus, if confirmed, Ms. Rao could be in a position to decide cases about many of the very regulations that she has personally worked on."
Yes, but: Some senators defended Rao, drawing connections to Kavanaugh's contentious nomination hearings last year.
Sen. John Cornyn (R-Texas): "People go back 25, 30 years and look at things like that and try to criticize people for maybe some of their youthful indiscretions or opinions they expressed back then that are not particularly politically correct today."
Sen. Ted Cruz (R-Texas) said Rao has been unequivocal both in the past and present that anyone who commits a crime of violence should be prosecuted. He also said that her suggestion that college students should avoid excessive drinking is "very good advice" and that he intends to give it to his two daughters.
Go deeper