Global warming could melt one-third of the planet's "Third Pole" by 2100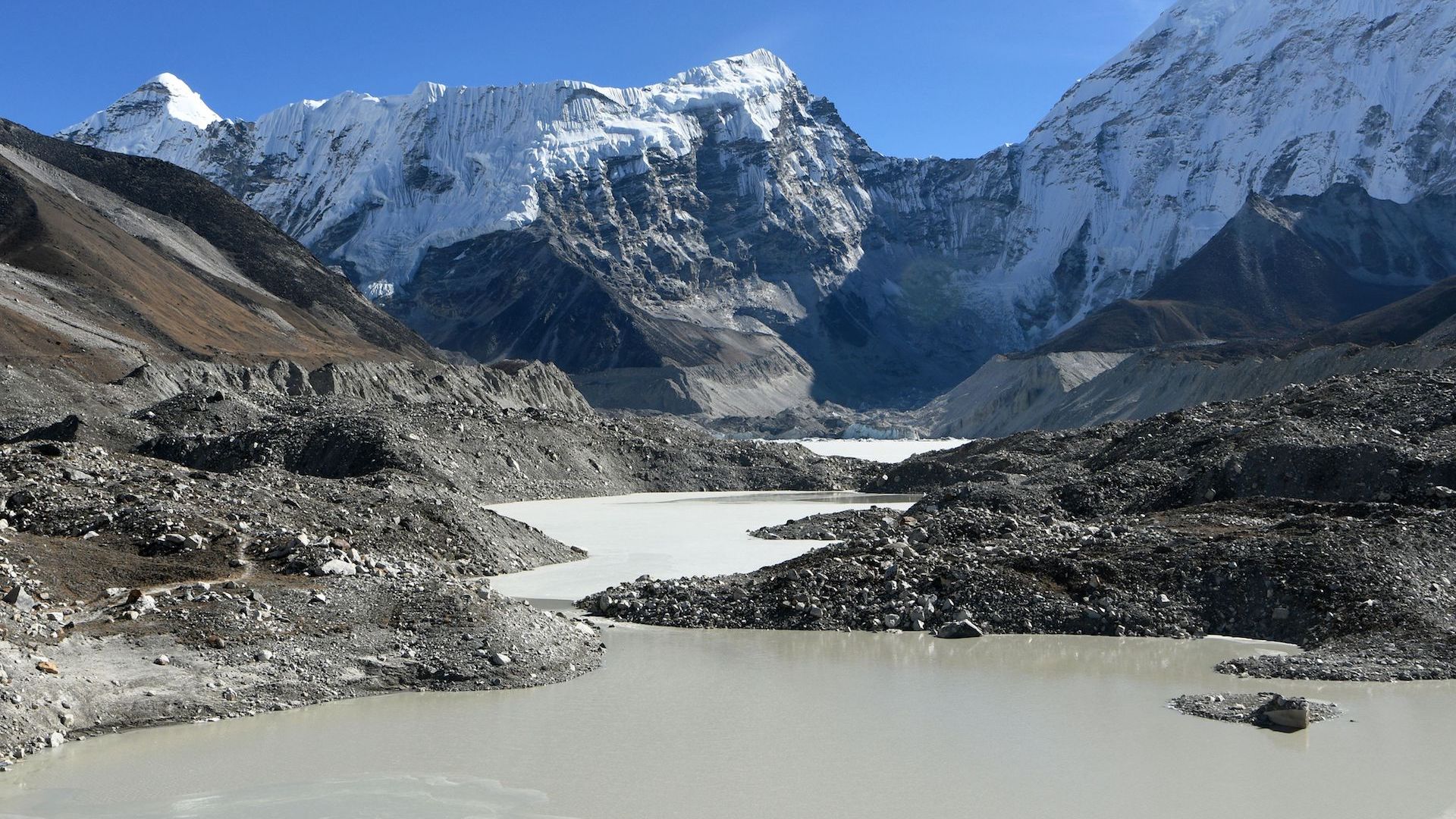 Climate change is likely to melt at least one-third of the glaciers located in the Hindu Kush Himalayan (HKH) region, where Mount Everest is located, imperiling the water supply of more than 1 billion people in the area.
Why it matters: The mountainous 2,000-mile region, known to climate scientists as the planet's vast "Third Pole," is a major water source for 10 of the world's most important river systems, including the Ganges, Indus, Yellow, Mekong and Irrawaddy. The Hindu Kush Himalaya Assessment found that even if the world were to meet the Paris climate agreement's most stringent global warming target, one-third of the glaciers in the mountainous region would still melt by the end of the century.
Details: If emissions were to continue virtually unchecked, the report finds that two-thirds of the region's glaciers would disappear by 2100 — as average temperatures in the region spike by 5°C, or 9°F, compared to preindustrial levels.
This could be accompanied at first by catastrophic floods, followed by far lower contributions from glaciers to these major river systems.
The report was put together by more than 350 researchers and policy scholars from 22 countries and 185 organizations, and it was peer reviewed prior to publication.
What they're saying: "This is the climate crisis you haven't heard of," said Philippus Wester of the International Centre for Integrated Mountain Development (ICIMOD), who spearheaded the report, in a press release.
"Global warming is on track to transform the frigid, glacier-covered mountain peaks of the HKH cutting across eight countries to bare rocks in a little less than a century."
"It's not just occupants of the world's islands that are suffering," Dasho Rinzin Dorji, a board member of ICIMOD from Bhutan, in a press release. "We need to start thinking of mountain regions as climate hotspots worthy of urgent attention, investments and solutions."
Go deeper: Record number of Americans see climate change as a current threat
Go deeper