A worldwide, winner-takes-all race to rule tech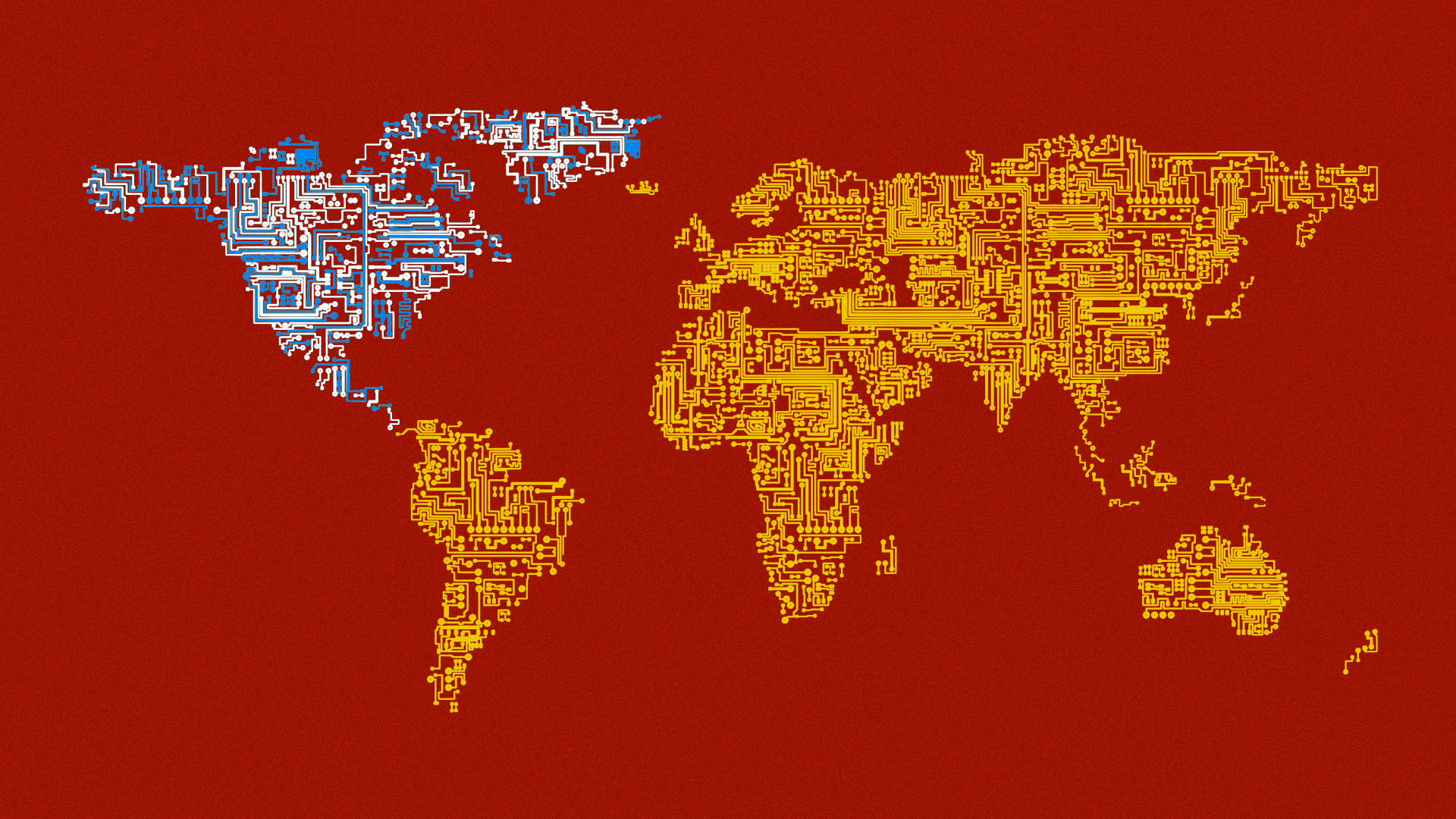 For the past century, the U.S. or its allies have held the upper hand in technology, whether it was the code cracking that helped win World War II, the atomic and space races, or the processing power that ushered in the digital age. During the Cold War, the Soviet Union competed on rockets and weapons systems, but didn't challenge American supremacy in consumer tech.
The state of play: Now, that has changed. And America is paying too little attention. The U.S. is now in a winner-takes-all race with China for dominance in 5G, artificial intelligence and quantum computing.
And the race is even broader than that, Axios chief financial correspondent Felix Salmon points out:
U.S tech dominance was much broader than just information technology. But the U.S. has lost dominance of manufacturing technology, and did so decades ago, ceding it first to Germany, then to Japan, then to China.
In other areas like agriculture and weaponry, the U.S. is still strong. But a large part of "One Belt, One Road" is a Chinese attempt to corner mega-scale infrastructure technology, where the U.S. is pretty far behind these days.
Dr. Graham Allison — a specialist in national security at Harvard, where he has taught for five decades — tells me: "The story beneath the story is the Great Rivalry between a meteorically rising China and a ruling U.S."
"After an American century, Americans have become accustomed to our place at the top of every pecking order," Allison says.
"The very idea that a Chinese company could displace the U.S. as No. 1 in any significant arena [China's Huawei in 5G], and most of all in a next-generation technology, is for most Americans an assault on who we are."
But that's exactly the danger. The lead story of last Sunday's New York Times ("In 5G Race With China, U.S. Pushes Allies to Fight Huawei") trumpets the contest over 5G cellular networks, which exponentially accelerate online speed and ubiquity.
"[T]he potential of 5G has created a zero-sum calculus in the Trump White House — a conviction that there must be a single winner in this arms race, and the loser must be banished," The Times' David E. Sanger, Julian E. Barnes, Raymond Zhong and Marc Santora write.
Be smart, from Axios chief tech correspondent Ina Fried: Often forgotten is how much China and the U.S. still need one another.
The U.S. relies on China for nearly all the manufacture of electronics, including phones and PCs designed here.
Meanwhile, China is still dependent on the U.S. for chips, although it has a plan to reduce or eliminate its reliance in the coming years.
Go deeper:
Go deeper