The Trump administration's major shakeup in the way we pay for drugs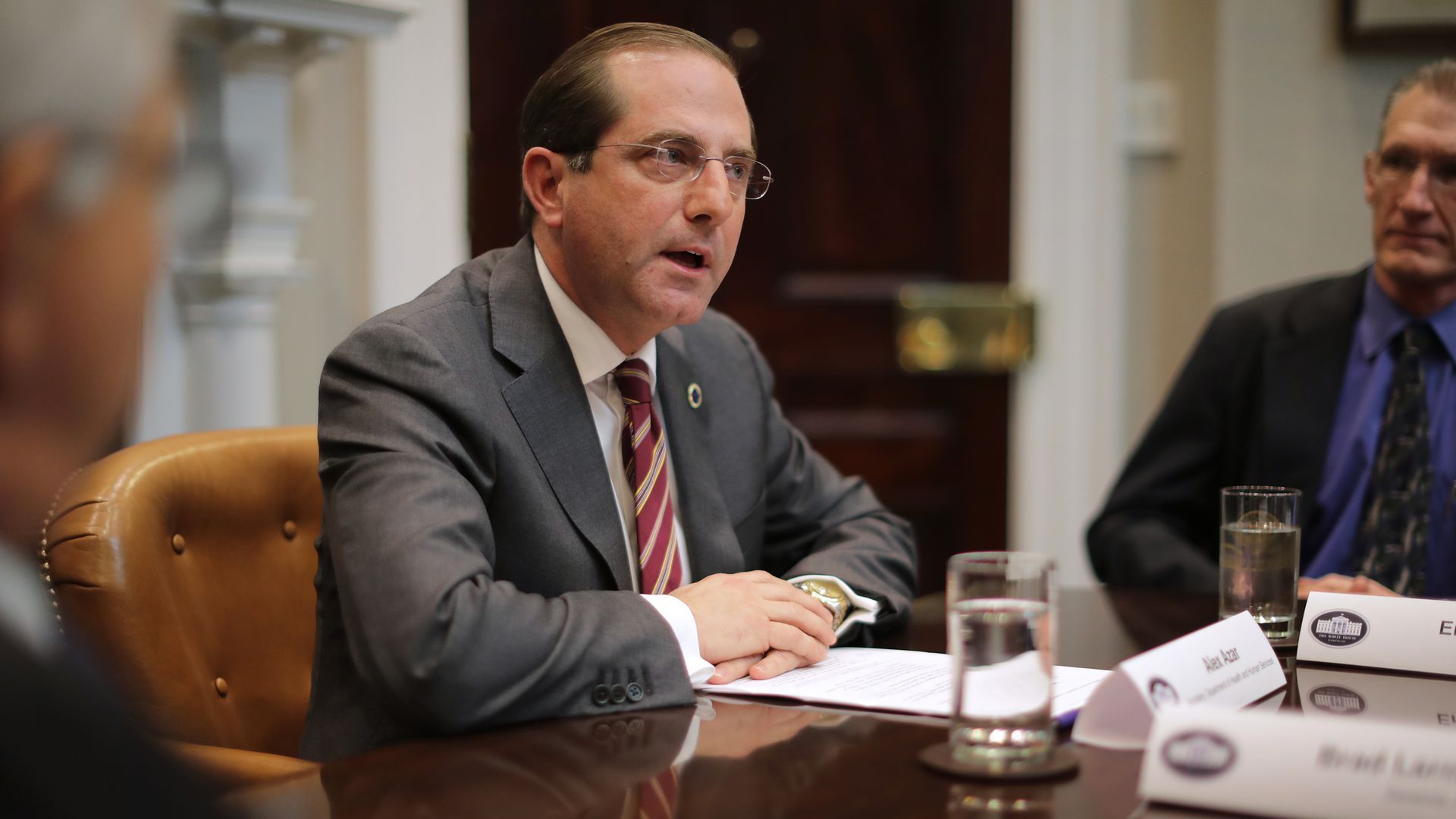 The Trump administration is rolling out the policy specifics for a central promise in its plan to lower drug prices — taking on the system's middlemen.
The big picture: Health and Human Services Secretary Alex Azar has long had his eye on pharmacy benefit managers and the rebates that are their bread and butter.
The proposal HHS unveiled yesterday would essentially ban those rebates in Medicare and Medicaid, forcing PBMs to collect a flat fee for their work.
How it works: Today, drug companies set a price for their products and then PBMs negotiate a discount in the form of a rebate, on behalf of insurance plans. PBMs keep some of that money for themselves and the insurers use some of it to help lower premiums across the board.
HHS wouldn't allow that any more under the proposed rule, but it would permit discounts that flow directly to patients at the pharmacy counter.
Winners: In the short term, this would largely move money around. Patients would pay less at the pharmacy — which is good news for seniors who take a lot of expensive drugs.
The trade-off is that Part D premiums would increase, which in turn increases the government's costs.
HHS expects the savings from lower out-of-pocket costs to exceed the increase in premiums.
Politically, the pharmaceutical industry would be a winner here, too: Pointing the finger at PBMs is a big part of its strategy to stave off tougher controls on its own prices.
In the long term, HHS is hoping this will change the pharmaceutical industry's pricing practices.
For example, drug companies will sometimes agree to steep rebates in exchange for PBMs giving their drug preferred treatment over a competitor.
Without the rebate structure in place, the hope is that those types of deals simply won't be possible, and pricing negotiations will center more heavily around drugs' sticker prices.
The bottom line: This is a major shakeup in the way we pay for drugs. It's in the weeds, and it's not a cure-all (nothing is), but it's big.
Go deeper: The drug pricing maze
Go deeper