Tech giants are the new gatekeepers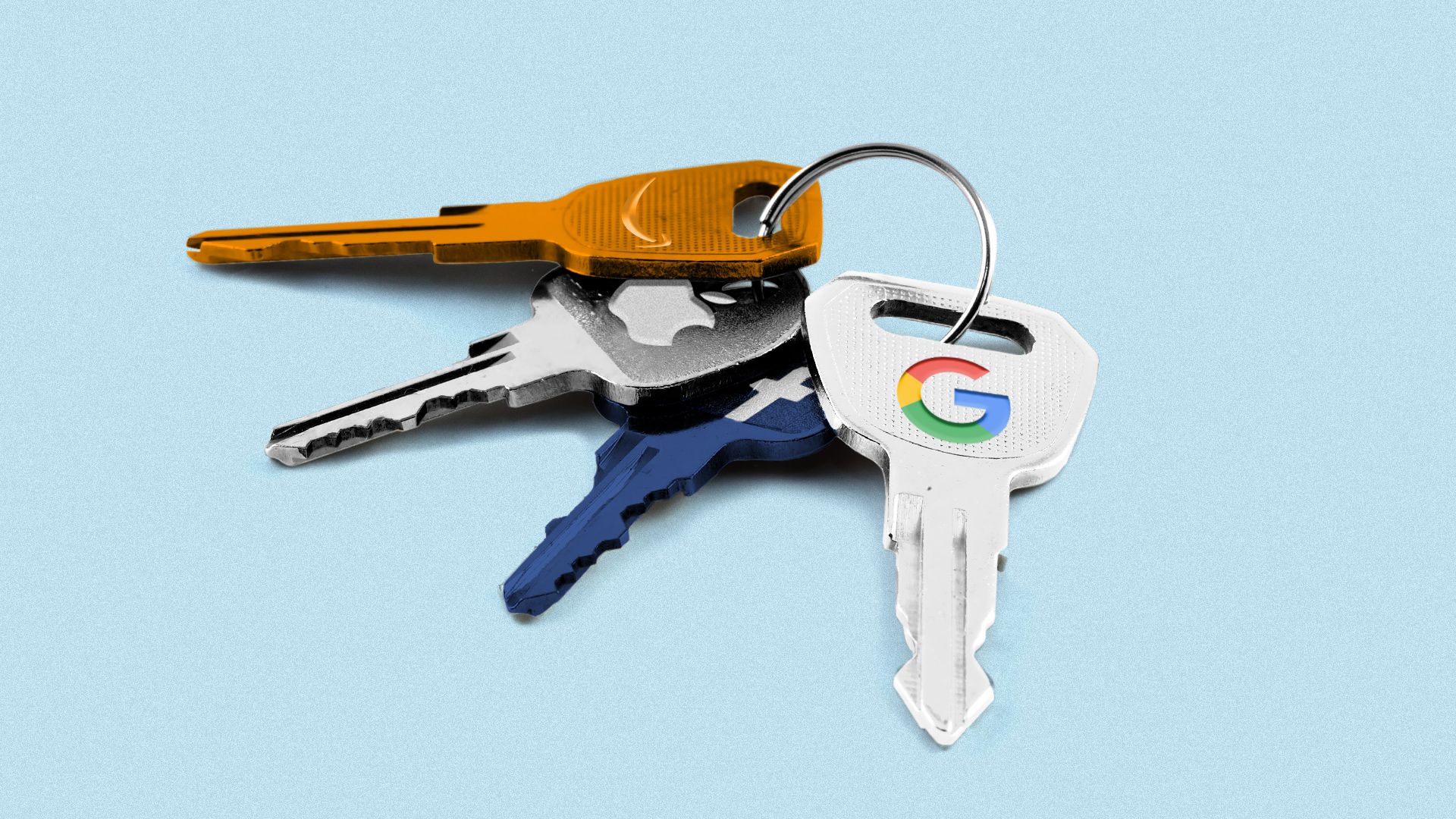 Apple's move this week to lock out Facebook and Google employees from internal versions of their own iPhone apps was a strong stand on behalf of user privacy. At the same time, it was a stunning display of the absolute control Apple has over what runs on the phones it makes.
Why it matters: The squabble reminds us that all these companies have become gatekeepers with enormous power. One way to map the contours of their turfs is to examine where each can say "no."
Apple controls our phones (if they're iPhones).
If you have software to distribute to iPhone/iPad users, you are at Apple's mercy — if the company kicks you out of the store, you've got no customers.
Android has more users globally than iOS, and it's less tightly controlled by Google.
Facebook controls our access to people.
Through its billions-wide "social graph," it controls much of the world's interpersonal communication, so if Facebook removes your account, you can't connect to your personal network.
Others, like LinkedIn and Twitter, have more specialized versions of this power.
To be sure, email and phone calls remain an option.
Google controls our access to information.
It's the starting point for getting answers to nearly every question we have — via search, maps, YouTube's video trove and many other services.
If Google chooses to block some piece of content, it can render that information effectively invisible to much of the world.
Wikipedia and other websites still offer independent knowledge sources, but more often than not Google works as their prime distributor.
Amazon controls our access to goods and many software services.
Its online store is the most powerful funnel for purchasers around: If a product isn't listed there — or if it's listed too low — a huge number of us simply aren't going to buy it.
Through Amazon Web Services, Amazon runs the backend for a large chunk of the internet industry. That gives it the power to shut down apps and sites that depend on it — at least until they can move their products to some other cloud provider.
These powers to say "no" depend on market-dominant positions and near-monopolies.
Many of them, like Google's power over information or Amazon's power over e-commerce, can theoretically be challenged by competitors but in practice would be very hard to dislodge.
Some, like Apple's power over iOS apps, are absolute.
The big picture: The early, "permissionless" internet and web found a key to growth by connecting the world and bypassing gatekeepers.
We've come nearly full circle in two decades.
Many innovators working in the crypto/blockchain world hope to reverse that trip — but haven't yet built systems and products that the mass of users are willing to embrace.
By contrast, most of the work in machine-learning-based artificial intelligence that's already beginning to be widely adopted depends on proprietary dragon-hoards of data controlled by large companies.
Long view: Tech has seen dominant gatekeepers before, like IBM and Microsoft, lose their centrality and evolve into mature money-making machines with lower public profiles.
But the tenure of the current crop of tech giants shows few indications of approaching obsolescence.
Go deeper