Trump's trust gap with his intelligence chiefs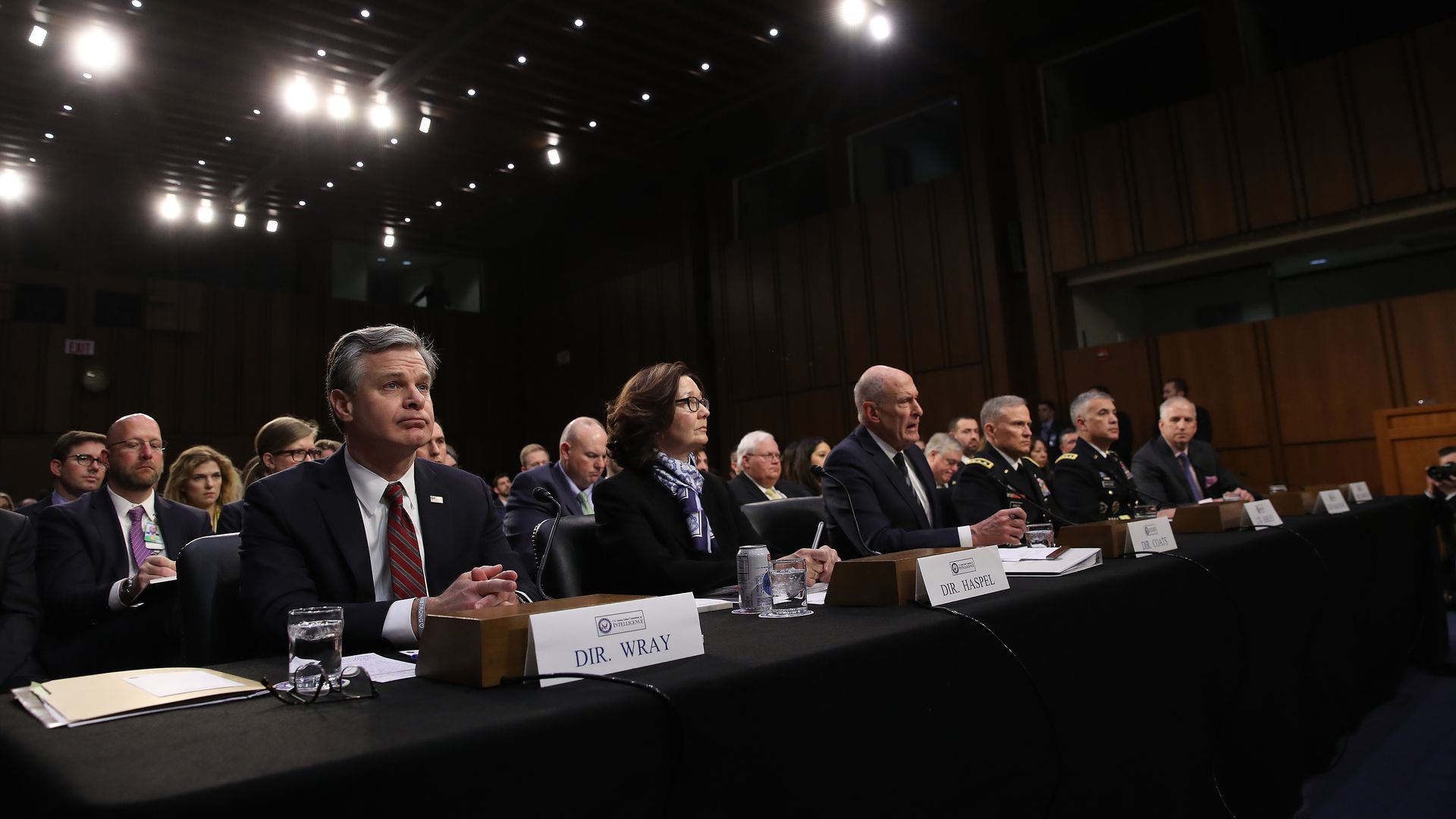 Asked in the Oval Office today if he trusts director of National Intelligence Dan Coats and CIA director Gina Haspel to give him good advice, President Trump said, "No, I disagree with certain things that they said," adding, "time will prove me right."
Driving the news: Coats, speaking for Haspel and four other intelligence chiefs arrayed on either side of him, said at a Senate hearing Tuesday that North Korea is unlikely to give up its nuclear weapons, ISIS is "intent on resurging," Iran isn't currently pursuing a nuclear weapon and climate change is a national security threat.
The gaps between Coats' assessments and Trump's public statements quickly filled headlines and cable news chyrons. Next came at least one call for Coats' ouster, on Fox, and tweets from Trump suggesting "The Intelligence people" are "extremely passive and naive when it comes to the dangers of Iran," and "Perhaps Intelligence should go back to school."
Between the lines: Trump has been fairly consistent, at least publicly, in his approach to intelligence assessments: embrace them when convenient and reject them when they're not.
I asked two former directors of National Intelligence what they make of the position Coats, the current holder of that position, finds himself in.
John Negroponte, who served as the first DNI under George W. Bush, didn't like the premise of my question: "The position Coats finds himself in is director of National Intelligence, and the position Trump finds himself in is president of the United States," he told me. "You've got to take into account the difference."
"I honestly don't think [Coats] is challenging what Trump is saying," he continued, noting that Coats didn't actually contradict Trump on the Iran deal, for example. "I think there is a difference between analyzing a situation on the one hand and carrying out a policy on the other."
Negroponte said tensions between intelligence officials and those in the policy and diplomatic arenas arise in part because "so much of the discussion of intelligence matters is now in the public domain." Too much, in his opinion.
Yes, but: Negroponte did say that he couldn't recall ever having to offer an assessment that ran counter to the White House line — or being challenged so publicly by the commander in chief. He also praised Coats, whom he said "calls it how he sees it" and "speaks truth to power."
James Clapper, the longest-serving DNI and an occasional Trump sparring partner since he stepped down at the end of the Obama administration, was far more critical:
"This is simply a reflection of the no-fact-zone reality bubble where Trump dwells. The IC [intelligence community] really isn't being singled out here; he cannot tolerate anyone or anything that pushes back from his distorted world view."
"The IC leaders — notably Dan — acquitted themselves with great distinction. They did their constitutional duty: to tell truth to power, regardless of whether the power listens to the truth. I was very proud of them."
"That said, policymakers — to include policymaker No. 1 — always have the prerogative of accepting, rejecting or just ignoring the intelligence that is teed up for them. If they do so routinely, on many topics, they imperil the nation, and their position."
P.S. Trump tweeted late Thursday afternoon: "Just concluded a great meeting with my Intel team in the Oval Office who told me that what they said on Tuesday at the Senate Hearing was mischaracterized by the media — and we are very much in agreement on Iran, ISIS, North Korea, etc."
Go deeper: All the times Trump's intelligence officials contradicted him
Go deeper